Case in Point: The Woodrow Wilson Bridge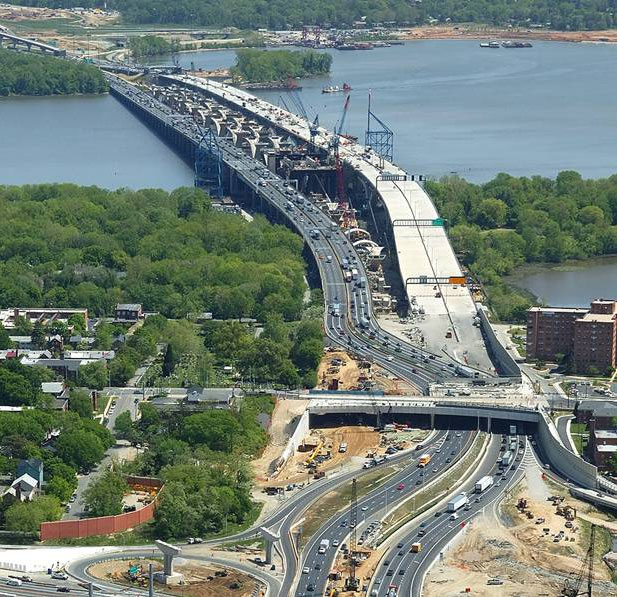 Woodrow Wilson Bridge Replacement Project, looking North from Virginia side (foreground) to Maryland side.
Demo took place in lower left corner area.
Virginia Demonstration Showcases EPS Geofoam Installation on Display
When working on roadway projects, do you occasionally run across situations where the underlying soft soil is too soft and compressible to carry designed loads, or the estimated time - rate of settlement of an embankment exceeds acceptable standards? Have costly corrective fill measures still resulted in significant settlement or decreased stability over time? Do you deal with failing slopes, excessive culvert loads, or problems with high lateral loads behind retaining structures? Expanded Polystyrene Geofoam (EPS Geofoam) could be your answer!
The Virginia Department of Transportation (VDOT) and URS Corporation joined the Federal Highway Administration's (FHWA) Resource Center, and the Virginia, Florida, and Utah Local Technical Assistance Programs to present a 1 - day Demonstration Showcase at the intersection of U.S. Route 1 and the Capitol Beltway (I - 495) in Arlington, Virginia, on Expanded Polystyrene (EPS) Geofoam and recommended field applications - what to do and what not to do. (See photo above for demo site).
Setting the Tone
Participants for the 1 - day event were initially provided a Geofoam Technology Overview, including the history and recommended applications for this technology, by Silas Nichols, Senior Geotechnical Engineer, FHWA Resource Center Then John Volk, Principal Engineer, URS Corporation, provided information on Field Applications and Experiences.
Putting Things in Perspective
David Shiell, District Materials Engineer, VDOT - No. Virginia District gave an overview of the showcase project; Archie Filshill, General Manager, CETCO Contracting Services, provided insight on the contractor perspective; and Mike Terpak, President, R - Control, Team/Insulated Building Systems, Inc., provided the manufacturing perspective.
Road Trip
It was then time to see a live EPS Geofoam deployment. A caravan took participants to an Active Installation Site on the Woodrow Wilson Bridge Project.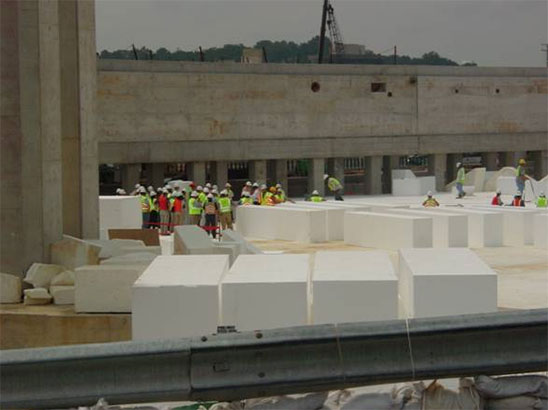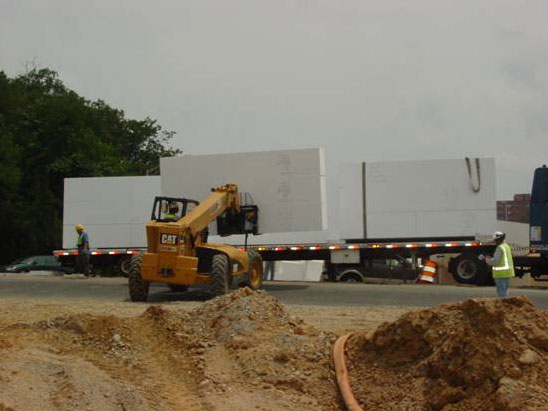 EPS Geofoam arrives at project and is unloaded on - site.
A guided field visit to a previous EPS Geofoam installation provided an opportunity for in - use evaluation. A guided visit to the actual construction site also took place to provide participants a real - time experience with EPS Geofoam block preparation and placement. A post - showcase support team also was available to assist with first - time applications back home.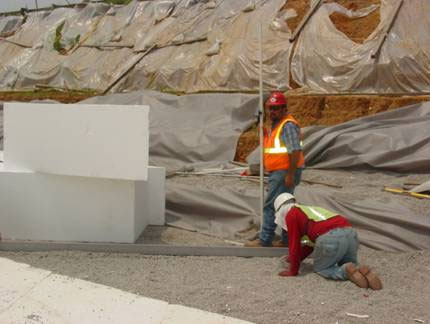 EPS Geofoam being installed on Woodrow Wilson Bridge Project.

See how light it is? Two demonstration attendees demonstrate how easy it is to handle.
Introductory speakers included Jim Smith, National Local Technical Assistance Program Association, Product Demonstration Showcase Program Coordinator; Renaldo "Nick" Nicholson Woodrow Wilson Bridge Project Manager, VDOT - Northern Virginia District; Joyce Curtis, Director of Field Services East; Betsy Steiner, Executive Director, EPS Molders Association.