Guidelines for the Installation, Inspection, Maintenance and Repair of Structural Supports for Highway Signs, Luminaries, and Traffic Signals
6.0 Bolted Connections
Sign, signal, and lighting structures utilize a variety of bolted fasteners in their construction. These range from large anchor rods and high strength bolted structural connections to "secondary" fasteners for signs, wind beams, saddles, and the like. Fasteners also include U-bolts, bolted clips, and similar items. While procedures for installing high strength bolts are established in AASHTO, and recommended procedures for anchor rod nut installation are provided herein, installation practices for other types of bolted fasteners varies.
Ancillary structures are subject to vibration due to fluctuating wind loads. Unless properly tensioned, this can cause fasteners to become lose and contribute to their failure. Though the implication of failure of an anchor rod or bolt in a structural connection may seem apparent, even secondary fasteners that fail can lead to sign breakage and small items falling into traffic. Connections should be designed with due consideration of the fatigue stresses induced by variations in wind loads.
6.1 High-Strength Bolts
The design, specification, handling, installation, and inspection of bolted joints in steel support structures should be in accordance with the Specification for Structural Joints Using ASTM A325 or A490 Bolts dated June, 2000 by the Research Council on Structural Connections (RCSC). Only a few points especially important for support structures are mentioned in these Guidelines. The Federal Highway Administration Report No. FHWA-SA-91-031, "High-Strength Bolts for Bridges" provides an in depth treatment of bolt supply, installation, and testing (this manual is available for download at fhwa.dot.gov/bridge). The U-bolts and other details for connecting luminaries, signs, and signal heads to the structure are not discussed. The manufacturers design these details, and there have been few problems with these details in the past.
Structural joints for galvanized steel sign, signal, and light support structures should only utilize galvanized ASTM A325 high strength bolts or galvanized ASTM F1852 twist-off-type, tension control bolt assemblies. The joints should be between steel members, and it is essential that the joints be properly pretensioned to resist vibration. These bolts have a very high strength so that they can supply high forces to compress the joint when they are tightened to their prescribed pretension. These joints actually carry load through compression-generated friction on the faying surfaces rather than through the bolt. The job of the bolt is to maintain the pretension and the associated precompression of the faying surfaces.
When a pretensioned joint is subject to cyclic fatigue loads, it acts as if the pieces pressed together were actually monolithic (i.e., the bolts themselves feel only about 20 percent of the load range), with the majority of the load range transferred through the faying surfaces. When a bolted joint is not properly pretensioned, all the load range is transferred through the bolts and they may quickly fail by fatigue.
Galvanized ASTM A325 bolts and related washers and nuts are available either hot-dip galvanized or mechanically galvanized. Hot-dip galvanizing is recommended as it provides a heavier coating with corresponding increased life.
Heavy-hex nuts should meet the requirements of ASTM A563 (Grade DH; galvanized and lubricated) or ASTM A194 (Grade 2H; galvanized and lubricated). Heavy-hex nut dimensions should meet the requirements of ANSI/ASME B18.2.6. Flat galvanized circular washers should meet the requirements of ASTM F436. Washers should be used under the nut. If the bolt head is to be turned during the tightening procedure, then a washer should also be provided under the head. Lock washers should never be used with high strength bolts. For oversized holes, plate washers 8 mm (5/16 inch) should be used rather than flat washers. Plate washers should be structural grade steel and should be galvanized, if used with galvanized fasteners.
Lock washers should not be used with high strength bolts. Their variability of deformation under load does not provide for proper bolt installation tension.
Compressible-washer-type, direct-tension indicators should meet the requirements of ASTM F959. When the direct-tension-indicator (DTI) is used under the nut, an ASTM F436 washer should be placed between the bolt and the direct-tension indicator. When the direct-tension-indicator is used under the bolt head, an ASTM F436 washer is required under the DTI when the DTI is placed on an oversized hole and between the bolt head and the DTI when the bolt head is the turned element.
The bolt length used in a connection should be such that the end of the bolt is flush with or projecting beyond the face of the nut when properly installed.
6.2 Stainless Steel Fasteners
Connections for stainless steel structures, which are rare, and aluminum structures utilize stainless steel bolts and related fasteners. Stainless steel offers excellent corrosion resistance.
Stainless fasteners are most often supplied from American Iron and Steel Institute (AISI) Type 304 or 316 stainless material. Type 304 is the most common. Nuts and washers should match the steel type of the bolt or fastener. Stainless fasteners should conform to the requirements of ASTM F593, "Standard Specification for Stainless Steel Bolts, Hex Cap Screws, and Studs" and ASTM F594 "Standard Specification for Stainless Steel Nuts." Stainless steel bolts are supplied either hot finished or cold finished. Cold finished Type 304 and 316 bolts have an ultimate tensile strength of 620 MPa (90 ksi), versus 516 MPa (75 ksi) for hot finished. However, cold finished bolts are only supplied if specifically specified and are not normally "off-the-shelf" items.
Since installation tension for stainless fasteners is not as high, or as well controlled, as it is for high strength steel bolts, the use of lock washers is common with stainless fasteners. Lock washers are placed under the nut and help to reduce loosening due to structure vibration and load fluctuation.
6.3 Aluminum Fasteners
Aluminum fasteners are sometimes used for miscellaneous applications, such as sign connections. Aluminum bolts are not generally used in structural connections, even on aluminum sign structures, due to a tendency to stretch and hence loosen under cyclic tension loadings.
Aluminum bolts should conform to ASTM B316 "Structural Specification for Aluminum-Alloy Rivet and Cold Heading Wire and Rods." Bolts are available in several alloy-tempers, with 2024-T4 and 6061-T6 the most common. Off-the-shelf bolts are typically alloy-temper 2024-T4, which has an allowable shear stress of 96 MPa (14 ksi) and an allowable tension stress of 158 MPa (23 ksi) as given in the "Aluminum Design Manual" published by the Aluminum Association.
6.4 Installation of Bolts and Fasteners
All bolts and miscellaneous fasteners must be installed in accordance with established industry practice or manufacturer's requirements. Though not desirable, some procurement practices may result in sign structures being erected by firms with little experience in proper installation of high strength bolts. In addition, unless a contractor is erecting a group of sign structures, only a few high strength bolts may be needed. Where the quantity of fasteners is small, it may not be realistic to expect the same bolt documentation and testing as would be provided on a steel bridge erection project.
Fastener components should be protected from dirt and moisture in closed containers at the site of installation. Fastener components should not be cleaned of lubricant that is present in the as delivered condition. Components that accumulate rust or dirt resulting from plant or job-site conditions should not be incorporated into the work. Galvanized bolts that have been fully pretensioned shall not be reused.
A common bolted connection in ancillary structures consists of bolted flange or face plates that match face-to-face. Such connections occur at truss chord splices, long mast arm splices, arm to pole connections, and similar locations. According to fabricators, it is almost impossible to achieve a perfectly flat faying surface on the flanged connection that mates at the exact angle with a perfectly flat faying surface on the opposing flange. The fabricator should select a weld type and procedure for the plate to tube (or member) connection that minimizes misalignment and distortion of the faying surfaces. As stated above, the slope of the surfaces of parts in contact with the bolt head or nut, and the faying surfaces, should be equal to or less than 1:20 with respect to a plane that is normal to the bolt axis, but 100-percent mating between the two flanges will usually not be achieved. Compressible materials (such as gaskets, insulation, or sheets of other metals) should not be placed between these flanges, even to try to achieve better contact. Tightening of bolts should be performed in a manner that brings the faying surfaces up "evenly." For flange type connections, a star tightening pattern as shown in Figure 8 is recommended.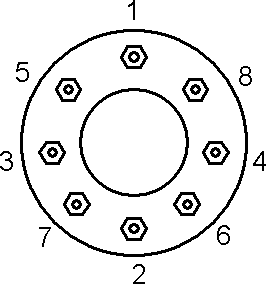 Figure 8. Star Pattern Tightening Sequence.
For high strength bolted joints, according to the RCSC, the surfaces need to be brought into firm contact, but it is acceptable to have isolated areas where there is no contact. The fact that gaps may exist in the faying surfaces does not prevent the bolt preload from being developed. The end plate thickness is enough to bridge the gaps and develop the desired bolt tension. The snug-tightened condition is defined by the RCSC as the tightness that is attained with a few impacts of an impact wrench or the full effort of an ironworker using an ordinary spud wrench to bring the plies into firm contact. The structure should be rejected if there is more than 25 percent of the surface visibly not in contact after snugging the bolts. The Engineer of Record may approve the use of steel shims or repairs to the structure to correct this problem.
For high strength bolted joints using ASTM A325 galvanized bolts, allowable methods of installation, to develop the required pretension, include the turn-of-nut method, calibrated wrench method, twist-off-type tension-control bolt method, or direct-tension-indicator method. These are described in Section 8 of the RCSC Specification. Procedures for each installation method are detailed in report FHWA-SA-91-031, High Strength Bolts for Bridges, Appendices A2 through A6. A detailed coverage of high strength bolting may also be found in the Steel Structures Technology Council (SSTC) Structural Bolting Handbook.
Pre-installation verification testing should be performed using a Skidmore-Wilhelm device as indicated in Section 7 of the RCSC Specification. However, since ancillary structures may contain only a few high strength bolts, this testing is often not performed. High strength bolts should be inspected for proper bolt tightening as required by the RSCS Specification for the chosen method of bolt installation. The inspection verification data should be provided to the owner's representative. Where connections are made up overhead with one piece suspended from a crane, pretensioning and inspection should be performed prior to releasing the load thus minimizing induced stresses into the joint.
Installation methods for fasteners other than high strength structural bolts are not standardized. As with high strength bolts, proper joint fit-up that does not induce bending into the bolts, selection of proper bolt length to allow full nut engagement, and use of washers must be adhered to. It is recommended that stainless and mild steel bolts be installed to minimum torque values. This at least assures a minimum bolt tension and consistency between multiple bolts in a connection. It should be noted that it could be beneficial to the owner to perform torque/tension testing on nonstructural bolts to establish the tension being provided for specified torques. This would allow for more complete joint evaluation.
The Specialty Steel Industry of the United States (SSIUS) recommends that stainless bolts be tightened to an installation torque value that varies with bolt size as shown in Table 3.
Table 3 Stainless Steel Bolts
Size Dia, mm (in)
Installation Torque
Type 304 KN-mm (ft-lb)
Type 316 KN-mm (ft-lb)
12 (1/2")
59 (43)
62 (45)
16 (5/8")
127 (93)
133 (97)
20 (3/4")
175 (128)
181 (132)
24 (1")
393 (287)
410 (300)
Galvanized mild steel bolts and threaded fasteners such as U-bolts are also used in ancillary structures. These include treaded fasteners conforming to ASTM A307 as well as to the Society of Automotive Engineers (SAE) Grades 1 and 2. Typical ultimate tensile strengths are from 420 MPa (60 ksi) to 440 MPa (64 ksi). These fasteners should be installed to the torque values shown in Table 4, and verified using a properly calibrated torque wrench.
Table 4 Installation Torque for Mild Steel Fasteners

| Bolt Size, Dia. mm (in) | Minimum Torque KN-mm (ft-Lb) |
| --- | --- |
| 10 (3/8) | 20 (15) |
| 12 (1/2) | 50 (37) |
| 16 (5/8) | 101 (74) |
| 20 (3/4) | 164 (120) |
| 22 (7/8) | 260 (190) |
Aluminum fasteners are not recommended for structural connections. Miscellaneous or secondary fasteners of aluminum should be installed to torque valves supplied by the manufacturer.
6.5 Anchor Rods
6.5.1 General
Anchor rods provide attachment of the structure to its foundation. They can carry large forces, particularly for cantilever structures where overturning is resisted by a moment at the base which is carried through the anchor rod group. The design and proper installation of anchor rods has traditionally received little technical guidance as it fell wholly in neither the realm of steel structures nor concrete structures.
The "Specification for Steel-to-Concrete Joints Using ASTM F1554 Grades 36, 55, and 05 Smooth Anchor Rods, ASTM A615 and A706 Grade 60 Deformed Bars, and AWS D1.1 Type B Studs" is currently being developed by the Research Council on Structural Connections and may eventually be published by the RCSC. For the design strength of the concrete anchorage, this specification refers to current American Concrete Institute ACI 318 criteria. For use in highway ancillary structures, the ACI load factors and resistance factors may be modified by the State to be consistent with AASHTO design provisions. NCHRP Report 469 also provides guidance.
6.5.2 Materials
Anchor rods are supplied in conformance with ASTM F1554 "Standard Specification for Anchor Bolts, Steel, 36, 55 and 105 Ksi Yield Strength." ASTM F1554 provides for three different grades of anchor rods: Grade 36 (painted blue on the projecting end), Grade 55 (painted yellow on the projecting end), and Grade 105 (painted red on the projecting end). The specified minimum yield strength (Fy) and specified minimum tensile strength (Fu)for each Grade are given in Table 5.
Table 5 Tensile Properties for Anchor Rods
Tensile Property
ASTM F1554
Rod Grade 36
ASTM F1554
Rod Grade 55
ASTM F1554
Rod Grade 105
ASTM A706
Bars Grade 60
Minimum Yield Strength Fy,
MPa (ksi)
248 (36)
380 (55)
720 (105)
415 (60)
Minimum tensile Strength Fu,
MPa (ksi)
400 (58)
516 (75)
860 (125)
550 (80)
ASTM F1554 was passed in 1994, and is essentially the same as AASHTO M314-90, although there are some differences. ASTM F1554 Grade 36 is essentially the same as ASTM A36 or ASTM A307 Grade C, and ASTM F1554 Grade 105 is equivalent to ASTM A193 Grade B7. ASTM 1554 supercedes these specifications, and the older specifications should no longer be referenced for anchor rods. The ASTM A325 or A490 specifications should not be specified for anchor rods. The A325 and A490 bolts are intended for use in structural connections.
Since the fatigue strength of these various grades of anchor bolts is the same, it is usually not worthwhile to use the Grade 105 anchor rods. If an existing support structure (not designed for fatigue in accordance with the 2001 Specifications) has Grade 105 anchor rods that were designed for strength only, the size of the anchor rods may be much less than would be the case if Grade 55 or Grade 36 anchor rods were used. Consequently, the stress ranges in these Grade 105 anchor rods may be much greater, making them particularly likely to experience fatigue cracking. Grade 105 anchor rods should be especially evaluated to see if stress ranges calculated using the 2001 Specifications are large enough that fatigue would be expected to occur quickly. If so, an inspection of the rods using ultrasonic testing methods may be warranted.
For similar reasons, the use of anchor rods conforming to ASTM A722 with minimum tensile strength of 150 ksi should be discouraged, but may occur in some existing structures. Where such rods have been used, an inspection using ultrasonics should be performed.
Anchor rods are normally supplied in one of the following shapes:
Bent anchor rods. These rods are F1554 smooth anchor rods with the embedded end bent as to form a hook (Figure 9). The anchorage to the concrete is by means of the hook. The adherence between the shank and the concrete is not reliable and should not be counted in design. Grade 105 bent rods should be avoided because they have been shown by Jirsa, et. al. to straighten before they reach any other more predictable steel or concrete mode of failure.

Headed anchor rods. These rods are F1554 smooth anchor rods with a head in the embedded end (Figure 10). The anchorage to the concrete is obtained by the head. Typically, the "head" consists of one or more nuts, with either heavy washers or a plate washer. For lightly loaded anchorages, headed studs could also be utilized.

Deformed bars. Concrete reinforcing bars (ASTM A 706-96, Standard Specification for Low-Alloy Steel Deformed and Plain Bars for Concrete Reinforcement may be threaded and used for anchor rods. Ordinary reinforcing bars conforming to ASTM A615-96, Standard Specification for Deformed and Plain Billet Steel Bars for Concrete Reinforcement have been used in the past. However, because of possible low toughness, ordinary reinforcing bars should not be used for non-redundant, fatigue susceptible support structures such as cantilevers and high-mast luminaries. Reinforcing bars may rely on the deformations along the bar for anchorage to the concrete, may include an ACI standard hook, or may be threaded on the embedded end and utilize nuts and a washer for anchorage. The tensile properties of common Grade 60 reinforcing bars are also given in Table 5. The A706 specification should be used if the anchor rod is to be welded or used in seismic applications.
L = length of rod
Lh = length of hook
t= length of threads
Figure 9. Bent Anchor Rod.
L = length of rod
H = height of nut or head
F = width across flats of head diameter
t1= length of threads (exposed end)
t2= length of threads (embedded end)
Figure 10. Headed Anchor Rod.
The use of Uniform National Coarse (UNC) threads are recommended, especially for galvanized anchor rods, although ASTM F1554 also permits the less common 8 UN series threads. The full range of diameters (1/4 to 4 inches) of anchor rods with UNC threads can theoretically sustain the overtapping of corresponding nuts (required to allow for zinc coating from galvanizing) without stripping, while this may not be true for 8 UN threads. It should be noted however, that the Michigan Department of Transportation feels that the use of 8 UN threads is advantageous. They have not experienced any problems with thread stripping.
The thread class (tolerances) of the anchor rods should also be specified, and typically Class 2A is satisfactory. Class 2A will be provided by default if class is not specified.
Nuts on the embedded or projected end of the anchor rod should conform to ASTM A563 nuts. The recommended nut style, grade and finish are shown in Table 6. This table is based on the appendix of the ASTM A563 specification.
Table 6 Acceptable ASTM A563 Nut, Grade, Finish and Style And ASTM F436 Washer Type and Finish for Threaded Anchor Rods
Anchor Rod
Anchor Rod Size mm (in.)*
Finish
ASTM A563 Nut Style,Grade and Finish
ASTM F436 Washer Type and Finishb
F1554 Grade 36
6-38
(1/4 - 1 1/2)
Plain (uncoated)
Hex: A, B, D, DH; plain Heavy Hex: A, B, DC, C3, DC, DHd, Dh4: plain
1; plain
Galvanized
Hex: A, B, DC, DHd; Galvanized and lubricated
Heavy Hex: A, B, CC, C3, DC, DHd, Dh4; galvanized and Lubricated
1; galvanized
Over 38-100
(1 1/2 - 4)
Plain (uncoated)
Heavy Hex: A, B, CC, C3, DC,
DHd, Dh4; plain
1; plain
Galvanized
Heavy Hex: A, B, CC, C3, DC,
DHd, Dh4; galvanized and
Lubricated
1; galvanized
F1554 Grade 55
6-38
(1/4 - 1 1/2)
Plain (uncoated)
Hex: A, B, DC, DHd; plain Heavy Hex: A, B, CC, C3, DC, DHd, Dh4; plain
1; plain
Galvanized
Heavy Hex: A, B, CC, C3, DC, DHd, Dh4; galvanized and Lubricated
1; galvanized
A706 Grade 60
Over 38-100 (1 1/2 - 4)
Plain (uncoated)
Heavy Hex: A, B, CC, C3, DC, DHd, Dh4; plain
1; plain
Galvanized
Heavy Hex: A, B, CC, C3, DC, DHd, Dh4; galvanized and Lubricated
1; galvanized
F1554 Grade 105
6-38
(1/4 - 1 1/2)
Plain (uncoated)
Hex: DC, DHd; plain Heavy Hex: CC, C3, DC, DHd, Dh4; plain
1; plain
Galvanized
Heavy Hex: DHd, Dh4; galvanized and lubricated
1; galvanized
Over 38-100
1 1/2 - 4
Plain (uncoated)
Heavy Hex: DHd, Dh4; plain
1; plain
Galvanized
Heavy Hex: DHd, Dh4; galvanized and lubricated
1; galvanized
a Applicable only to F1554 Grade 55 anchor rods.
b Applicable only if washer is required.
c ASTM A194 nuts Grade 2 or 2H are acceptable equivalents for Grades C and D nuts.
d ASTM A194 nuts Grade 2H are acceptable equivalents for Grades DH nuts.
*Note: Metric bolt sizes and threads are different, for soft conversion 1 inch = 25 mm
Corrosion protection is particularly important for fatigue critical anchor rods, since corrosion pitting can degrade the fatigue resistance. Anchor rods, nuts, and washers that are used outdoors are typically galvanized. ASTM F1554 permits hot dip galvanizing by ASTM A153 Class C or mechanically deposited by ASTM B695, Class 50. The purchaser should specify which of these processes should be used or state "no preference." The hot dip process provides a heavier zinc coating and longer life. Galvanized deformed bars may be used and should be specified by referencing ASTM A767. Galvanized anchor rods should always be shipped with the nuts pre-assembled to the anchor rods to ensure good fit and ability to run the nut down the threads easily. This should be specified in the purchase order because it is not required in the ASTM specifications.
There are two types of washers for anchor rods: standard washers and plate washers. Standard washers are ASTM F436 washers. When "Normal Holes" are used, plate washers at least 5/16inch thick should be used. Plate washers should be structural grade steel and be galvanized to match the anchor rods. Beveled standard washers should be used when the outer face of the base plate has a slope that is greater than 1:20 with respect to a plane that is normal to the anchor axis. If an anchor bolt is incorrectly installed resulting in larger out-of-plumbness, specially fabricated washers may be needed to allow proper bearing of the connected parts.
6.6 Base Plate and Holes
Research described in NCHRP Report 412 has shown that the base plate should be at least as thick as the anchor rod diameter to provide for even distribution of the load and to minimize prying forces. The minimum distance from the center of the anchor rod hole to the edge of the base plate should be two times the nominal diameter of the anchor rod.
Base plates are normally supplied shop welded to the posts or pole. The most common pole to base plate connection is a weld socket joint, where the central portion of the base plate is cut out so the pole can slip into the opening. As a result, particularly for large diameter poles such as high mast lights, the base plate is in reality a base ring with a resulting decrease in plate bending stiffness. Field inspectors have reported observing the base plates actually flex between anchor rods for high mast lights due to normal wind loads. This tendency can be reduced by use of a larger number of anchor rods or a thicker base plate.
Holes may be thermally cut in the base plates. In most cases, the anchor rod holes in the base plate should be "Shear Holes" with the dimensions shown in Table 7, as recommended in NCHRP Report 469. Research by Cook has shown that this size of hole is adequate for a correct transfer of shear forces from the base plate to the anchor rods and to allow plastic redistribution of shear forces. On the other hand, if anchor rods are not required to transfer shear, only holes labeled as "Normal Holes" in Table 7 are needed. These normal holes are the same holes recommended in the AISC Manual of Steel Construction for base plates. They are oversized to allow for an easy placement of the base plate during erection.
Table 7 Nominal Anchor Rod Hole Dimensions
Anchor Rod Diameter In.*
Nominal Anchor Rod Hole Dimensionsa, b, in.*
Shear Holes
(diameter)
Normal Holes
(diameter)
1/2
5/8
1 1/16
5/8
13/16
1 3/16
3/4
15/16
1 5/16
7/8
1 1/16
1 9/16
1
1 1/4
1 13/16
1 1/4
1 9/16
2 1/16
1 1/2
1 13/16
2 5/16
1 3/4
2 1/16
2 3/4
>2
db + 5/16
db + 1 1/4
a The upper tolerance on the tabulated nominal dimensions shall not exceed 1/16-in.
b The slightly conical hole that naturally results from punching operations with properly matched punches and dies in acceptable.
* Note: Metric bolt sizes and threads are different, for soft conversion 1 inch = 25 mm
6.7 Anchor Rod Joints
There are several types of joints for the base plate to foundation connection. These have evolved within particular industries, with the so called threaded-shear-and-uplift joint and double-nut-moment joint used for nearly all ancillary structures. These are cost effective and provide good performance when properly designed and installed.
The threaded-shear-and-uplift joint rests directly on the concrete or on a grout pad (Figure 11). The base plate is held down by nuts atop the base plate. Single nuts are most common, but double nuts are sometimes used. For proper joint performance, the base plate must be in direct contact with the grout and not be supported by leveling nuts or shim pacts. One technique to achieve full grout support is to set the base on shim pacts to proper elevation, grout the base and then remove the shims and grout the resulting voids. Only then can the anchor rods be fully pretensioned. Use of proprietary prepackaged grout mixes, so called "non-shrink grout" is recommended and should be carefully installed to manufacturers' recommendations. The threaded-shear-and-uplift joints can develop some resistance to bending moment as a couple between compressive bearing force on the grout and tensile forces in the anchor rods. It may be difficult to retain the pretension in the anchor rods under cyclic loads as the base plate wears the grout. For these reasons, this type of joint is not recommended by NCHRP Report 469 for large cantilevered support structures, although it is still commonly used for many luminaries and small traffic signal supports. This type of joint is suitable for bridge support structures where there are multiple posts.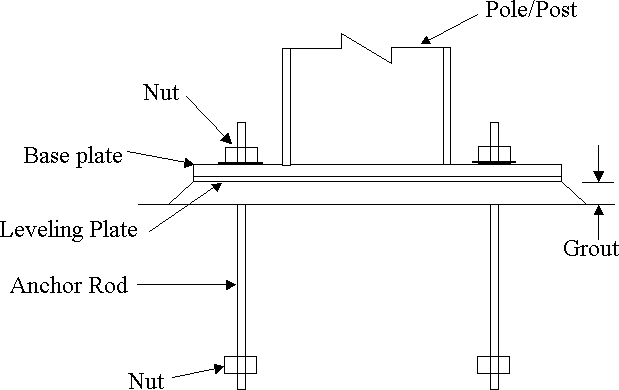 Figure 11. Threaded-Shear-and-Uplift Joint.
All three shapes of anchor rods will perform correctly in this type of joint. The anchor rods transmit shear and tension, while compression forces are transmitted directly by bearing of the base plate on the concrete and are not carried by the anchor rods. As a result of the compression on the concrete, friction will be developed between the base plate and the concrete. Shear friction strength should be calculated using the factored load combination that gives minimum possible compression from dead load along with the maximum uplift that is consistent with the lateral load that is being evaluated. The effect of live load should not be included when calculating the shear friction strength unless the live load causes the lateral load or uplift.
If the friction strength, is greater than the factored applied shear or torsion on the joint, anchor rods are not needed for transmitting shear or torsion. In fact, if the friction is sufficient to handle the shear, and if there is no uplift, then anchor rods are, in theory, not needed at all for service loads. In this case, anchor rods must be provided for stability during erection but need not be designed for the service loads. If the anchor rods are designed only for the factored loads during erection, NCHRP Report 469 recommends including a minimum lateral shear load equal to 5.0 percent of the axial load from dead load during erection. The anchor rods must also resist a minimum moment to account for an ironworker on the pole as required by OSHA.
If, on the other hand, the factored loads exceed the friction capacity of the joint, anchor rods should be assumed to transmit the entire shear because the friction may no longer be effective at the deformation levels required to develop the shear strength of the anchor rods. The shear strength of the anchor rods may be taken as the smaller of the sum of the steel shear strengths of the contributing individual anchor rods or the concrete shear strength of the anchor group.
Whenever anchor rods are needed for transmitting shear in this type of joint, the base plate should have shear holes. Also, in the same case, bearing of the anchor rod on the walls of the shear holes should be checked. As an option, normal holes can be provided in the base plate and plate washers having shear holes can be placed over the anchor rods and field welded to the base plate after the base is set. The plate washers and welds must be designed to transmit all calculated shear forces and welding must conform to applicable portions of the AWS Bridge Welding Code.
In double-nut-moment joints, the base plate stands off from the concrete foundation and bears on leveling nuts (Figure 12). Thus, the base plate is attached to anchor rods through double nuts: the leveling nut and a top nut (or nuts). This type of joint may be suitable for any type of support structure and is required for cantilevered support structures designed by the 2001 Specifications. Washers should be used under both nuts, and beveled washers should be used if the misalignment exceeds 1:40 for the double-nut-moment joints. Double-nut-moment joints are easy to level and plumb and are also very reliable for transmitting moment to the foundation; therefore, they are satisfactory for non-redundant structures and seismic or fatigue-loaded structures such as highway sign, signal, and light supports.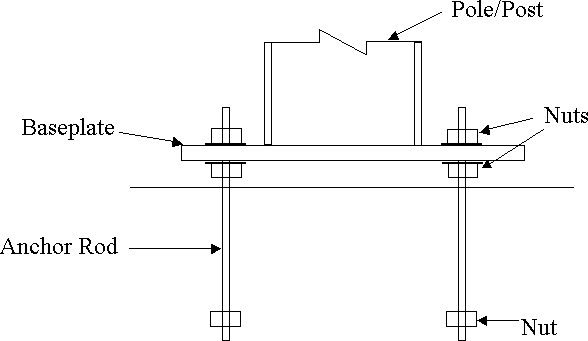 Figure 12. Double-Nut-Moment Joint.
Double-nut joints are pretensioned between the nuts only, and the pretension has no effect on strength. Research reported in NCHRP Report 412 has shown that the pretension gives slightly better fatigue resistance, but the effect is not that significant. The anchor rod below the leveling nut is not pretensioned but will still see the full cycle of fatigue loads. More importantly, the pretension ensures that there is a good load distribution among the various anchor rods. Therefore, there are special tightening procedures for these joints.
Headed rods and deformed bars are best suited for double-nut-moment joints. In double-nut-moment joints, anchor rods are designed to resist all the axial forces, moments, and shears applied to the joint, even if there is grout under the base plate.
Opinions on whether or not grout should be used with double-nut-moment joints differ. As noted above, in a properly designed joint, all loads are resisted in the anchor rods. Due to the greater stiffness of the anchor rods compared to the grout, and the tendency of the grout, even for so-called "non-shrink grouts", to shrink, though perhaps imperceptibly, below the bottom of the base plate, little load transfer to the grout is likely even if assumed so in design. Grout, if well installed, may pick up loads due to very high or unexpected load cases. Proper grout installation is difficult when base plates tend to be rings, as with large light poles. A means must be provided to restrict grout flow inside the base ring while fully filling beneath it. For these reasons, and several listed below, grouting of double-nut-moment joints is generally not recommended:
It may crack, retain moisture, and then promote corrosion.
It makes it impossible to inspect and retighten bottom nuts if necessary.
In order to place the grout after the base plate is in place, the standoff distance between the top of concrete and the bottom of the leveling nut may exceed the recommended distance equal to the anchor rod diameter.
Where base plates are not grouted, a stainless steel wire mesh should be placed around the base plate to eliminate debris from accumulating beneath the base plate and keep animals out and protect electrical wires if present.
There is an unfortunate trend toward using fewer very large anchor rods. It is always better to use more, smaller anchor rods than fewer, bigger anchor rods. Especially if the failure mode is fatigue and the structure is non-redundant, it is essential to have at least eight anchor rods in the anchor rod group. In the event of one anchor rod failure from fatigue, the increase in the load on the neighboring anchor rods is tolerable for the case of an eight-bolt group, and there will be weeks or months typically before a second anchor rod fails and total collapse occurs. This gives the joint some measure of redundancy, even if the structure is non-redundant. The fatigue failure of one anchor rod from a six-or four-bolt group, however, may lead to immediate collapse.
If the embedded head of an ASTM F1554 anchor rod is a nut or is fastened with nuts, the head nut or the nuts fastening the head should be prevented from rotating while the anchor rod is tightened. Two methods have been shown to prevent rotation:
Tack weld the nut to the anchor rod on the unstressed (bottom) side of the nut if the ASTM F1554 rod is a grade 36 rod or a grade 55 rod.
Jam another nut on the head nut for any grade of ASTM F1554 rod.
Neither the tack weld nor the jam nut will affect the ultimate or fatigue strength of the rod.
6.8 Installation of Anchor Rods
Proper installation of the anchor rods is the responsibility of the foundation contractor, and inspection and testing is to be performed by the foundation contractor. Records should be kept of the dates and results of testing and inspection, and these records should be available for the Engineer of Record or their representative to review. The Engineer of Record may require that their representative witness the inspection and testing.
Prior to placing the anchor rods in the concrete, an anchor rod rotation capacity test should be run with at least one anchor rod from every lot. This test may be run in a Skidmore-Wilhelm device or in a mockup of the base plate using a small piece of plate with one hole of equivalent grade, thickness, and finish. The test consists of Steps 2 through 14 of the tightening procedure (presented later), adapted as necessary because there is no post or crane, and there is only one anchor rod. NCHRP Report 469 recommends that the nut be rotated at least to the required rotation given in Table 8. After the test, the nuts should be removed and inspected for damage to their threads.
Then the anchor rod is removed from the test plate and restrained while the nuts are turned onto the bolts well past the location of the leveling nut and top nut in the test and backed off by one worker using an ordinary wrench (without a cheater bar). The threads are considered damaged if more than minimal effort is required to turn the nut. If there is no damage to the anchor rod or nut during this test, they may be used in the foundation. If there is damage to the threads or an inability to attain at least the verification torque, the lot of anchor rods should be rejected.
Though this testing may not be practical on small projects, it is recommended where economically justifiable on larger projects.
Table 8 Nut Rotation for Turn-Of-Nut Pretensioning
Anchor Rod Diameter, in*.
Nut Rotation from Snug-Tight Condition a, b, c
F1554 Grade 36
F1554 Grades 55 and 105
A615 and A706 Grade 60
<1 1/2
1/6 Turn
1/3 Turn
>1 1/2
1/12 Turn
1/6 Turn
a. Nut rotation is relative to anchor rod. The tolerance is plus 20 degrees.
b. Applicable only to double-nut-moment joints.
c. Beveled washer should be used if: a) the nut is not in firm contact with the base plate; or b) the outer face of the base plate is sloped more than 1:40.
The recommended procedure for installing anchor rods in the foundation is as follows:
Anchor rods should be installed as a group and should be secured against relative movement and misalignment, such as with a template set composed of rings with nuts on both sides at two locations along the length of the anchor rods. One of the plates or rings is usually above the top of concrete and is reused as a template, see Figures 13 and 14.

The template set (or other device) with anchor rods should be secured in its correct position in accordance with the drawings.

The concrete should be placed and cured.


Figure 13. Four Anchor Rod Group in a Template. Note Top is Galvanized.


Figure 14. Template Secured to the Forms to Ensure Proper Alignment. Note Anchor Rod Threads Taped to Prevent Contamination by Concrete.

If a top template is above the concrete surface, it may be removed 24 hours after placing the concrete.

The exposed part of the anchor rods should be cleaned with a wire brush or equivalent and lubricated with beeswax or toilet-ring wax.

After at least 24 hours, the anchor rods should be inspected visually to verify that there is no visible damage to the threads and that their position, elevation, and projected length is within the tolerances of the AISC Code of Standard Practice for Steel Buildings and Bridges; and that the misalignment from vertical is no more than 1:40. It is good practice to use a steel or wood template with the hole pattern to check the base of the post and the anchor rods. The nuts should be turned onto the rods well past the elevation of the bottom of the leveling nut and backed off by one worker using an ordinary wrench without a cheater bar.

Once the concrete has reached sufficient strength, anchor rods are ready to be subjected to erection loads.
6.9 Procedure for Anchor Rod Tightening and Follow-Up Retightening
Anchor rod joints require some level of pretensioning. Only installation of double-nut-moment joints is covered in this section since single-nut joints are generally not recommended for large cantilevered structures. Requirements for fatigue-loaded, threaded-shear-and-uplift joints may be derived from the installation requirements of double-nut-moment joints.
The "turn-of-the-nut" method is primarily relied upon to achieve a certain pretension between the double nuts of the anchor rods. Although torque is a poor way to install bolts and anchor rods, it is the only alternative for defining snug-tight conditions, inspection, and retightening. Lubrication of the threads of the anchor rod, the threads of the nut, and the bearing surface of the nut is required for proper installation. Beeswax and toilet-ring wax have been shown to provide good lubrication. In this document, the snug-tight condition for anchor rods is defined as nuts tightened to a torque between 20 and 30 percent of the verification torque computed using the following equation:
Tv = 0.12dbFI
Where
Tv = verification torque (inch-kips or kN-mm)
db = nominal body diameter of the anchor rod (inches or mm)
FI = installation pretension (kips or kN) equal to 50 percent of the specified minimum tensile strength of F1554 Grade 36 rods, and 60 percent for the rest of threaded fasteners.
Research by Till and Lefke has shown that a value of 0.12 in this relationship is adequate for common sizes and coatings of anchor rods. (Note: the torque in "in-kips" can be multiplied by 83.3 to get ft-lb and the torque in kN-mm can be multiplied by 0.73 to get ft-lb).
Very large torque may be required to properly tighten anchor rods greater than 24 mm (1 inch) in diameter. A "cheater bar" such as a pipe or extension handle as much as 3 meters (10 feet) long may be required for the torque wrench. For snugging the leveling nuts, an open-end wrench with a 3 meter (10 feet) long pipe or extension handle will typically suffice. Tightening the top nuts for anchor rods greater than 1 inch in diameter may require either of the following:
A hydraulic torque wrench (Figure 15) or
A box end "slug" or "knocker" wrench with a 3 meter (10-ft), long pipe or extension handle.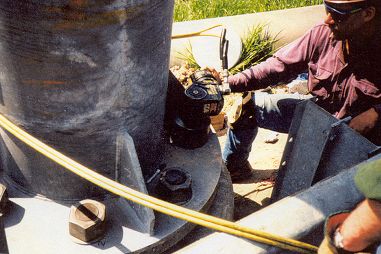 Figure 15. A Hydraulic Torque Wrench Tightening Anchor Rod Nuts to Achieve Needed Rotation.
The box end wrench may be moved by impact with a sledgehammer or by the efforts of several workers. Inadequately tightened bolts can lead to fatigue failures and further loosening of the nuts under cyclic loading. A less likely outcome of failure to follow the tightening procedure is over-tightened rods and associated plastic deformation and stripping of the threads, which may require removal and replacement.
The following steps provide a recommended anchor bolt installation and tightening procedure:
The proper position of the anchor rods and the proper hole pattern on the post are verified (preferably with a template).

It should be verified that the nuts can be turned onto the rods well past the elevation of the bottom of the leveling nut and backed off by one worker using an ordinary wrench without a cheater bar.

If threads of anchor rods were lubricated more than 24 hours before placing the leveling nut or have been wet since they were lubricated, the exposed threads of the anchor rod should be relubricated. Leveling nuts should be cleaned, threads and bearing surfaces lubricated.

The leveling nuts are placed on the anchor rods and made level.

Leveling nut washers should be placed.

Next, the post or end frame is brought in and positioned with a crane.

The post or end frame is plumbed or the base plate leveled (as shown on the erection drawings) and the anchor rods are tightened. The following is the installation sequence for double-nut-moment joints using the "turn-of-the-nut" method of pretensioning.

Top nut washers should be placed.

Threads and bearing surfaces of the top nuts should be lubricated, placed, and tightened to the snug-tight condition in a star pattern.

Leveling nuts should be tightened to the snug-tight condition in a star pattern.

At this point, the installation crew should verify if beveled washers are necessary. Beveled washers may be necessary under the leveling or top nut if any face of the base plate has a slope greater than 1:20 and/or any nut could not be brought into firm contact with the base plate. If any beveled washer is required, the installation crew should disassemble the joint as necessary, add the beveled washer(s) and retighten (in a star pattern) to the snug condition top and leveling nuts.

Before turning, the reference position of the top nut in the snug-tight condition should be marked with a suitable marking on one flat with a corresponding reference mark on the base plate at each bolt. Top nuts should be turned in increments in a star pattern (at least two full tightening cycles) to the nut rotation specified in Table 8. After tightening, the nut rotation should be verified.

The load may be released from the crane.

A torque wrench should be used to verify that a torque at least equal to the computed verification torque, Tv, is required to additionally tighten the leveling nuts and the top nuts. An inability to achieve this torque should be interpreted to indicate that the threads have stripped and should be reported to the Engineer of Record.

After at least 48 hours, the torque wrench should be used to verify that a torque at least equal to 110 percent of the verification torque, Tv, is required to additionally tighten the leveling nuts and the top nuts on the anchor rods. An inability to achieve this torque shall be interpreted to indicate that the threads have stripped and should be reported to the Engineer of Record.

The nuts on the anchor rods should be prevented from loosening unless a maintenance plan is in place to verify at least every 4 years that a torque equal to at least 110 percent of the verification torque, Tv, is required to additionally tighten the leveling nuts and the top nuts. Jam nuts or other locking devices may be used to prevent nut loosening.
Tack welding the nut to the anchor rod on the unstressed (top) side of the top nut has been used successfully to prevent loosening or to prevent theft of the nuts, although this would not be allowed under AWS D1.1 and therefore cannot be recommended. If it is used, only ASTM Fl554 Grade 36 or Grade 55 rod, or Grade A 706 reinforcing bar should be tack welded. Under no circumstance should any nut be tack welded to the washer or the base plate nor should the leveling nut be tack welded.
7.0 Management of Inventory
Collection of inventory information and the ability to organize and categorize the inventory is paramount for an ancillary structure inspection program. This section details collection of such information and development of a useful database.
7.1 Collection of Inventory Information
One of the biggest problems in inspection of ancillary structures is the lack of information. Rarely are the structures numbered for easy identification. Historical records such as as-built plans, maintenance repairs, and installation of new sign panels are hard to find. Only now are many states beginning to assign structures numbers during design and/or fabrication similar to bridge structures. Such records are very important due to the many changes to the design specifications of sign structures over the years. Another problem is that fabricators have substituted design drawings with their own shop drawings. While this is an acceptable practice, it adds another layer of documentation that is many times lost.
For these reasons the initial collection of inventory information on ancillary structures is critical. Key pieces of information include route, milepost, GPS coordinates, route association (if not on mainline), county, town, etc. Photos and sign measurements are important to help identify structures, as seen in Figure 16. The following section on database development gives a complete listing that has been used in New Jersey for inventory purposes.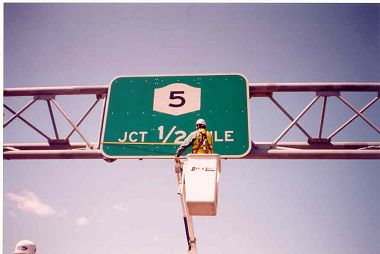 Figure 16. Inspector Measures Sign Panel During Inventory/Inspection Operation.
7.2 Database Development
The large amount of data collected to properly inventory a sign structure warrants a sophisticated database that can sort and prioritize according to structure type, age, location, material, ratings and repair priorities. The goal is to have a database useful to the field inspector, program manager, and maintenance and repair personnel. Each can then draw on their desired information. The database can be a simple spreadsheet but usually involves a more sophisticated program like Microsoft Access or Oracle.
7.3 Example Inventory Checklist
The checklist below is referenced from the New Jersey Department of Transportation Overhead Sign Database Program. These are items deemed important to that particular agency, and will of course vary somewhat with individual State needs. Many items involve the physical location of the structure, the personnel involved with the inventory/inspection, specifics about the structure itself, important dimensions and attachments.
NJDOT Required Inventory / Inspection Information

Date Inspected
Previous Inspection Date
Inspection Type
Cycle Number
Recommended Inspection Frequency
County Code
Municipality Code
Latitude/Longitude
Route
Milepost
Location Description
Traffic Control Requirements
Contract Number
Consultant Firm Name
Consultant Project Manager
Consultant Team Leader
Confirming Registered PE
Structure Name
Structure Configuration
Number of Truss Sections
Material Type
In Service Status and Date
Overall Span Length
Minimum Vertical Clearance
Left and Right Lateral Clearance
Number of Traveled Lanes
Number of Signs
Area of each Sign
Installation Year
Plans Available?
Walkway?
Lighting?
Modification since construction
Damage Reports
Element Ratings
Element Repairs
7.4 Inventory Numbering
An inventory-numbering scheme is required for all ancillary structures. The inventory number is usually the key piece of data that any database relates to. It can be sequential along a route, and contain information relevant to location such as County and Town Coding. It is highly recommended that after an ancillary structure number is assigned the number be immediately stenciled onto the existing sign. Documentation should flow from the field to the sign designer so that any new structures would not be assigned that specific inventory number.
One problem with sign stenciling is that many structural supports are on shoulders that are targets for roadway grime, salt spray and snowplows. Proper positioning of the sign number should consider these effects. The stencil can be placed above the spray of salt or on the backside of the structure. Another option might be to stencil the sign bridge instead of the supporting tower members, or to stamp the number in with metal stamps.
8.0 Inspection Variables
8.1 Types of Inspections
There are several inspection types depending on the circumstances of the sign structure. These inspection types follow those typically performed for bridge inspections.
8.1.1 Initial Inspection
This inspection should take place shortly after the sign structure is constructed. It is common for bolts on sign structures, shortly after installation, to become loose and should be rechecked within 60 days after construction is complete.
8.1.2 Routine
This can simply consist of a ground level inspection with no attempt to close traffic lanes. This type of inspection is recommended during the first phases of a sign structure inspection program to obtain inventory information and quickly look for deficiencies. However, since many structural deficiencies such as weld cracks in the overhead truss cannot be identified from a ground level inspection, this type of inspection is not recommended to occur normally in subsequent inspection cycles. However, as stated in the 'Traffic Control' portion of these guidelines cyclic ground level inspections may supplement an In-Depth inspection due to severe traffic restrictions.
8.1.3 In-Depth
This type of inspection is recommended as a typical inspection of a sign structure. The inspection will be 'Hands-On' as discussed in the following section.
8.1.4 Interim Inspection
This would be recommended by the Inspector if a sign structure is found to have deficiencies or other problems that require more frequent inspection than the typical inspection frequency. An Interim Inspection might also be required after temporary repairs are made to the sign structure. For example, some measures are immediately taken when cracks are found in the overhead sign truss. This may be simply removing the sign panels to reduce wind load, installation of a dampener, or actually completing repairs such as the use of fiber composite material to temporarily restrain the cracked connection.
8.1.5 Damage Inspection
This inspection is provided after a sign is damaged. This could include traffic impact on the post, an over height hit of the truss or sign panels, etc.
9.0 Inspection Frequency
Determining the frequency for ancillary structure inspection is dependent on several factors. One is material type. For example, aluminum truss type span structures have shown increased problems due to fatigue deficiencies. High strength anchor rods have been more problematic than mild steel. Frequency can also be based on structural redundancy. Cantilever sign structure supports only have one main support instead of two or more with span type structures. Sign structures associated with another structure such as a bridge-mounted sign may be inspected as the bridge is inspected during a normal two-year frequency. Many owners are initiating sign structure programs and determining frequency after the first cycle is complete and deficiencies can be categorized. Another previously discussed factor is traffic control and the problems associated with access.
Some guidelines for inspection frequencies are as follows:
Material Issues: Since it has been determined that aluminum sign bridges are problematic, it is recommended that a two-year frequency of in-depth inspections be conducted. To determine if material issues are relevant prior to a full-scale inspection program is set in motion a sample project that inspects 10% of the structure inventory may be prudent.
Redundancy Issues: For cantilever and other non-redundant structures a four-year frequency is recommended.
Typical Sign Bridges: A typical two tower, two or four post sign bridge with a steel superstructure need only be inspected hands-on every six years. Routine or ground inspections can be conducted more frequently to check corrosion of posts or connection problems.
Traffic Issues: If 'severe' restrictions exist, as discussed in the 'Traffic Control' section of these guidelines, frequencies stated above can be extended but supplemented by routine ground inspections.
10.0 Inspection Priorities and Planning
The ancillary structure inspection process should not proceed until a structure inventory has been completed. Only then can proper planning take place. Many State Departments of Transportation have started their structure inspection program using the following strategy:
Perform field reconnaissance and collect inventory information
Perform a random sampling inspection project of perhaps 10% of total inventory
Based on findings of sample project, prioritize and continue full inspection program.
Example Priorities
Aluminum sign bridges
Sign Bridges with long span
Non Redundant cantilever sign structures
Sign Structures greater than 20 years old
Sign Structures where sign panel sizes exceeds those originally designed for.
11.0 Required Resources
11.1 Suggested Personnel Requirements
Inspection of ancillary structures is not required by Federal Regulations, nor are there any requirements for those person who conduct such inspections.
Inspection of ancillary structures has similarities to highway bridges but also some special circumstances that should be addressed. The qualifications for bridge inspection personnel as given in the National Bridge Inspection Standards (23 CFR 650),are summarized below with suggested special modifications for ancillary structures.
Program Manager - The program manager is in charge of the scoping, scheduling, cost control, and quality assurance. Minimum qualifications should be a Professional Engineer or have a minimum of 10 years of experience in structures inspections in a responsible capacity and have completed comprehensive training based on the Guidelines for the Installation, Inspection, Maintenance and Repair of Structural Supports for Highway Signs, Luminaries and Traffic Signals.
Team Leader - Have qualifications specified for Program Manager or have a minimum of 5 years of experience in structure assignments in a responsible capacity or NICET Level III or IV certification in Structure Inspection and have completed a comprehensive training program based on the Guidelines for the Installation, Inspection, Maintenance and Repair of Structural Supports for Highway Signs, Luminaries and Traffic Signals. In addition, the Team Leader should be trained in work zone traffic control such as the NHI Course 38003 - Design and Operation of Work Zone Traffic Control.
An inspection team will usually consist of a Team Leader and an Assistant. Assistant Team Leader qualifications can be project specific. Due to the extent of welded members found in most ancillary structures, it is desirable for at least one team member to have experience in visual weld inspection as well as training in locating and recognizing fatigue cracking.
All inspection personnel should be able to physically perform the work. Although bucket trucks are typically used to access the sign bridge, an adequate in-depth inspection cannot be fully performed from the bucket and some climbing will be required.
11.2 Tools and Equipment
Each inspection team should be fully equipped to perform the structural inspections. Additional equipment may be needed since sign structure inspectors routinely make minor repairs. The reason minor repairs may be attempted during the inspection process is to avoid another work zone setup to perform a minor repair. Such minor repairs may include bolt tightening, replacement of fasteners such as cotter pins, and paint touchup, along with replacing missing pole caps, anchor rod nut covers and hand hole covers.
The list below is what would be considered as 'Tools of the Trade' for the sign structure inspector.
Work-Zone protection and traffic control equipment, including signs, traffic cones and flags (in compliance with the MUTCD and local requirements).
Personal safety equipment, including hard hats, reflective high-visibility vests, goggles, face shields, harnesses (or belts), and lanyards. (All OSHA approved).
Basic access equipment, such as a step ladder, extension ladder, and rope
Tools for inspection, including chipping hammers, pocket knives, screwdrivers or awls, magnifying glass, magnet, flashlights, mirrors. The hammer is an excellent tool for testing anchor rods. The mirror is for inspecting circumferential welds while climbing the truss. A magnet can confirm whether the material is steel or aluminum, as aluminum is nonmagnetic.
Tools for measuring, such as a plumb bob, levels, folding rulers, tapes, calipers, thickness gauges
Wrenches, allen wrenches, screwdrivers for removing access panels and bolt covers
Torque wrench for bolt tightening or checking bolt tension
Digital camera for documentation
Shovel and brush cutters
Marking utensils such as lumber crayons or keel, paint sticks, soapstone, center punch
GPS-recommended since many signs look similar, even sign panels, and are routinely replaced without complete notification to all parties.
Electronic device for measuring vertical clearances is recommended.
Equipment to number the signs, either paint stenciling, adhesive tape, paint markers, etc.
Non-Destructive test equipment such as ultrasonic testing, dye penetrant, or magnetic particle.
Remote cameras for high mast lighting
Bucket truck, see explanation below
While free climbing from the shoulder or with ladders, Figure 17, can access many sign structures, the most typical way the sign structure is accessed is by use of a vehicle mounted access bucket, Figure 18. These vehicles are commonly used by cable and telephone companies and are readily available for rent. For most ancillary structures a 30' boom is sufficient. Access vehicles must be operated in accordance with required safety procedures.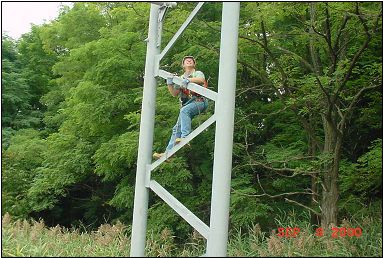 Figure 17. Inspector Climbing Structure.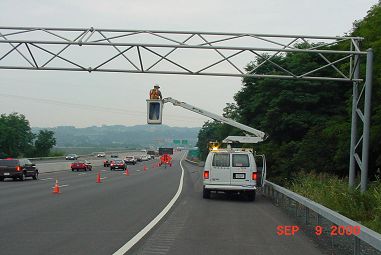 Figure 18. Bucket Truck-Most Common Way to Access Sign Structure.
11.3 Traffic Control
One of the most difficult challenges for the inspection and evaluation of overhead sign structures is that of access for inspection personnel. This challenge arises from the need to satisfy Maintenance and Protection of Traffic (MOT) safety requirements while controlling costs within acceptable limits. Such access strategies include night work, mobile lane closures, and other innovative methods for short-term lane closures. At the heart of the ability to gain inspection access is determination of what areas of these structures are most critical and how often should they be inspected.
It is suggested that a cost benefit ratio be developed for each overhead sign inspection project that considers inspection access, inspection detail, MOT cost and overall safety. Some suggestions for each are presented below with the key determining factor defined as the lane closure restrictions. All suggestions comply with the basic requirements discussed in the 'Manual for Uniform Traffic Control Devices' (MUTCD).
It is recommended that night work be a last resort in planning an inspection program. The small fatigue cracks in a typical sign truss are difficult enough to spot during daytime inspection hours. If inspections are performed at night, adequate lighting must be provided. Below are several considerations in developing a sign inspection strategy driven by closure restrictions.
Minimal Lane Closure Restrictions An example of minimal restrictions would be the allowance of double lane closures during normal work hours between 8 AM and 5 PM. For this scenario it is suggested that conventional stationary type MOT be used. The closure, since of a temporary nature, should be easily deployed and removed. Typical MOT equipment would be a fabric sign conforming to NCHRP 350. Fabric signs allow easy deployment over rigid metal. Also, cones should be used over barrels or barricades again to allow easy setup and removal. If more substantial MOT equipment is required means other than a stationary setup should be investigated. Under these lane closure restrictions a complete full hands on inspection should be scheduled as recommended in the 'Inspection Frequency' section of this document.
Moderate Lane Closure Restrictions An example of a moderate closure restriction would be limited closure time such as a 10 AM to 2 PM window for a double lane closure. A conventional stationary closure could be considered if a full 8-hour window can be scheduled using single lane closures during the morning and afternoon hours. An efficient inspection day might allow for a morning single lane closure encompassing several sign structures that can be expanded into a double lane closure at 10 AM. It is recommended that under moderate lane closure restrictions a full hands on inspection could be completed per the frequency recommended in the 'Inspection Frequency' section of this document.
Severe Lane Closure Restrictions An example of a severe lane closure restriction would be no daytime double lane closures allowed. In this case, the best option would be a mobile night time closure. To reduce the risk of missing deficiencies during the night time inspections as much of the work as possible should be completed during the day using single lane closures. An example would be the use of single left and right lane closures during the day to inspect the post, base, foundation and truss to post connections. The night time work would therefore be restricted only to the interior traveled lanes focusing just on the truss welds and sign connections. Instead of a full hands on inspection with frequencies recommended in the 'Inspection Frequency' section of these guidelines, a modified strategy might be needed. This may be an alternate cyclic combination of hands on and shoulder inspections to minimize the full lane closures.
11.4 Safety
It is highly recommended that every ancillary structure inspection program have a detailed safety plan submitted prior to work commencing. Sign structure inspections are one of the most hazardous types of structural inspections. They usually occur adjacent to live traffic. The sign structures are many times located at the 'gore' or exit areas of high speed roads where work zone safety setups can be extremely difficult to setup. In addition, it is routine that the inspector 'climb' the structure, which are complicated due to angled diagonals and slippery structural members.
When climbing a sign or other ancillary structure a two lanyard system offers the best protection with one lanyard always secured to the structure, see Figure 19. Good gripping boots similar to ones a mountain climber would use are recommended. To perform a climbing inspection everything worn or carried by the inspector must be securely attached to him/her so nothing can drop or hang below the bottom of the structure. The reporting of inspection findings may be handled by use of a radio attached to the inspector through which findings are relayed to a notetaker on the ground. Since the traveling public may be concerned when observing someone climbing a sign structure, some states place a variable message sign stating "Workers Overhead" as informational aid.
Listed below are typical contents of a safety plan:
Safety Plan Officer for Inspection firm
Safety Organization
Safety Incident Report Procedures and Forms
Fall Safety Specifications
Operation of Bucket or lift truck guidelines
Hospital Locations
Latest Manual of Uniform Traffic Control Devices (MUTCD)
Specific work zone traffic setups for 'gore' areas
Mandatory personal safety equipment
First Aid Kit

Figure 19. Inspector Uses Double Lanyard System.
<< Previous | Table of Contents | Next >>