Federal Oversight and Stewardship
The Federal Highway Administration (FHWA) has the authority and responsibility for implementing and monitoring federal laws, regulations and executive orders. When a project (or action) involves federal funding or is on a federal system, FHWA should become involved pursuant to the stewardship and delegation of authority agreements signed with the State. When a federal permit is required, FHWA usually becomes involved in the process as either the lead federal agency or as a co-lead agency.
Stewardship and Delegation of Authority
Stewardship is the process by which federal program responsibility and accountability are delegated to state transportation agencies to act as stewards over those federal functions. Caltrans has sought and accepted stewardship of FHWA responsibilities to the maximum delegation of authority level allowable. Passage of the Intermodal Surface Transportation Efficiency Act of 1991 (ISTEA) significantly changed the transportation business and allowed FHWA to exempt Caltrans from FHWA review and oversight for many activities on federal-aid projects and delegate additional authority to the states for approval and administration of the Federal-aid Transportation Program. To address the major changes brought about by ISTEA, FHWA and Caltrans executed a Stewardship Agreement that detailed Caltrans' acceptance of the maximum degree of authority available to act as a steward for project review, oversight and administration in development of federal-aid highway projects. Caltrans, by accepting the additional responsibilities on projects for which authority has been delegated, assures that the exempt projects are developed and administered to meet federally required procedures and standards.
Note that the current Stewardship agreement in California is in the process of being modified and updated to meet TEA-21 requirements. In the interim, the current Stewardship requirements will be followed, with the addition of two implementing memorandums from FHWA Headquarters: the August 20, 1998 memorandum that provided guidance on project oversight, and the November 13, 1998 memorandum that related to FHWA oversight of unusual structures.
Delegations Withheld
FHWA retained authority and withheld delegation of the following Title 23 United States Code (USC) activities.
Certain Interstate system projects
Changes in connection points to the Interstate System
Exceptions to the 4.9 m vertical clearance on the 42 000 km Priority Network
FHWA delegation of authority does not apply to non-Title 23 USC activities (environmental, right of way, civil rights, etc.).
FHWA Project Oversight
The FHWA has responsibility for all non-Title 23 USC activities (i.e. National Environmental Policy Act, Uniform Relocation Act, etc.) for all federally funded projects; therefore, FHWA involvement should begin as early in the project development process as possible. The degree of FHWA review and oversight for a specific project should be established as soon as possible. At the time of project initiation, Caltrans and/or the transportation project sponsor must decide whether or not they wish to preserve the option to federally fund a project. Once the option to preserve federal funding has been selected and federal involvement has been determined, the project will then be subject to all aspects of federal involvement as detailed in the stewardship agreements.
For the purposes of Stewardship, the following definitions apply:
New
New Construction is defined as a new transportation facility that did not previously exist in the corridor or as the addition of an interchange.
Reconstruction
Addition of a mainline through lane (except climbing and auxiliary lanes)
Significant change in horizontal and/or vertical alignment
Reconstruction of an interchange by adding moves or relocating ramps
Replacement of an entire bridge or the major parts of an existing bridge (in such a manner that it is effectively a new bridge) on new vertical or horizontal alignment
Seismic retrofit projects for the following:

1)Major or unusual structures [major or unusual structures are defined by Federal Aid Program Guide (FAPG) G 6012.1] or
2) Construction costs in excess of $5 million per structure

Major modifications to Traffic Management Centers
Early FHWA involvement is important where project alternatives or costs are dependent on exceptions to mandatory design standards, or where a change in access is an issue. Early involvement helps to avoid project delays. Certain projects are exempt from FHWA oversight, see Figure 2 and Figure 3. However, if a project is exempt from FHWA oversight, it does not preclude requests to FHWA for technical assistance. If no federal funds are used, see Figure 4 for FHWA involvement.
FIGURE 2 - Flowchart for Determining FHWA Project Involvement and Oversight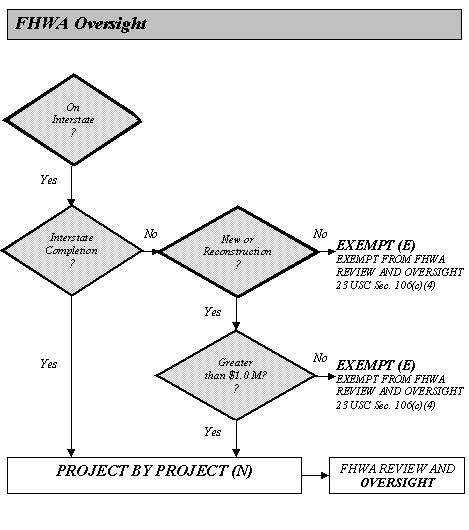 FIGURE 3- FHWA Involvement in Federally Funded Projects
Action, Activity or Task
Exempt
Project by Project
Project Initiation Document
*
X
Special Project Features
X
X
Interstate Access Control Change
X
X
42 000 km Priority Network (vertical clearance)
X
X
Exceptions to Mandatory Design Standards
X
Mandatory Material or Disposal Site
X
NEPA Document (CE, EA/FONSI, EIS/ROD)
X
X
Project Approval Document
*
X
Experimental Work Plan
X
X
Proprietary Items
X
Buy America Provision

X
X
Federal Requirements Relating to Materials
(State-Furnished Material, Guaranty/Warranty, etc.)
[See 23 CFR 635, Subpart D]
X
PS&E and Transmittal Letter
X
Railroad Agreements
X
Right of Way and Utility Certification
X
Federal Fund Request [FNM-76 Form]
X
X
Addendum to PS&E
X
Concurrence in Award
X
Construction Inspections
X
Contract Change Orders and Time Extensions
X
Claims or Granting Non-working Days (Director Days)
X
Final Acceptance
X
X = FHWA Involvement
* Copies of the draft and/or final version of the project initiation document and/or project approval document should be furnished upon request to the FHWA Transportation Engineer. The FHWA Transportation Engineer should be consulted as early in the project development process as possible for all non-Title 23 USC activities (i.e.: NEPA, right of way, civil rights, etc.).
FIGURE 4- FHWA Involvement in Projects and Actions on the NHS that are Non-Federally Funded
INTERSTATE PROJECTS*
NON-INTERSTATE PROJECTS
CHANGE IN ACCESS CONTROL

New connection to mainline freeway lanes
Addition of entrance or exit ramps that complete basic existing interchanges
Major reconstruction where existing interchanges are being modified and/or dislocated ramps are being added or deleted
Removal of existing connection points


- FHWA Concept and NEPA approval required.

NO FEDERAL INVOLVEMENT










DESIGN EXCEPTIONS
NO FEDERAL INVOLVEMENT
42 000 km PRIORITY NETWORK (vertical clearance)
- FHWA approval required
Non Applicable

RIGHT OF WAY

..... where federal funds were used to acquire the right of way and/or for construction

- FHWA approval required for:

Relinquishment of right of way

- FHWA and NEPA approval required for:

Disposal of right of way
Airspace Agreements
Non highway use of right of way
Occupancy of right of way
Disposal of Access Control