San Francisco-Oakland Bay Bridge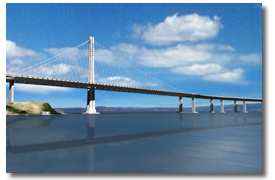 This seismic retrofit work involves approximately seven miles of structure and includes replacement of the east span (a 10,176 ft steel truss from Oakland to Yerba Buena Island) and retrofit of the west span from Yerba Buena Island to San Francisco. The west span retrofit involves strengthening the towers, superstructure and the foundations of the suspension bridge and the approach spans on both the San Francisco and Yerba Buena sides of the bay at an approximate cost of $553 million. The east span replacement will cost between $1.5 and $1.7 billion.
The decision to replace the east span of the San Francisco-Oakland Bay Bridge has been steeped in controversy. After years of research and design proposals, it became evident that replacement of the 1936 bridge would be safer and more cost effective than retrofitting the existing structure. In 1997, then-Governor Pete Wilson concurred with this recommendation. It was determined that the replacement structure would incorporate a signature span and two design alternatives for this span were designed to 30% completion, a cable stayed structure and a self anchored suspension bridge (shown in graphic above). The latter was chosen by the Metropolitan Transportation Commision's (MTC) design task force in 1998. Caltrans proceeded with a "risk design," to expedite the design process even though the environmental process was not yet completed. However, San Francisco Mayor Willie Brown protested against the proposed northern alignment of the new structure, saying that it would adversely impact land use plans by the City on Yerba Buena Island, once the land had been relinquished by the Navy to the City. In the Fall of 2000, the Federal Highway Administration seized the land needed to build the structure from the Navy and turned it over to Caltrans.
For more information on the seismic retrofit of the San Francisco-Oakland Bay Bridge see the Caltrans Bay Bridge Retrofit page or the toll retrofit page.