Advanced Composites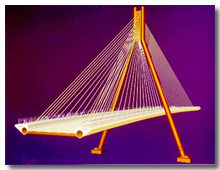 The University of California, San Diego, will soon be unveiling a new structure over I-5 in La Jolla. The Gilman Drive bridge will be a cable-stayed structure comprised of a combination of advanced composites and conventional materials. The Federal Highway Administration has contributed $6 million of Innovative Bridge Research and Technology funding from TEA-21 toward the construction of this bridge. It is estimated that the project will begin construction in 2003.
Background: FHWA/UCSD Cooperative Agreement
Discussions began in 1992 between FHWA, Caltrans and the University of California, San Diego (UCSD) about the feasibility of utilizing advanced composite material technology, originally developed for the defense industry, for civil infrastructure applications. UCSD proposed a research project that would examine different advanced composite bridge systems for incorporation into bridge structures. An advanced composite cable­stayed bridge was proposed to be built over Interstate 5 in San Diego as a demonstration project. This structure type was chosen because it was felt that many different structural systems could be incorporated within this one type of bridge.
A cooperative agreement between FHWA and UCSD was signed in 1993 that provided $1.6 million toward a preliminary design study that would define the critical issues associated with the design, manufacturing, construction, maintenance and long­term behavior of an advanced composite bridge structure. To explore the widest possible range of issues in the design study, UCSD elected to form partnerships with the civil engineering, aerospace and defense communities. As a result of this effort, three design alternates were developed.
In September, 1996, the final meeting for this study took place. A single design alternate was chosen that utilizes concrete­filled carbon tubes for the girder system. After in­depth study of the feasibility and economy of using composites for all structural components, it was felt that some of the components would be more practical if constructed of conventional materials; other components could be either conventional or composites.
ARPA Project
In October, 1993, President Clinton announced the Technology Reinvestment Project to convert Department of Defense funds to funds that could be used to develop innovative technologies in the civil arena. A core group consisting of UCSD, the University of Delaware (UD), Hercules/Alliant, J. Muller International, Amoco and Trans­Science Corporation were jointly awarded one of the early contracts in this program, to be administered by the Advanced Research Project Agency (ARPA), part of the Department of Defense. Their research project is about $21 million in scope, part of which will be federal funds and part matched by the participants. The goal of the project was to develop advanced composite technology for bridge infrastructure renewal, including rehabilitation and repair of existing structures as well as construction of new structures (or structural components) with composite materials. Such components as modular deck sections made of advanced composites that can be dropped into place over existing girders will be studied as part of this project.
Some of the findings from the $1.6 million cooperative agreement have been useful for the ARPA project, and vice versa. UCSD has performed numerous 40% scale model tests on carbon fiber wrapped columns under the ARPA project. Using the results of this testing, a field demonstration project was constructed. Two bridge bents (five columns total) of the Santa Monica Freeway, I­10 in Los Angeles, were wrapped with the carbon fiber system as a retrofit method to increase seismic capacity. In addition, FHWA contributed $500,000 toward the full­scale testing of a two­column bent system (typical for the Santa Monica Freeway) retrofitted with the carbon­fiber wrapping method.
On August 1996, Caltrans issued a provisional policy which allowed tested composite fiber­column wrap as alternate to steel jackets under certain conditions. This will allow limited field installations of E­glass and carbon fiber wraps until the ongoing test program discussed below is completed.
FHWA/Caltrans Priority Technology Program
The composite testing conducted at UCSD did an excellent job of demonstrating the structural capability of column retrofit using high strength fiber composites and showed that composite jackets can increase column ductility, provide confinement and increase shear capacity of deficient columns. However, the testing program did not address long­term strength degradation issues related to exposure to alkali, moisture, ozone, ultraviolet and other environmental, physical and chemical attacks. Both, FHWA and Caltrans were concerned about these issues and in 1995 initiated a testing program to address the question of long­term durability of composite materials.
Other Work
Caltrans has implemented numerous applications of composite materials in their seismic retrofit program. Many columns have been jacketed with e-glass and carbon fiber. Two historic concrete­arch bridges, the Arroyo Seco Bridge in Pasadena (built in 1951) and the Bixby Bridge (built in 1930's) in Monterey County had portions, such as column spandrels, strengthened with composite materials. A demonstration project has been built in southern California which consists of a small single­span carbon shell bridge which combines advanced composite materials with conventional materials. The design utilizes carbon tubes filled with concrete, then used as the girder system with either a conventional deck or a composite deck.