Golden Gate Bridge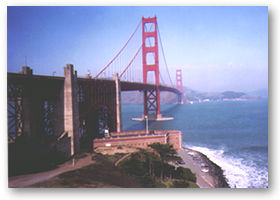 The Golden Gate Bridge: A seismic retrofit in three phases.
The Golden Gate Bridge, owned and operated by the Golden Gate Highway and Transportation District, has been declared one of the seven engineering wonders of the United States by the American Society of Civil Engineering.
But this extremely important bridge, which carries 41 million vehicles per year, is situated near two major faults, the San Andreas and the Hayward, making it vulnerable to a major seismic event. A seismic retrofit project has been in the works for this bridge for nearly a decade. A four-year design study was underatken in the early 1990's to develop a retrofit design. The total cost of the design was $14.7 million, of which $5.9 million came from the Federal Highway Administration out of ISTEA legislation. The final design was completed in 1997 and in that same year the first of three retrofit phases began construction. TEA-21 authorized $25 million of HIgh Priority Projects funding and $22.5 million of Discretionary Bridge funding toward construction of the second phase of the retrofit project. Since the enactment of TEA-21, the District has received addtional Discretionary Bridge funding and, thus far, the total federal money allocated is approximately $65 million.
The three phases of the retrofit consist of:
Phase I: North approach viaduct and north anchorage housing
Phase II: South approach viaduct, anchorage housing and strengthening of the pylons around the Fort Point Arch
Phase III: Superstructure strengthening, including reinforcement of the main cable saddles, the steel tower shafts and the addition of dampers between the towers and the roadway trusses.
Phase I is still under construction and Phase II went to bid on October 10, 2000.
More background and retrofit detail can be found at the Golden Gate Bridge's seismic retrofit summary page.