ACTT A "How To" Guide for State Highway Agencies
ACTT 101
Who?
Owner agencies in 19 states have conducted or planned 21 ACTT workshops since 2002 (see Appendix F). In the crucial early phases of construction project development, they bring to bear ACTT's team of national experts who represent AASHTO, FHWA and industry and are drawn from a national resource pool. The ACTT Skill Sets Council represents skill sets essential to highway planning, environment, design, contracting, financing and construction. Face-to-face, local stakeholders and experts evaluate all facets of specific projects. They plan, problem-solve, share information and spotlight creative ways to reduce construction time, improve safety, elevate quality, and reach - or exceed - project goals.
Skill Sets of Experts Sent to the Site
Innovative Financing / Innovative Contracting
Structures
ROW/Utilities / Railroad Coordination
Public Relations
Environment
Construction
Geotechnical / Materials / Accelerated Testing
Roadway / Geometric Design
Traffic Engineering / Safety / ITS
Long Life Pavements / Maintenance
ACTT works because it was designed as an owner agency tool. The Transportation Research Board, American Association of State Highway and Transportation Officials, and FHWA piloted the program and continue to support workshops and disseminate the resulting solutions. ACTT, however, belongs to, and most benefits, the States. As program innovators pass the baton and State agencies take on new responsibilities for initiating and implementing ACTT as standard practice, the Accelerated Construction Management Team will be available to assist State DOTs and FHWA Divisions.
What's New? The Accelerated Construction Management Team
Mission
Provide State agencies with the necessary support to incorporate ACTT routinely into planning for any appropriate project.
Goal
Compound the benefits of innovation and expertise by rapidly transferring top technology solutions to those who can use them, ultimately making it easier to openly exchange good practices in highway construction.
Contacts
See Appendix A
What?
The overarching purpose of advancing and institutionalizing ACTT is to help unleash the opportunities inherent in unfettered mobility. ACTT is an increasingly popular strategic tool that identifies innovative technologies and techniques to help State transportation agencies reduce construction time on specific projects or corridors. An intensive workshop is the centerpiece of the process that teams national transportation professionals with their local counterparts to focus on ways host agencies can meet - and beat - ambitious project goals. ACTT workshops have focused on projects with budgets ranging from $1 million to more than $2.5 billion.
Workshop recommendations and proceedings are documented in comprehensive reports that are widely circulated among stakeholders. Please visit http://www.fhwa.dot.gov/construction/accelerated/ to view the reports.
When?
Between Spring 2002 and Summer 2005, 21 ACTT workshops helped 19 States plan projects with goals of slicing construction time by four months to five years, depending on the scope of the project. Seven new ACTT workshops are planned for the remainder of 2005 and 2006, and 11 States and the District of Columbia are considering forums for 2006 and beyond. The full roster is at Appendix F.
Where?
The ACTT team of national experts, hand-picked for the challenges of a given project, converges at a meeting locale near the anticipated construction site. They visit the site and brainstorm with local stakeholders to address the opportunities and obstacles ahead.
Why?
Most ACTT workshops result in recommendations that shorten construction time by 30 percent or more. They spark ideas for millions in cost savings and produce congestion-busting solutions early in the project development process.
The TRB, AASHTO and FHWA asked in 1996 what it would take to give agencies a tool that addresses the necessary challenges of system improvements on the one hand, and the taxpayer desires for minimal work zone congestion and construction time on the other. An answer: the ACTT approach that partners local project representatives with national experts to evaluate all facets of a given project or corridor improvement.
Construction under traffic is the primary challenge facing owner agencies. The numbers are well known: the nation's traffic volume increased more than 75 percent in recent decades while highway capacity grew by just two percent. Figure 1 shows how closely traffic volume is related to increases in economic growth, indicating the true cost of lagging capacity. While an aging system, limited capacity growth and increasing traffic demands challenge the most visionary of agency professionals, ACTT delivers a host of resources to help States meet – and beat – ambitious goals.
Figure 1: Research has shown a close relationship between Vehicle Miles Traveled (VMT) and Gross Domestic Product (GDP), both of which have grown tremendously since 1960.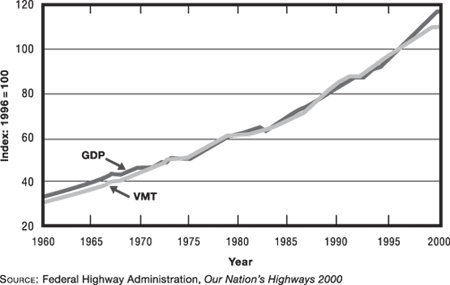 How Much?
Funding for the initial ACTT program was a cooperative effort of AASHTO and its Technology Implementation Group (TIG), along with FHWA. The funds made available by these organizations covered invitational travel and workshop facilitation, coordination and documentation. Future ACTT workshops position the host State as the prime sponsor with funding for the workshop considered eligible for regular Federal-aid assistance. FHWA will continue to work closely with each State to develop full participation in ACTT workshops, will maintain the national roster of skill set experts and will make ACTT leadership available for workshops and related activities.