Bridging History: The Harford Road Bridge Project
Project Details
2.1 Project Overview
The Harford Road Bridge Project includes the replacement of the filled arch bridge over Herring Run with a conventional 3-span, pre-stressed, concrete girder bridge on the same alignment. The proposed bridge will provide similar lane widths as the existing bridge and will include 5 foot sidewalks on both sides of the bridge. Highway approach work includes smoothing out the vertical profile to provide a smoother riding surface.
Figure 1. Harford Road Bridge project area.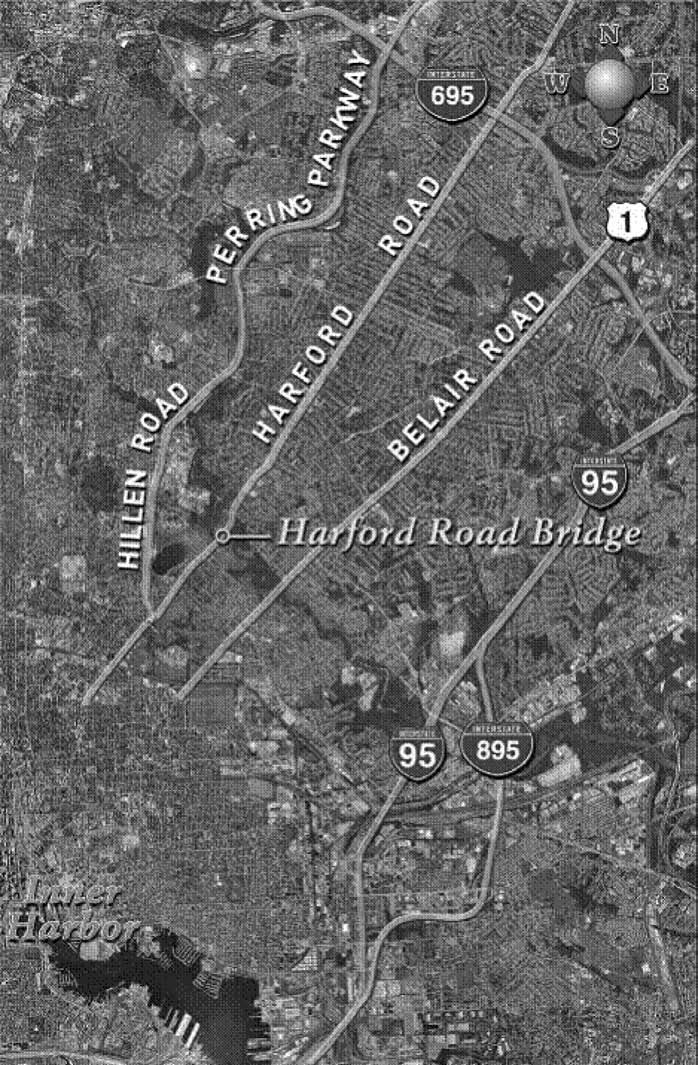 2.2 Project History and Development
Constructed in 1911 and designed by noted arch bridge engineer Daniel Luten, the existing Harford Road Bridge is eligible to be listed on the National Register of Historic Places. The current bridge is a three span concrete filled arch bridge which runs over Herring Run and Herring Run Park, an active community park with many involved community stakeholders.
Harford Road Bridge, 1938.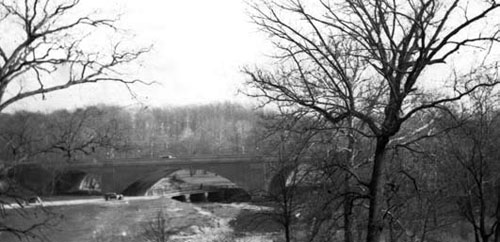 Harford Road, also known as Maryland Route 147, is a major North-South gateway into and out of Baltimore City. Nearly a century after it was built, the historic Harford Road Bridge is showing its age with a fair to poor Bridge Sufficiency Rating (BSR) of 39.6, which makes it eligible for federal funding. Problems with the bridge include arch barrel deterioration, failing spandrel walls, inadequate fill drainage, and an uneven roadway surface. With an Average Daily Traffic (ADT) volume of over 21,000 vehicles, the Harford Road Bridge needs to be replaced in order to continue to handle increasing traffic volumes for the next 100 years.
2.3 Project Purpose
The purpose of the Replacement of Harford Road Bridge over Herring Run project is to demolish and replace the existing Harford Road filled arch Bridge over Herring Run which is in need of full replacement due to deteriorating superstructure, while minimizing traffic disruption and impacts to Herring Run Park users and local residents.
Harford Road Bridge at Herring Run plan concept.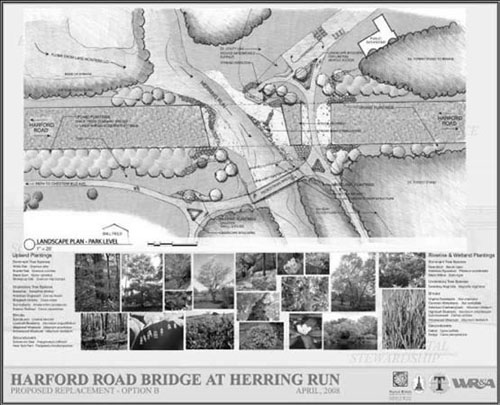 2.4 Project Challenges
Due to the location of the project area and its role as a key gateway into and out of Baltimore, it is vital that construction is completed as quickly as possible to minimize impacts to the traveling public. Located above an active and much loved community park, it is crucial that the project team explore effective ways to replace the bridge with minimal environmental and community impact. With many interested, involved and vocal stakeholders, developing a unified public relations campaign and creating a central project repository for all pertinent project information is also key to the project's success. Finally, with the rising cost and availability of materials, cost savings is an issue to be explored.
2.5 Project Status
The anticipated time to construct the bridge using the current 90% complete contract documents is three years. The advertisement for construction for a revised design is scheduled for July 2010. The construction duration for the revised design is estimated to be two years.