ACTT Workshop: Ohio
Enhancing Mobility: The I-70/I-71 South Innerbelt Corridor
Skill Set Recommendations
3. Skill Set Recommendations
3.1. Construction/MOT
The construction skill set offered the following recommendations:
Sequencing
Consider spot improvements on alternate routes for added capacity.
Construct the east leg of the C-D and connectors before the south leg.
Build the East Interchange next.
Construct the mainline last.
Packaging of Structures for Contracts
Group all structures on the East Interchange under one contract. This includes the Fulton C-D to eastbound connection, the eastbound/westbound mainline and the westbound to Mound C-D.
Package the cross street structures on the east leg under one contract. Do the same with the cross streets on the south leg.
Group the west end of Fulton Street/I-670 interchange and the east end connectors for Mound and Fulton together.
East Interchange
Locate the structure piers early in design so that they don't conflict with existing traffic lanes/flow. Can be built offline early.
Consider combining the T intersection with Parsons and the flyover of Mound on structure with the signal starting the city grid.
Build the Fulton to 70 eastbound connector early and offline.
Add temporary pavement to 70 eastbound, move ramp traffic into the tunnel and build the new 70 mainline.
West End C-D Connectors (Fulton and Mound)
Utilize either a temporary structure or a one-way on the Short Street Bridge as a connector to Fulton.
Cross Street Bridges on the East and South Legs
Allow the contractor to select sequence and method (alternative bidding) for replacing crossings, and allow more than one crossing to be under construction at a time.
Use drilled shaft/secant piles for new bridge abutments; they can be constructed offline.
Consider Texas thin-deck tied-arch structures.
Incentives/Disincentives
Use intermediate milestones for coordination of multiple contracts or sequencing based on time.
Utilize performance specification options in the contract.
Consider incentives such as A-plus-B contracting, lane rentals, weekend closures, long construction seasons and lane assessment fees.
Retaining Walls
Use secant pile walls built from the top of the trench (the C-D road level); excavate as needed from the highway level.
Utilities
Address possible asbestos pipes, making sure that all utilities are clear prior to the contracts being let.
Consider two or three utility/pedestrian bridges or tunnels.
Build/relocate early.
Staging Areas
Eliminate Fulton Street parking.
Hold off on development at Whittier Peninsula (owned by City Parks).
Consider Africentric School grounds, the East Interchange split midfields and the I-670/71 ramp areas (midfields).
Obtain temporary easements.
Night Work
Allow night work as needed. ODOT needs to determine where a 24/7 schedule will be allowed due to premiums prior to bidding.
3.2. Innovative Contracting and Financing
The innovative contracting and financing team brainstormed the following suggestions:
Project Delivery Options
Review the following project delivery options, noting that the types of financing and number of contracts vary with each:

Design-Bid-Build.
Design-Build (D-B).
Design-Build-Finance-Operate-Maintain.
Multiple Contracts - Design-Bid-Build Delivery
Note that the number of contracts is based on various factors:

Timing and availability of funding.
Availability of contractors.
Number of access points and logical breakpoints.
Inherent efficiency of the work.
ODOT's contract management and availability of staffing.

Consider public finance options. Note that these options could lead to longer-term staging and higher costs.

Pay as you go as funds become available.
Utilize public debt, i.e., bonds or an Infrastructure Bank loan.
Single Contract
Consider D-B (public financing) or Design-Build-Finance-Operate-Maintain (a concession agreement with public/private financing).
Investigate public-private finance options, including the following:

Grant Anticipation Revenue Vehicle (GARVEE) bonds.
Tolling the facility to repay public or private debt, such as Transportation Infrastructure Finance and Innovation Act (TIFIA) funding, State bonds and/or private investor debt.
Availability funding payments to the developer.
Availability Funding
Consider a concession contract with or without tolling.
Make the developer responsible for financing project construction; the State could contribute funds through milestone payments.
Designate the developer as responsible for design and construction of the project, with completion on an agreed-upon date.
Pay the developer annually for performing operations and maintenance. Annual payments would vary according to the changes in the Consumer Price Index (CPI) and would be adjusted based on the developer meeting established performance standards.
Consider a long-term arrangement of 30 or more years.
3.3. Traffic Engineering/ITS
The traffic engineering/ITS crew outlined the group's mission statement and goals before offering their suggestions:
Mission Statement
Safely handle traffic before, during and after construction to minimize disruptions to motorists, businesses and residents.
Goals
Identify risk areas.
Identify options to minimize disruptions to motorists, businesses, etc., in a cost-effective manner.
Identify appropriate technologies and methodologies to be considered.
Freeway Construction
Avoid simultaneous major construction on freeways.
Complete other projects before starting this one, if possible. Projects to be completed prior to commencing freeway construction include the following:

North Outer Belt at SR315, US23, I-71 (2006-12).
South Outer Belt widening (2009-10).
SR 315 near Ohio State University (OSU) bridge rehabilitation (2009-10).
West Outer Belt major rehabilitation (2011-12).

Coordinate with other major city projects, including Town Street and the one-way/two-way conversion.
Get people who can affect the schedule and money involved in the decision-making process; accelerated funding may not be available.
City Street Construction
Add capacity improvements to predetermined alternate routes. Money for additional projects may prove difficult to obtain.
Signal Coordination
Adjust signal timing to move traffic efficiently through downtown.
Operational Changes to City Streets
Change one-way to two-way and vice versa.
Provide directional travel during peak hours.
Operational Changes of Freeway
Detour traffic to provide one-way traffic through overlap section.
Spot Capacity Improvements on Alternate Routes
Improve corridor capacity along bottleneck areas on I-670, SR 315 and I-71.
Level of Service Outside of Project Area
Determine how improvements in the split will affect the level of service (LOS) upstream and downstream.

Capacity outside the work area will not be improved; however, some other minor improvements to ramps and connectors will occur.
Possible barriers include scope creep.
City Street Parking
Remove parking from city streets to improve capacity. (Current design of intersections provides bump outs for parking.)
Encourage use of alternate means of travel.

Possible barriers include public response.
Temporary Route Designation
Re-sign I-71 to use SR 315 and I-670.
Re-sign I-70 to use I-670 and I-71 or US 33 and SR 104.

Possible barriers include motorists disregarding signs, enforcement issues without a full closure, the capacity of alternate routes and motorist confusion.
Temporary Ramp Closures
Close ramps in proposed work area to reduce volume on mainline.

Barriers may include the city street and ramp capacity and the need to maintain access to local businesses and Children's Hospital.
Alternative Means of Transportation
Encourage bus and street car use.
Promote carpooling; provide free parking for HOV.
Utilize business shuttles to outlying employee parking lots.

Potential barriers include enforcement and cooperation from businesses.
Rerouting/Detouring Traffic
Move traffic so the freeway can be a one-way through the project area. Force I-70 westbound and I-71 southbound to use I-670 westbound. (The capacity of I-670 may be an issue.)
Make a one-way into downtown in the morning and a one-way out of downtown (the opposite direction) in the evening.
Use moveable barriers to provide directional movements into and out of downtown during peak hours.
Downtown Employers
Ask businesses to 1) provide flex hours; 2) establish satellite offices and parking lots; 3) encourage carpooling and bus use; and 4) provide shuttles.
Exchange information to improve guidance to unfilled parking areas.
Address potential resistance from employers and employees.
Freeway Management System (FMS)
Direct traffic to parking areas.
Provide information on detour routes/city streets.
Use dynamic message signs (DMS) on city streets.
Expand ITS on freeway and city streets.
Media/Public Information
Provide timely information to media outlets. This will require ongoing communication between the project manager, contractors and ODOT Office of Communications.
Utilize highway advisory radio (HAR) for construction notifications.
Provide construction information to American Trucking Association and Ohio Trucking Association.
Provide information to Indiana DOT to pass onto truckers through their own informational programs.
Provide construction updates at rest areas.
Use citizen band (CB) wizard to provide information to truckers on the road.
Utilize advanced detection to identify traffic queues within the work zone and disseminate information to the public.
Provide up-to-the-minute work zone traffic information to global positioning system (GPS) internet mapping providers.
Provide detour and route designations to GPS providers.
Utilize billboards to promote the start of construction.
Consider messages on sports stadium boards, i.e., the OSU/Clippers message board.
Create a project website and e-mail notification list.
3.4. Structures (Major Bridges)
The structures (major bridges) skill set offered the following recommendations:
Constructability/Cost Review
Perform a constructability/cost review early in the process, while geometrics is still in development.
Consider making the constructability review part of bridge type studies. Bridges constitute half of the total construction cost – they are obviously a major driver.
Africentric School Athletic Fields
Raise the field about 16 feet, and adjust the profile of the east end of Fulton Street as it crosses under the field.
Cap the structure to support a portion of the field.
Buy the property and relocate the school. Utilize it as a staging area, and sell the property at the end of construction, or offer the property as an incentive to the contractor.
Local Streets over the South Leg of 70/71
Consider a two-span shallow structure.
Utilize rapid construction techniques/prefabrication.
Design a shallow depth arch.
Use a shallow structure to raise the profile of the trench.
Western Crossover for the Collector over 70/71
Consider either a transversely framed structure with a median pier or a transversely framed clear span structure.
Construct conventional beam structures with straddle bents.
Temporarily reroute Fulton Street traffic onto Front Street.
Prohibit the use of above-deck structures.
Eastern Crossover for the Collector over 70/71
Construct conventional beam structures with straddle bents.
Consider transverse framing in a type study.
Braided Bridge
Flip the profile of the Braided Bridge south of Miranova.

Would reduce bridge costs.
Requires geometric consideration.
Would need to review access to Miranova.
Major Interchange Issues
Address mono-shaft (large diameter) foundations.

Install shafts with oscillator/rotator.
Include an obstruction clause in the contract.

Consider flyover ramp superstructure options, including:

Steel plate/box girders.
Precast segmental box girders.
Cast-in-place (CIP) concrete box girders.
Other Recommendations
Consider a utility bridge/tunnel at Eighteenth Street. Need a power supply for Children's Hospital.
Provide for early identification of sensitive noise/vibration impact sites, i.e., with drilled foundations or near the hospitals.
Consider eliminating the Oak Street structure or the pedestrian bridge (cost-saving modification).
Make sure there are no trees on the bridges. This was an overwhelming mandate from the group.
3.5. Retaining Walls/Geotech
The retaining walls/geotech team reiterated the group's goals before making their recommendations:
Team Goals
Retaining walls.
Cut/fill.
Drainage.
Structure type selection – future caps.
Utilities.
Pavement type.
Subgrade stabilization.
Picture 1: Example of a drilled shaft wall.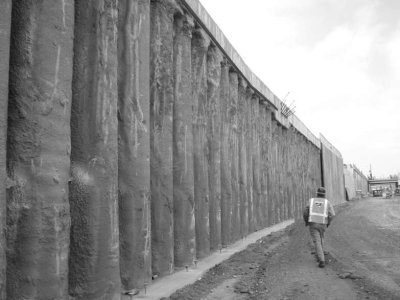 Wall Types
Consider anchor soldier pile walls. Whether or not vertical loads are applied will depend on soil conditions.

Advantages include the cost, top-down construction and the ability to utilize conventional construction methods.
Disadvantages include easement/ROW/utility obstructions. Anchor soldier pile walls make it difficult to accommodate vertical loads; require a time-consuming step-wise construction process; and may interfere with frontage/service road operations during the first phase of construction.

Investigate applicability of soil nailing, again noting that whether or not vertical loads are applied is dependent on soil conditions.

Advantages include the cost, top-down construction and the smaller equipment needed when compared to an anchor wall.
Disadvantages include their inability to accommodate vertical loads. The ROW requirements are less than for anchor walls, but they are considered unconventional in Ohio.

Utilize drilled shaft walls, which include secant, tangent or spaced walls.

Advantages include their ability to take vertical loading; top-down construction; off-path construction; and the minimal easement required, which lessens utility conflicts.
Disadvantages include cost and potential interference with frontage/service road operations during initial construction.

Construct slurry trench walls.

Advantages include their ability to take vertical loading; top-down construction; off-path construction; and the minimal easement required, which lessens utility conflicts. In addition, slurry trench walls are effective in areas where high ground water conditions exist.
Disadvantages include the high cost of construction and the limited experience of Ohio contractors in building this type of wall.
Subgrade Stabilization
Utilize global chemical stabilization to address subgrade issues.
Foundation Soils
Evaluate settling, and monitor during construction.
Evaluate the waiting period for settling in the foundation design.
Utilize methods to accelerate settling and shorten the waiting period.
Evaluate the use of reinforced soil slopes (RSS) with appropriate erosion control.
Drainage
Evaluate the effects of drainage on retaining walls throughout the corridor.
Conduct long-term monitoring of water levels as part of ODOT's geotechnical investigation.
Anticipate potential settlement in drainage design.
Utilities
Evaluate potential interference with tie-backs and soil nails.
Field locate and verify existing underground utility locations.
Other Issues
Consider 3-D modeling of the existing and planned conditions to include utilities, structures, soil borings and construction phases.
Consider waste and borrow needs in light of dividing the project into multiple contracts.
3.6. Roadway/Geometric Design
The geometrics team made a number of recommendations:
Africentric School
Shift I-70/I-71 northbound to the north.

Puts the road in conflict with the convergence of the system ramps.
Faces potential vertical conflicts with ramp crossings.
Makes structural crossings challenging (at a minimum).

Purchase the Old Kroger Property from Children's Hospital to relocate the athletic fields.
Raise the football fields and track to allow tunneling of the ramps.
Cap I-70 to relocate the football field next to the school.
Address potential barriers, including the following:

Children Hospital's plans for the property are unknown.
The cost of the property could be prohibitive.
The structure cost could be high.
ODOT is unsure if the available space is adequate.
The aesthetics of a raised field may be unacceptable.
There are sight distance and signing issues under the structures.
Miranova
Provide alternative access.

Lower the Mound Street intersect with Short Street. This will decrease construction time.
Retain the Second Street entrance ramp.

Mitigate aesthetic and noise issues through the use of fountains and vegetative screenings.
Note that potential barriers at Miranova include the following:

Would improve access to Miranova but not to the parking facility.
Might encounter issues with raising Mound Street to cross the railroad, which is immediately to the west.
Could encounter operational issues with a left turn onto the Second Street ramp.
Would face structural challenges with the crossing of the Second Street ramp and the exit to SR 315.
Face a potential encroachment to the American Electric Power (AEP) substation.
Scissor Intersection
Eliminate two-way traffic on Parsons and make it a one-way northbound.
Consider a no-build C-D south of Broad Street by using a one-way C-D crossover.
Replace the Parsons Avenue exit with an Oak Street exit.
Consider a roundabout.
Address potential barriers:

A one-way northbound is unacceptable to the community.
A two-way on the west side would have additional impacts to properties west of I-71; would likely create operational problems at Main Street; faces potential vertical clearance issues within the East Split; and would require the construction of a costly and complicated "S" structure over I-71.
Replacing the Parsons Avenue exit would introduce weaving conflicts on I-71 northbound and add circuitry to the access to Children's Hospital.
The roundabout footprint would require an unconventional design. It would also create ROW impacts and decking challenges over I-71.
Figure 2: Depiction of the one-way C-D crossover proposed by the roadway/geometric design team.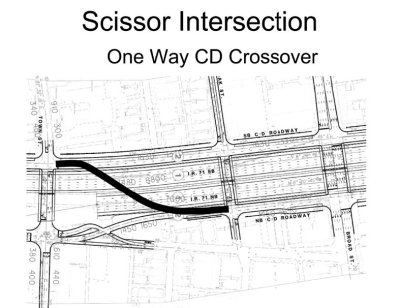 Spring Street to 670 Westbound
Eliminate the direct connection from Spring Street to I-670 westbound. Could provide indirect access via Leonard Avenue to I-670 westbound by utilizing the existing ramp.
3.7. ROW/Utilities/Railroad Coordination
The ROW/utilities/railroad coordination crew offered the following suggestions:
Purchase or compensate the Africentric School for impacted property.

Be aware that the site has recognized 106 (building) and 4(f) (track) resources.
Identify the costs for various options. The impact to track and fields is estimated at $4 million; the total site impact, at $24 to $30 million.
Determine how much the proposed ramp to Grant Street would impact the school parcel.

Utilize advanced acquisition; it would provide 22 acres for staging and unquantified savings by reducing construction costs. It would also provide potential residual value after construction is complete.
Whittier Peninsula
Note that site is a recognized 4(f) resource.
Coordinate early with Franklin County Metro Parks – the property was recently handed over to them but reconstruction has not yet begun.
Make this a staging area; it is one of two potential localized staging areas.
Recognize that this area may be needed for storm water best management practices (BMPs)/detention ponds.
Use retaining walls. Avoid the use of tie-backs to reduce ROW.
Utilities
Provide early utility coordination.

Make utility companies part of the team.
Establish a dedicated, full-time utility coordinator beginning now and ending at the completion of construction.
Require the designer and contractor to assign one full-time person to work with utilities.
Provide sufficient time to acquire all needed permits from the Army Corps of Engineers, the railroad, etc.

Require the contractor to perform utility relocation work for the utility companies.

Make the contractor responsible for utility delays.
Allow the contractor to hire sub-contractors who are certified to install utilities.

Maximize the use of subsurface utility engineering (SUE) information during design and construction.

Develop a conflict matrix and analyze all areas of concern.
Make efforts to "design around" major conflicts.

Consider compensation and incentive issues.

Provide full compensation for all utility work, and tie compensation to a completion schedule.
Create financial and other incentives for meeting completion dates.
Railroad
Avoid the railroad at all cost.

If the railroad cannot be avoided, provide sufficient time to review plans and agreements.
Get any and all agreements in writing.
Avoid drainage onto the railroad ROW.
Provide sufficient time to acquire all needed permits.
3.8. Environmental
The environmental group noted that their focus was not necessarily to accelerate the project but rather to prevent delay. Team members made the following suggestions:
General Issues
Evaluate the environmental consequences of construction, including the duration of the project, following the National Environmental Policy Act (NEPA) process.
Establish a project coordinator for environmental commitments. Have that person serve as a community ombudsman.
Construction Noise and Vibration
Involve the public in the analysis and development of a noise control plan.
Work with city officials/developers to encourage noise-compatible redevelopment.
Construction Staging
Identify contractor restrictions based on location, type of activity and time of day.
Complete an environmental assessment of all staging areas, including information on the alternatives considered, the potential impacts and any necessary mitigation.
MOT
Complete an environmental assessment (EA) of MOT, including information on the alternatives considered, the potential impacts and any necessary mitigation.
Consider noise, community disruption and safety services.
Make targeted transit investments to reduce traffic volumes.
Legal Issues
Ask FHWA to conduct a legal review of all 4(f) documents.
Complete an environmental document classification review detailing cumulative construction impacts.