Innovations - Self-Consolidating Concrete
PDF Version (173 kb)
High-performance concrete is strong and workable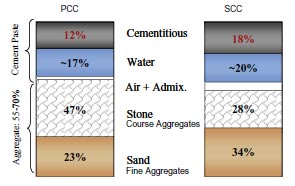 Example of relative proportions of various mix components in conventional concrete versus SCC
A technological advance in concrete formulation is reducing time and labor requirements in the construction industry while providing a strong and durable material. Self-consolidating concrete (SCC), sometimes referred to as self-compacting concrete, can effortlessly fill and consolidate in complex structural shapes and around congested steel rebars, eliminating the need for mechanical vibration. SCC offers significant advantages over conventional concrete mixes, which can create air pockets and material segregation problems because of improper consolidation.
Concrete is a heterogeneous mixture of water, cement, sand (fine aggregate), rocks of various sizes (coarse aggregate), and air (porosity). In addition, today's concrete often includes supplementary cementitious materials—such as fly ash, silica fume or slag—and chemical admixtures. Water and cementitious materials combine during the curing period to form a cement paste and produce finished concrete with specific performance characteristics of workability, strength or durability.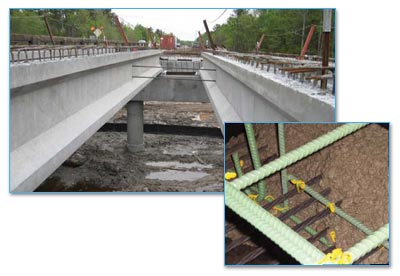 Example of relative proportions of various mix components in conventional concrete versus SCC
Compared to conventional concrete mixes, SCC mixes incorporate a higher proportion of fine contents, including sand, cementitious materials, and chemical admixtures such as high-range water reducers, superplasticizers, and viscosity modifiers. SCC mixes are designed to ensure optimal flowability, passability (the ability to fill restrictive spaces), and stability. SCC offers many benefits over conventional concrete:
Reduced labor requirements. Workers no longer need to vibrate concrete and can spend less time on surface finishing and screeding for highway or slab-on-grade projects.
Quicker installations. SCC has allowed contractors to achieve 50 percent higher production rates.
Lower project costs. Fewer workers, longer lasting forms, fewer surface repairs, and a quicker installation process translate to lower project costs.
Reduced construction noise. Lack of loud, heavy vibration machinery allows repair work to continue through extended hours in populated areas with noise restrictions.
Improved worker safety. Workers no longer need to access unsafe areas on large or deep structures to vibrate concrete.
SCC technology originated in Japan in the mid-1980s to address the construction industry's shortage of skilled labor during that country's infrastructure boom. SCC technology has spread westward since, especially in Western Europe, and has gained momentum in the United States during the past decade. This technology has extensive use in the precast concrete industry, which manufactures concrete structures at a plant and installs them on a job site. SCC applications also have expanded and are not limited to onsite construction projects or tall and massive structures.
Construction industry stakeholders have recognized SCC as a promising technology and are providing support to foster wider implementation.
Noting a lack of standard procedures and specifications for SCC, the Precast/Prestressed Concrete Institute (PCI) developed interim guidelines in 2003 to design and test SCC mixes for the benefit of precast concrete producers.
The American Concrete Institute (ACI) formed a committee of researchers and practitioners to develop guidelines on designing SCC mixes and placing and finishing SCC to achieve desired characteristics.
The ASTM International—an international standards developing organization that produces technical standards for materials, products, systems, and services—has recently produced standardized SCC test methods for key SCC performance criteria (ASTM C1611, C1621, and C1610).
The Transportation Research Board (TRB) and a number of state highway agencies are conducting studies to evaluate the performance of SCC and to customize design and fabrication processes using SCC. Similar efforts, pioneered in Asia and Europe, were successful in promoting SCC technology.
The ACI and other concrete material experts have organized technical conferences and technology transfer events to create an information exchange platform for sharing research and developments in this area.
The Federal Highway Administration offers a 1-day SCC workshop to help states with SCC applications and specifications. Information is available from Suneel Vanikar at suneel.vanikar@dot.gov or Lou Triandafilou at lou.triandafilou@dot.gov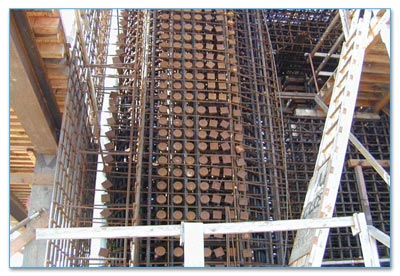 Congested steel reinforcement arrangement where SCC can flow and fill voids to achieve good consolidation.
---
For More Information
Interim Guidelines for the Use of Self-Consolidating Concrete in PCI Member Plants, Precast/Prestressed Concrete Institute, 2003, www.pci.org/view_file.cfm?file=TR-6-03_PCI_SCC_GUIDELINES.PDF
Self-Consolidating Concrete, ACI 237-07, American Concrete Institute, 2007, www.concrete.org/COMMITTEES/committeehome.asp?committee_code=0000237-00
Self-Consolidating Concrete, RP440, Advanced Cement-Based Materials Center, 2007, www.selfconsolidatingconcrete.org/Advanced%20Topics/advanced%20topics.htm
Contact
Reggie Holt
Senior Bridge Engineer
Office of Infrastructure
FHWA
202-366-4596
reggie.holt@dot.gov