Composite Bridge Decking
Highways for LIFE Technology Partnerships 2010 Award $460,305
PDF Version (3.4 mb)
Need for Innovation
Moveable bridges typically have lightweight decks because it reduces the consumption of energy and complexity of mechanical devices required to operate them. Decks used in the past (e.g. steel grating) have a relatively short service life and frequently contribute to the degradation of the structure as a whole because it does not protect structural steel from the elements. Bridge owners have expressed a need for a light-weight, solid-surface deck and these needs can be met with composite materials. They are corrosion-resistant and perform well in fatigue so can be used to provide a long service life with little maintenance. They also provide additional benefits of better skid resistance and reduced noise.
Project Overview
Composite materials are ideal for bridge decks because of their high strength to weight ratio and resistance to corrosion but the initial cost and some problems with the wearing surface have deterred widespread use. This project will refine the materials and fabrication methods used to produce a fiber reinforced polymer (FRP) composite bridge deck that was developed by the University at Buffalo for New York State Department of Transportation (DOT).
Project Status
After an iterative process of analyzing, testing and evaluating various materials, components and methods, a versatile pultruded tube has been selected as the basic building block for prefabricated deck panels to be used on moveable bridges (see figure 4). Panel testing is being done to validate a finite element model and proof testing will be carried out on important details such as connections and the wearing surface.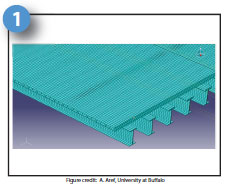 Finite Element Analysis
The panels are cast in an inverted orientation to allow the driving surface to be cast into the demonstration bridge panels with the use of a form liner.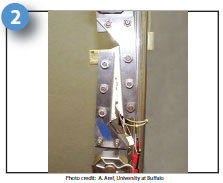 Laminate Coupon Testing
Various material specimens are being tested in tension, compression, and shear.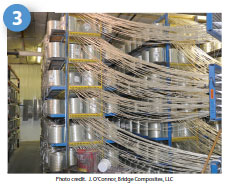 Optimization of Fiber Architecture
Analyses and testing was used to determine a combination of resin and reinforcement that will be suitable for HL-93 truck loading.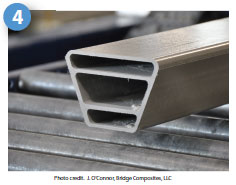 Prototype Tube
Parts were modeled in Solid Works, generated on a 3D printer, then pultruded.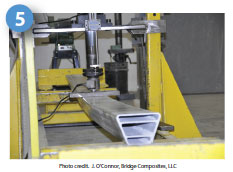 Subcomponent Qualification
Subcomponents of the deck were fabricated and tested to verify that the FEA accurately models observed performance.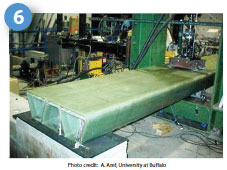 Panel Testing
3'x10' test panels will undergo testing in flexure, shear, and bearing.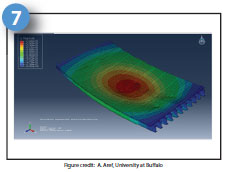 3D Modeling
Tsai-Hill failure criteria were applied to the global model. FEA on local models will validate the approach used for connections, field joints, wearing surface, etc.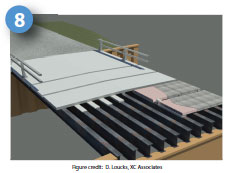 Proof-of-Concept Installation
In 2012, the deck will be used to replace steel grating on a 40' long bridge in Bolivar, Allegany County, NY to demonstrate that the deck and associated details are ready for use on moveable bridges.
Project Team
BridgeComposites, LLC (Hornell, NY)
Integrated Materials and Applied Computing, Inc.,
LeTourneau University, Penn State University,
XC Associates, Inc., and public sector partner
Allegany County NY
Contact Information
Highways for Life
Technology Partnerships Program
Julie Zirlin, 202-366-9105
www.fhwa.dot.gov/hfl
Jerome O'Connor, PE
BridgeComposites, LLC
Tel: (607)725-0442
jerome.oconnor@bridgecomposites.com