Vanguard Technologies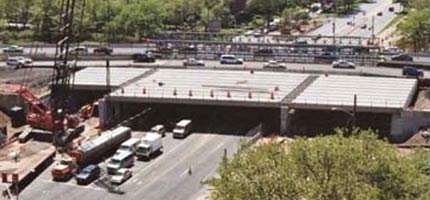 Vanguard Technologies
The Vanguard Technology initiative is designed to greatly accelerate the widespread adoption of high-payoff innovations to benefit road users. In the past, it could take decades for innovations to become mainstream.
The Vanguard Technology process uses dedicated teams, proven marketing approaches and designated funding to deploy innovations much faster. For each innovation, technical and marketing experts identify needs, set implementation goals, develop a strategy and work to accelerate adoption across the country.
It's a process that can work for any innovation. Highways for LIFE created a Guide To Creating an Effective Marketing Plan that organizations can use to carry out their own innovation deployment. A training course, Leap Not Creep: Accelerating Innovation Implementation (FHWA-NHI-134073), is also available that provides transportation professionals with the tools to put innovations to work quickly and make them standard practice in their highway programs.
To demonstrate the success of the Vanguard Technology process, Highways for LIFE is using it to promote five innovations that can save time, boost safety and quality, and cut congestion on highway projects: road safety audits, prefabricated bridge elements and systems, precast concrete pavement systems, techniques for making work zones work better, and the safety edge.
---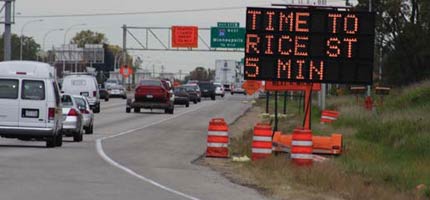 Road Safety Audits
A road safety audit is a tool to improve the safety of roadway design, construction and operations and reduce highway deaths and injuries. In a road safety audit, an independent, multidisciplinary team examines the safety performance of an existing or planned roadway or intersection to identify safety issues. The audit can help produce designs that may reduce the number and severity of crashes, promote awareness of safety and design practices, and cut costs by eliminating potential safety problems.
The marketing plan developed by the road safety audit deployment team promotes a workshop on how to conduct audits and targets 34 states to undergo audit training. The team also created a peer exchange program to provide technical assistance on conducting audits.
Workshops have been held in at least 38 states. Three states have full-time road safety audit coordinators. Several states—including Arizona, Delaware, Iowa, Nevada, New Jersey, South Carolina, Tennessee and Virginia—have made audits a standard procedure. FHWA policy guidance now endorses road safety audits as a proven safety countermeasure.
---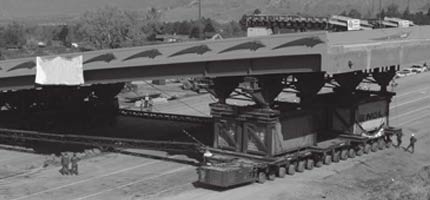 Prefabricated Bridge Elements and Systems
Prefabricated bridge elements and systems are key components of accelerated bridge construction. They are manufactured off-site or next to the work zone and moved into place for quick installation. The result is less traffic disruption, improved safety for drivers and construction workers, and more durable bridges.
The FHWA deployment team set a goal for all states to make prefabricated bridge elements and systems a standard practice. Highways for LIFE has provided incentives to several state highway agencies to use accelerated bridge construction and prefabricated bridge elements and systems on projects. Demonstration showcases combine workshops and construction site visits to show highway professionals how the technology works.
As a result, accelerated bridge construction is gaining national momentum. More than a dozen states have used prefabricated bridge elements and systems on projects and others are considering the technology. At least seven states—including Florida, Iowa, Louisiana, New York, Oregon, Texas and Utah—have adopted accelerated bridge construction as a standard practice.
---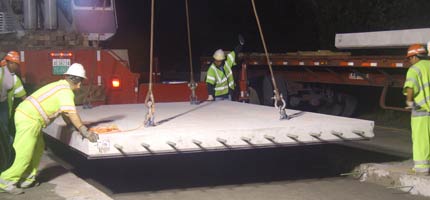 Precast Concrete Pavement Systems
Precast concrete pavement systems are revolutionizing highway renewal and repair. Cast off-site and installed when traffic volume is low, precast concrete pavement panels reduce traffic congestion, make the construction process safer and increase durability.
In its marketing plan, the Highways for LIFE deployment team set a goal for a dozen states to adopt precast concrete pavement systems as a standard approach. Demonstration showcases are available, along with Web conferences and videoconferences on the technology.
At least nine states—California, Delaware, Florida, Missouri, New Jersey, New York, Pennsylvania, Texas and Virginia—have used or are planning to use concrete pavement systems. Several states are using Highways for LIFE grants to try the technology.
---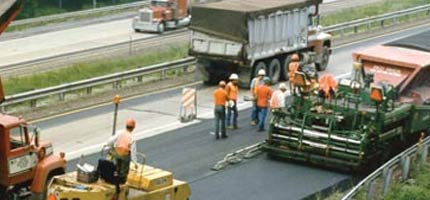 Making Work Zones Work Better
To make work zones work better, Highways for LIFE is helping highway agencies better understand the potential impacts of work zones, improve their work zone management programs, and use a suite of product and system innovations to decrease the negative effects of work zones on construction workers and the public.
More than 100 innovative techniques and products are available to address safety and mobility challenges in work zones. They range from sophisticated electronic equipment that notifies drivers of real-time road conditions to construction process innovations that speed up project completion. Approaches include full road closure to reduce construction time and eliminate the exposure of motorists to work zones and workers to traffic.
The deployment team's goal is to increase the number of states that use innovative strategies for work zone management. Agencies can obtain expert assistance on innovative work zone strategies and technologies through a peer exchange program. Technical assistance workshops and project assessment assistance have enabled many states to use new technologies to enhance traffic flow and improve work zone safety for motorists and workers.
---
Safety Edge
The safety edge is a cost-effective asphalt paving technique that can reduce roadway departure crashes, which account for more than half of fatal crashes. FHWA recommends its use to make it easier for drivers to reenter the roadway when a tire drops off a paved surface, particularly on rural two-lane roads with unpaved shoulders where roadway departure crashes are most prevalent.
The safety edge is created by a simple paver attachment that forms a 30- to 35-degree angle at the interface between the roadway pavement and the graded shoulder. That angle minimizes vertical drop-off and provides a safer roadway edge. The safety edge is not an extra procedure, but merely requires a small change in the paving equipment that has little impact on project costs.
The marketing plan developed by the safety edge team encourages more states to try the technique and adopt it as the standard practice for resurfacing and paving projects. About 15 states have used the safety edge, including Alabama, Georgia, Indiana, Iowa, Missouri, North Carolina and Utah.
---