RealCost User Manual, Version 2.1
August 2004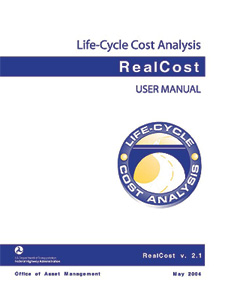 Table of Contents
Introduction

Purpose of the User Manual
About LCCA
About RealCost
Suggested Reading
The Basics
Installation

System Requirements
Installing RealCost

Startup, Navigation, and Exiting

Before First Use
Starting RealCost
Moving Between the Switchboard and Worksheets
Administrative Functions on the Switchboard
Closing RealCost
Using RealCost in Life-Cycle Cost Analysis
List of Tables
RealCost forms and command buttons and their functions.
Life-cycle cost analysis steps and RealCost forms.
Analysis Options form inputs.
Traffic Data form inputs.
Traffic Hourly Distribution form inputs.
Alternative 1 and Alternative 2 form inputs.
Examples of input probabilistic distributions.
Most favorable 10 percent of expected agency cost outcomes.
List of Figures
Example data entry form, Value of User Time.
Example worksheet extract, Value of User Time.
Excel 2000 macro security form.
RealCost on the Windows Start menu.
Excel 2000 macro options form.
RealCost Switchboard.
Opening the Switchboard from the RealCost menu.
Administrative Functions in RealCost.
The five sections of the RealCost Switchboard.
Hierarchy of project-level and alternative-level data.
Project Details form.
Analysis Options form.
Traffic Data form.
Value of User Time form.
Traffic Hourly Distribution form.
Added Time and Vehicle Stopping Costs form.
Switchboard buttons to save and open project-level inputs.
Alternative 1 form (identical to Alternative 2 form).
Ellipsis button, which accesses probabilistic inputs.
Creating a probabilistic input.
Deterministic Results form.
Simulation form.
Simulation form at the conclusion of a simulation run.
Probabilistic Results form.
Probabilistic distribution density and cumulative density functions.
Correlation coefficient graph.
Tail analysis outputs.