What is AAR?
AAR stands for alkali-aggregate reaction and is found in concrete. Concrete is a matrix of aggregates, cementitious material, and water. Pores exist within the concrete matrix. These pores consist of alkalis and hydroxyl ions in an aqueous solution. AAR is the chemical reaction between the alkalis in the pore solution and aggregates in the concrete matrix.
There are two specific types of AAR: alkali-carbonate reaction (ACR), and alkali-silica reaction (ASR). Both ACR and ASR can result in deleterious expansion of structures they affect if given the right environment and enough reactive material to fuel their reaction. However, the reactive material, mechanism of expansion, testing for susceptibility, and preventative measures are different for each type.
For more information on AAR and the difference between ASR and ACR visit:
www.cement.org/tech/cct_dur_AAR.asp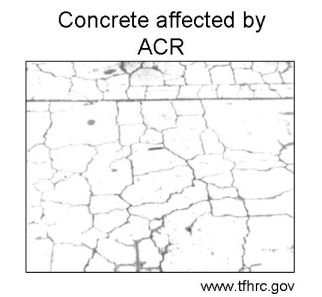 Figure B.F1. ACR-Induced Damage in Concrete.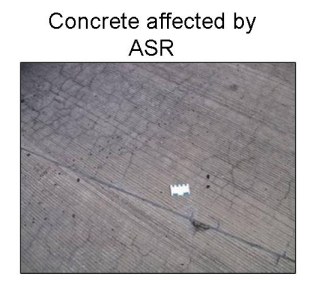 Figure B.F2. ASR-Induced Damage in Concrete Element. Expansion in all Directions Results in Classic Map-Cracking.