Concrete Pavement Technology Update
PDF Version (385 kb)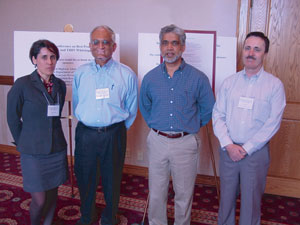 Participants (left to right) at the International Best Practices Conference on Thin and Ultrathin Whitetopping: Armelle Chabot (L.C.P.C., France), Suneel Vanikar (U.S. Federal Highway Administration), Colin Franco (Rhode Island Department of Transportation), and Gerry Roberts (Cement Association of Canada, Calgary).
In This Update:
Long-Life Concrete Pavement
Materials Compatibility
Concrete Curing Guidelines
Precast Concrete Comes of Age
Best Practices Workshops
CPTP Long-Term R&D Roadmap
CPTP Expert Task Group Reports
UTW/TWT Conference
The Concrete Pavement Technology Program
CPTP is an integrated, national effort to improve the long-term performance and cost-effectiveness of concrete pavements by implementing improved methods of design, construction, and rehabilitation and new technology. Visit www.fhwa.dot.gov/pavement/conhome.cfm for more information.
About CPTP Updates
The CPTP Update is one facet of CPTP's technology transfer and implementation effort. Updates present new products and research findings that emerge from CPTP studies. To place your name on the mailing list, call (202-347-6944), fax (202-347-6938), or e-mail (dblumenthal@woodwardcom.com).
The Pursuit of Long-Life Pavements
Recent advances in design, construction, and materials are increasing the projected service life of properly installed portland cement concrete (PCC) pavements to 40, 50, even 60 years, and beyond. Driven by unprecedented demands on the Nation's highway system from heavier loads, greater traffic volume, and higher speeds, efforts to extend pavement life also reflect the adoption of life-cycle cost analysis in transportation investment decisions. With fewer maintenance closures (less traffic interruption), lower life-cycle costs, improved safety, and conservation of resources, long-life pavements make a significant contribution to FHWA's vital few priorities—safety, congestion mitigation, and environmental stewardship and streamlining.
In support of these national priorities, the long-life pavement program is focused on achieving these performance goals:
Increased initial service life (40-60 years)
Lower life-cycle cost
Shorter construction time
Better initial ride
Fewer wet-road accidents
Fewer maintenance closures
More efficient equipment and procedures
Improved quality assurance/control
Progress in the States
Seeking to maximize the longevity of PCC pavements, State highway agencies are implementing new innovations in materials and mix designs, structural designs, and construction and testing practices that hold the promise of long service lives and low life-cycle costs. For example, Minnesota DOT's specifications for jointed plain concrete pavement in urban areas now call for a 60-year design that includes stainless-steel clad dowel bars 38 mm (1.5 in.) in diameter, higher specified air (7.5 percent entrained air), a more durable aggregate (limiting the amount of limestone), 35 percent GGBF slag, w/cm < 0.40, and 356-mm (14-in.) slab thickness.
Illinois DOT, doubling its current 20-year design standard and 22-year statewide average life, has demonstrated a 40-year pavement design for continuously reinforced concrete pavement. According to David Lippert, "Our goal is to provide a zero maintenance pavement for a majority of the first 40 years." The design increases concrete slab thickness to 356 mm (14 in.) and uses a 152-mm (6-in.) asphalt-treated base over an aggregate subbase that is 31 to 91 cm (12 to 36 in.) thick; uses the most durable aggregate, low-alkali cement, and nonreactive fly ash or aggregate combinations; calls for epoxy-coated steel and tie-bars; and requires 7-day curing to decrease permeability. The required 5-year pavement warranty is considered an incentive for good construction performance.
Advances in design, materials, and construction practices are extending pavement life and improving pavement performance significantly.
Caltrans has developed guidelines for considering long-life pavement for reconstruction in locations where 20-year projected traffic exceeds 150,000 vehicles or 15,000 trucks per day.
Long-Life Design and Construction
To achieve long-life service, pavement designs must provide features that minimize both premature and progressive (fatigue) cracking, improve deflection response, and minimize maintenance operations. Complex interactions of factors inherent in the local site, structural design, and materials mix have a long-term impact on performance and length of service. Even a pavement designed to the highest standards, however, will not perform to expectations if it is not constructed well. Construction requirements and specifications must be well defined, while allowing for innovations by the contractor. In addition, concrete production, placement, and finishing operations need to be carried out with care.
Efforts are underway to develop and implement test methods that will evaluate the quality of concrete right behind the paver, so that any corrective actions that are needed can be taken immediately. Timely evaluation of dowel bar alignment is also now possible. Consistent quality control is critical to pavement service life and cost control.