Concrete Pavement Technology Update
July 2005
Testing Concrete Materials Compatibility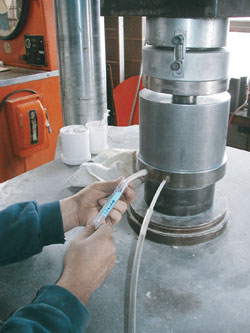 Extracting pore water from a mortar sample in a high-load extractor. By tracking changes in pH and in calcium, sulfate, sodium, and potassium content over time, the Task 4 researchers are learning more about the chemical processes that occur in different cementitious systems.
Field engineers and contractors report that certain materials used in combination can produce undesirable effects in concrete: early stiffening, excessive retardation, excessive cohesiveness, air entrainment problems, loss of workability, lower than expected strength and durability, and unexpected cracking at early ages. No tests, however, have been available to determine the effects of specific incompatibilities in concrete mixtures.
To address this need, researchers in CPTP Task 4 are developing practical testing procedures to identify potential problems caused by material incompatibilities. The study, which will conclude in summer 2005, is focused on the role materials play in early stiffening, cracking, and inadequate air-void systems. Using materials known to be problematic, the investigators first created systems that were designed to be compatible or incompatible, then subjected these systems to a suite of tests to, potentially, flag the problematic combinations. Tests that successfully distinguished between incompatible and compatible systems (determined by correlations in results among the tests applied) and also prove practical for field and laboratory use will be included in new protocols. Among the tests under evaluation are the air-void analyzer, calorimetry, consolidation meter, cube strength, foam stability, mini-slump, rheology, ring shrinkage, shear wave, slump loss, and temperature monitoring.
The new compatibility guidelines will enable material suppliers, concrete producers, and users to
identify combinations that adversely affect the early-age properties of concrete;

evaluate the uniformity of individual materials from the same source; and

optimize combinations for predictable early-age performance.
For details, contact Peter Kopac, Office of Infrastructure Research and Development, FHWA: peter.kopac@fhwa.dot.gov.
Concrete Curing—New Guidelines From CPTP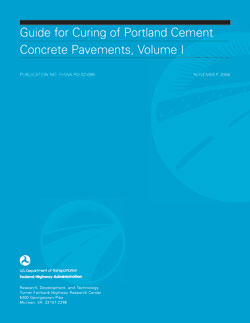 The Guide for Curing of Portland Cement Concrete Pavements (FHWA-RD-02-099) is available from the National Technical Information Service, 5285 Port Royal Road, Springfield, VA 22161.
A recent CPTP project has produced new guidelines to help pavement engineers ensure adequate curing of portland cement concrete pavements. The guidelines focus on anticipating and planning corrective actions for possible curing problems that are associated with specific concrete materials properties, mixture proportions, and jobsite conditions.
The Guide for Curing of Portland Cement Concrete Pavements, soon to be available at www.tfhrc.dot.gov, examines critical details of the many interactive variables that influence the curing process. It recommends steps to evaluate and control concrete moisture and temperature under different conditions and reviews the pros and cons of curing compounds, as well as water-added and water-retentive curing methods.
Fully referenced, the main chapters cover all stages of the process: General Testing, Analysis, and Planning Before Construction; Initial Curing Period; Final Curing Period; and Termination of Curing and Verification of Curing Effectiveness.
The Guide discusses the use of HIPERPAV to evaluate thermal stress conditions. Prevailing national and State specifications for specific practices are noted.
Volume II of the report, containing supportive technical information, will be available later in 2005.
For details, contact Peter Kopac, FHWA Office of Infrastructure Research and Development: peter.kopac@fhwa.dot.gov.