Concrete Pavement Technology Update
January 2006
Putting It in Perspective
Road condition is the public's number one criterion for satisfaction. (2002 FHWA survey)
Improved smoothness extends pavement performance life by as much as 50 percent. (NCHRP analysis)
Smoother Pavements to Come
Research to improve concrete pavement ride quality for automobiles and commercial vehicles (CPTP tasks 16, 53, 62, and 63) supports FHWA's national goal to significantly improve pavement smoothness on the National Highway System by the year 2008. The research is aimed at resolving specific issues unique to portland cement concrete (PCC) pavements:
Improve smoothness criteria, addressing the effect of texture and joints on ride quality.

Develop guidelines on the effects of material properties to assist highway agencies and contractors.

Minimize slab curvature (and faulting) to improve ride and reduce the rate of structural deterioration.
The LTPP GPS-3 experiment showed that adjustments in design features, materials properties, and construction procedures provide smoother-built pavements with longer service life (see Achieving a High Level of Smoothness in Concrete Pavements Without Sacrificing Long-Term Performance, FHWA-HRT-05-069).
In terms of design features, dowels are recommended whenever there is the slightest chance that joint faulting will occur. Even with dowels, performance appears to be enhanced when slab lengths are 4.8 m (16 ft) or less.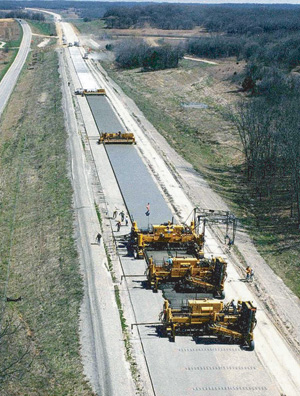 Concrete pavement smoothness begins with quality materials and proper proportioning procedures and ends with satisfactory batching, delivery, placement, and curing of the concrete.
For both doweled and non-doweled pavements, using PCC with higher flexural strength seems to be beneficial for maintaining long-term smoothness. For non-doweled pavements, conditions that are detrimental to long-term smoothness are higher elastic modulus values (greater than 35,000 MPa [5 million psi]) and ratios between elastic modulus and splitting tensile strength of greater than 8000. Those trends do not apply to doweled pavements. Further evidence suggests that higher ratios of coarse to fine aggregate in the concrete mixture result in pavements that maintain their smoothness over longer periods.
Among the construction issues addressed in FHWA-HRT-05-069 is the use of dowels and tiebars attached to chairs and fixed to the pavement base as opposed to those placed by an inserter mounted on the paver (see PCC Pavement Smoothness: Characteristics and Best Practices for Construction, FHWA-IF-02-025, and Constructing Smooth Concrete Pavements, ACPA Technical Bulletin TB-006.0-C, for guidelines). Although the fixed bars may generally be more costly, test results indicate that a smoother pavement may result.
The measurement of pavement smoothness is another key issue. The surface of the pavement must be clean when profile measurements are performed. Any residue from joint sawing or other operations should be removed prior to profiling. Further, profiles should not be measured when the joint sealant reservoir has been formed but the sealant not yet installed, as the reservoir will appear in the profile data unless a filter that removes the joint from the profile is used. Since filters have not been standardized, profiles are measured differently by different pieces of equipment. Transverse tined sections also can present a problem with some profilers, although new "smaller footprint" lasers may soon alleviate both joint and tine concerns. Finally, profilers scheduled for use on PCC pavements must be certified on PCC pavements. Profilers certified on asphalt surfaces may not produce comparable data because of the way profilers treat the joint and tine issues.
Further information on CPTP smoothness efforts is available from FHWA staff members Peter Kopac (peter.kopac@fhwa.dot.gov) and Mark Swanlund (mark.swanlund@fhwa.dot.gov).