Concrete Pavement Technology Update
Best of Research and Practice
International Conference on Long-Life Pavements
Reconstructing with CRCP-Chicago. Photo: Scott Humphreys, Concrete Reinforcing Steel Institute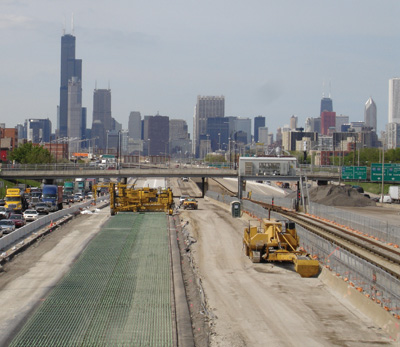 Concrete pavement researchers from around the world gathered in Chicago to exchange research findings and implementation lessons with promise for extending the life of concrete pavements. The October 2006 conference was part of CPTP's technology transfer activities and was co-sponsored by nine other national and State organizations (American Association of State Highway and Transportation Officials, American Concrete Pavement Association, Concrete Reinforcing Steel Institute, Illinois Chapter - ACPA, Illinois Department of Transportation, International Society for Concrete Pavements, National Concrete Pavement Technology Center, Portland Cement Association, Transportation Research Board). The conference presenters addressed a wide range of issues, for example:
Practices extending the life of concrete where pavements are subject to extreme freeze-thaw stresses (e.g., the northern States, Canada, and Belgium) and where pavements are subject to high volumes of heavy loads, such as in New South Wales, on U.S. Air Force runways, and on urban expressways.
Rehabilitation methods that reduce closure times including full-depth precast panels in Ontario and Michigan, an innovative three-dimensional design process for fitting curved, precast slabs, and the experimental use of fast-setting hydraulic concrete in California.
Use of the new mechanistic-empirical design guide to project the relative effects of climate, heavy truck loadings, and subgrade on pavement life, and a State plan to make use of the guide practicable via a design catalog.
The value of performance-related specifications in achieving higher quality construction for longer pavement life.
The program also included relevant highlights from the 10th International PIARC Conference, the 2006 International Long-Life Concrete Scan, and the 6th International DUT-Workshop.
For information on the availability of the conference proceedings (CD or print), contact Shiraz Tayabji: stayabji@CTLGroup.com.