High Performance Concrete Pavements Project Summary
Chapter 12. IOWA 3 (US 151, Linn/Jones Counties)
Introduction
This project is located on US 151 in Linn/Jones Counties (see Figure 38) and is studying the use of fly ash for soil stabilization of subgrades be-neath concrete pavements. The scope of the project includes the use of two different qualities of fly ash and two different qualities of select fill.
Figure 38. Location of IA 3 project.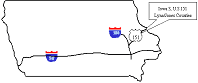 Study Objectives
The objective of this research is to evaluate and monitor the performance of pavements constructed on treated subgrades with respect to control sections.
Project Design and Layout
The subgrade and pavement for this project are of conventional design and thickness, with the only difference in the test sections being the presence of 15 percent fly ash used to treat the subgrade. The quantity of fly ash to be used is based upon research performed by Dr. Ken Bergeson at Iowa State University (ISU). Two types of fly ash are being evaluated: (1) Stoker ash, which is a Class C fly ash that has a carbon content too high to be used in concrete mixtures, and (2) conventional Class C fly ash (this ash has been used in many stabilization roles and is included as a control). Two types of existing subgrade soils will be evaluated: (1) An approved select glacial clay loam; and (2) a higher plasticity select glacial clay loam. Control sections with untreated soil of both types will also be included. Some chemical evaluation of the fly ashes has already been performed at ISU. Additional tests from each fly ash source, as delivered, will be performed by ISU to monitor chemical variability.
The procurement, placement, and mixing of subgrade components will be performed by the contractor for the project under change order to an existing contract. Each test regime will be approximately 1.6 km (1 mi) long. The fly ash will be incorporated into the subgrade using a pulverizer and will be placed over the full shoulder-to-shoulder road width. The subgrade will be stabilized the full width of the pavement and to a depth of 304.8 mm (12 in.). The base material will be Iowa DOT standard untreated granular drainable base.
State Monitoring
The Iowa DOT will perform subgrade modulus tests before, during, and after placement of the subgrade using a dynamic cone penetrometer. Additional bearing tests will be performed after the subgrade has been placed. Moisture testing of the soil will be performed on samples taken at the borrow site, on grade, and from the final mixes. Samples of soil will be collected on grade and tested for gradation and soil properties. Concrete slump, strength, and air content will be reported for each test section. After paving is complete, deflection, smoothness, and ride testing will be performed annually for 5 years. Curling and warping will be identified from the smoothness data. Deflection differences between slabs exhibiting curling and warping and those without will be investigated. The impact of subgrade treatments on curling and warping, if any, will be noted.
Preliminary Results/Findings
A construction report, including photographs and video documentation, will be submitted by the Iowa DOT to FHWA. A progress report will be submitted after deflection testing is finished, summarizing the performance and noting any problems. The final report prepared by the Iowa DOT will be due 5 years after completion of the final pavement.
In January 2004, Iowa DOT indicated that a draft construction report had been completed, but it had not yet been made available.
Points of Contact
Mark Dunn
Research Engineer, Materials Office
Iowa Department of Transportation
800 Lincoln Way
Ames, IA 50010
(515) 239-1447
References
None.