Report on the Diagnosis, Prognosis, and Mitigation of Alkali-Silica Reaction (ASR) in Transportation Structures
Appendix D - Diagnosis of Alkali-Silica Reaction (ASR)
D.1 Deformation Measurements
In-situ deformation measurements can be easily performed by installing demec points (Figure D1-E) and/or metallic references/devices at the surface of the concrete members showing visual distress indicative of possible AAR.
D.1.1 Selection of members
Ideally, demec points should be installed on the same (or a selection of the same) members that have been chosen for crack mapping, i.e., members showing a range of deterioration but always exposed to moisture. Ideally, the demec points will be installed at the end of the crack-mapping reference grid used for CI measurements (Figure D1-A). This will optimize the information generated on the same testing area and will allow for two transverse and two longitudinal length-change measurements.
Holes are dry-drilled into the concrete (Figure D1-B and D1-C) of a sufficient size for the gage stud to be introduced in the hole with the rapid-hardening cement paste or epoxy glue (Figure D1-D). Stainless steel bolt, approximately 5-7 mm (0.2-0.3 in) diameter by approximately 15-20 mm (0.6-0.8 in)-long, with a machined "demec point" at the end were found appropriate for that purpose. The surface of the stud should be flush with, or slightly inside the surface of the concrete member.
D.1.2 Length-change measurements
About 12 to 24 hours after setting of the studs, initial length measurements will be taken. The weather conditions (especially temperature, whether the concrete element is directly exposed to sun/rain or not, etc.) will be noted. Similarly to the CI measurements, and because of the significant effect of temperature and humidity on dimensional changes in concrete, expansion readings should be carried out a minimum of twice a year, ideally three times for the first year, and repeated under very similar conditions of sun exposure, outdoor temperature, and humidity conditions (see Appendix B for more details) (Figure D2-A to D2-F).
Figure D1. (A). Reference grid for measurement of the Cracking Index (CI). Holes are drilled at each corner of the grid in order to allow length-change measurements along the two main directions of the grid. (B and C). Holes are dry-drilled in the structural member for the set-up of the gage studs. (D). The gage stud is lined with rapid-hardening cement paste or epoxy glue before installing it in the hole on the reference grid. (E). Various types of accessories serving as demec points to be fixed or drilled into the concrete member (picture from Mayes Group website).
A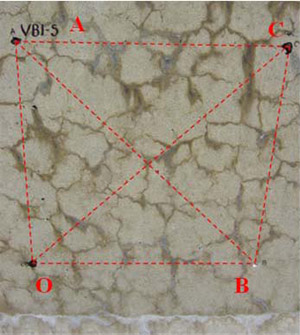 B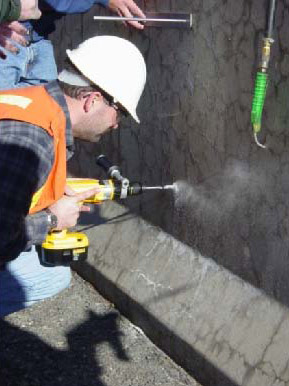 C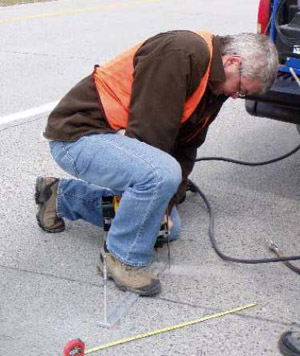 D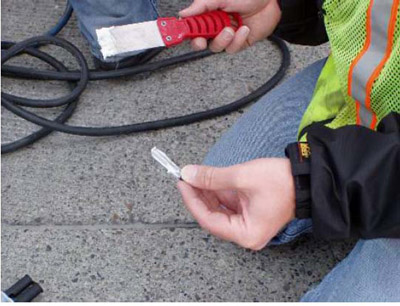 E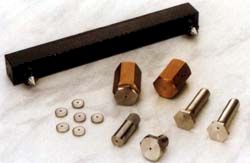 Figure D2. Series of Photos. (A). Length-change measurements in a concrete pavement affected by ASR. (B). Length-change measurements in a concrete highway barrier wall affected by ASR. (C to F).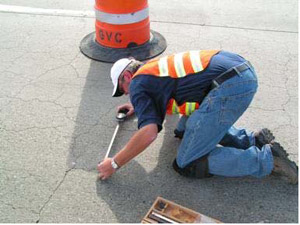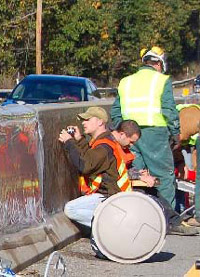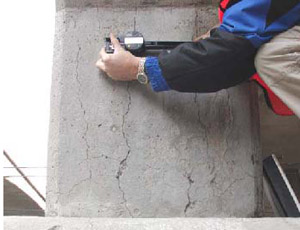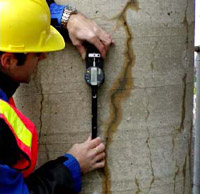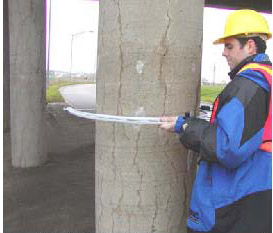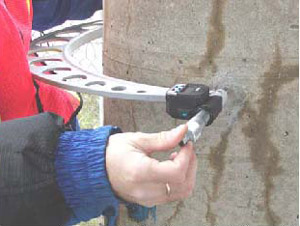 D.1.3 Other types of deformation measurements
Periodic length-change measurements can also then be taken using extensometers of various shapes and ranges, invar wires/rods or optical systems (leveling) (Figure D3-A to D3-F)). Fiber-optic and vibrating wire systems can also be used, with deformation measurements being performed and the data transmitted automatically to central servers for further treatment.
Evidence of stress build-up in reinforcing steel and the surrounding concrete resulting from restrained AAR expansion can be obtained from the measurements of stress in reinforcing bars (Figure D4-A and D4-B) and the overcoring technique (Danay et al. 1993) (see Section 5.2.4).
D.2 Temperature and Humidity Measurements
It is highly recommended that relative humidity and temperature readings be made in a selected member of the structure in order to make any necessary corrections to the expansion measurements performed as part of the monitoring program. Such readings can be made periodically using portable probes (Figure D4-C), or automatically using in-situ set-ups (Figure D4-D). The above probes usually generate temperature readings that can be used to make any corrections required for temperature variations. The values could also be used in the process of evaluating the potential for future expansion of the concrete (see Appendix I).
D.3 Full-Scale Loading Testing
In the case of reinforced concrete bridges where the visual survey and the in-situ measurements indicate a severe level of deterioration (severe cracking in structural members), it will likely be necessary to determine whether or not the stability of the structure is at risk. This should be carried out through a full-scale investigation performed by a competent structural engineer. Full-scale loading tests in the field will ultimately permit assessment of the real structural loss in performance (or serviceability) of the affected structure (Figure D4-E and D4-F).
Figure D3. (A and B). Devices used for the in-situ monitoring of deformation/movement associated with cracks (Thompson et al. 1995). (C and D). Invar-bar expansion set-up used for the in-situ monitoring of deformation/movement associated with AAR (Gaudreault 2000). (E and F). (E). Equipment ("infrared distancemetre") used for long-distance in-situ expansion monitoring in the highway bridge structure illustrated in (F) (LCPC 1999); the infrared source is on the right and the target on the left. Both are fixed on the abutment wall section of the bridge structure to ensure accurate readings.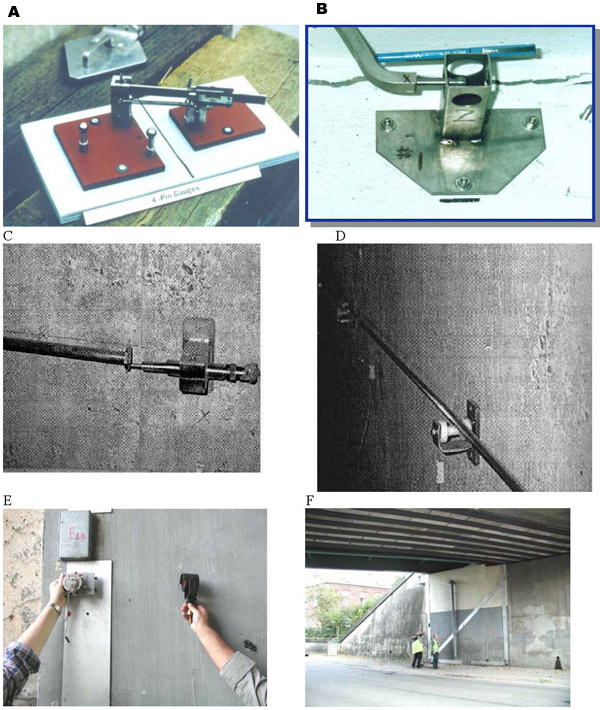 Figure D4. (A). Photograph of the western haunch of a bridge structure showing damage due to ASR. The hole in the middle of the member was cut to expose reinforcement for strain gauging (Blight and Ballim 2000). (B). Strain gages mounted on the second reinforcing bar from the right. (C). In-situ measurement of relative humidity, using a portable probe, in a concrete column affected by ASR. (D). Set-up for the automatic in-situ monitoring of temperature, humidity and expansion (vibrating wire) in a bridge deck affected by ASR (Siemes and Gulikers 2000). (C).. (E). Arrangement of trucks during a full-scale loading test performed on a motorway portal structure affected by ASR in South Africa (structure in C) (Blight et al. 1983). (F). During the full-scale loading test illustrated in (E), displacement was measured at several points of the beam by means of gages bedded on the lower deck of the portal. (Pictures C to F: courtesy of G.E. Blight, University of Witwatersrand, Johannesburg, South Africa)
A

B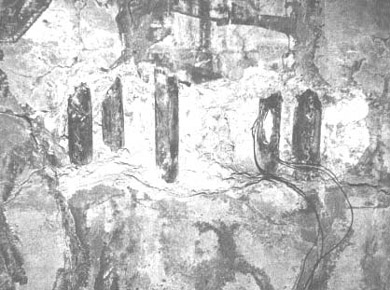 C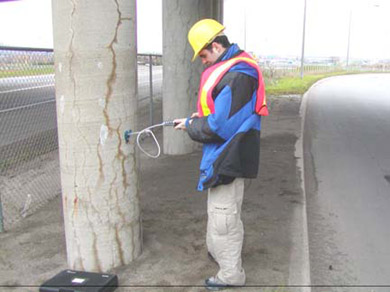 D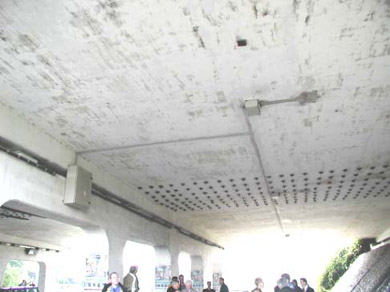 E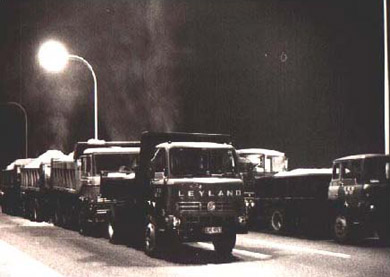 F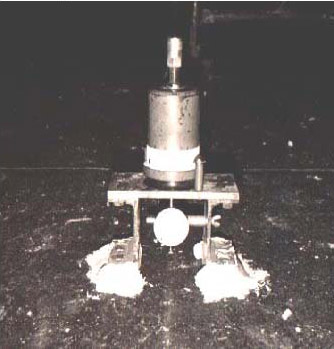 D4. References
Blight, G.E., and Ballim, Y., "Properties of AAR-Affected Concrete Studied Over 20 Years," Proceedings of the 11thInternational Conference on Alkali-Aggregate Reaction in Concrete, Quebec City, Canada, Editors: M.A. Bérubé, B. Fournier and B. Durand, pp. 1109-1118, 2000.
Blight, G.E., Alexander, M.G., Schutte, W.K., and Ralph, T.K.. "The Effect of Alkali-aggregate Reaction on the Strength and Deformation of a Reinforced Concrete Structure," Proceedings of the 6thInternational Conference on Alkalis in Concrete, Copenhagen (Denmark), pp. 401-410, 1983.
Danay, A., Adeghe, L., and Hindy, A., "Diagnosis of the Cause of the Progressive Concrete Deformations at Saunders Dam," Concrete International, pp. 25-33, September 1993.
Gaudreault, M., "The St. Lawrence Seaway (Quebec, Canada): A Case Study in the Management of Structures Affected by Alkali-Aggregate Reaction," Proceedings of the 11thInternational Conference on Alkali-Aggregate Reaction in Concrete, Quebec City, Canada, Editors: M.A. Bérubé, B. Fournier and B. Durand, pp. 1293-1302, 2000.
Laboratoire Central des Ponts et Chaussées (LCPC), "Manuel d'identification des réactions de dégradation interne du béton dans les ouvrages d'art. Laboratoire des Ponts et Chaussées," Ministère de l'équipement, des transports et du logement, 58 bd Lefebvre F75732 Paris cedex 15, 1999.
Siemes, T., and Gulikers, J., "Monitoring of Reinforced Concrete Structures Affected by Alkali-Silica Reaction. Reaction," Proceedings of the 11thInternational Conference on Alkali-Aggregate Reaction in Concrete, Quebec City, Canada, Editors: M.A. Bérubé, B. Fournier and B. Durand, pp. 1205-1214, 2000.
Thompson, G.A., Charlwood, R.G., Steele, R.R., and Coulson, D.M., "Rehabilitation Program - Mactaquac Generating Station, NB," Proceedings of the CANMET/ACI International Workshop on Alkali-Aggregate Reactions in Concrete, Dartmouth, Nova Scotia, pp. 355-368, October 1 to 4, 1995.