Use of PMS Data for Performance Monitoring with Superpave as an Example
8. Examples of Performance Plots of Superpave Provided by Various State DOTS
8.1. General
Although there were differences among the organizations and procedures of each DOT, they all shared a similar approach in reporting data for Superpave. All five pavement management systems could identify the location of Superpave sections, together with performance data for a few years (currently one to four years), but did not give any details on type of mix, as-constructed thickness, construction details, or any quality assurance (QA) or quality control (QC) data. It also was universal that materials, construction, and QA/QC data, which are crucial for a proper analysis of a material like Superpave, were kept in files in different sub-organizations, such as "Materials" and "Construction". In some DOTs the materials files were in electronic format, often existing of tailor made Excel files, but construction data were mostly stored in flat files. This practice makes it extremely time consuming to retrieve data from flat files in various locations, particularly when the project is several years old.
The state DOT's of Maryland, Indiana, Florida, Arizona and Washington have submitted data on several Superpave projects carried out in their states. TRDI has selected those projects with performance data for at least two years, and that selection resulted in a total of 30 projects: three from Florida, seven from Indiana, three from Arizona, 13 from Maryland and four from Washington. Some essential data for these 30 projects are given in Appendix D in two ways:
graphs for Ride, Rutting and Cracking with a summary of data, and
tables with more detailed information for these projects in each of the states.
Superpave has been used in these five states for hundreds of projects, some of them as early as 1995. TRDI collected information on a total of 56 projects, but 26 of these projects had inadequate data to link performance to materials properties for at least two consecutive years. These projects were either too recent, or their location was such that no performance measurements were available (e.g. in the left lane of a multilane highway, a short section between mile points, etc). For the selected projects some of the essential data were still missing as can be seen in Appendix D.
8.2. Superpave in Maryland
Maryland State Highway Administration (MDSHA) started designing and constructing Superpave mixes in 1995, and since 1998 virtually all asphalt mixes for new construction and rehabilitation use Superpave. The introduction of Superpave was facilitated by the fact that the previous asphalt mix compositions in Maryland were already similar to those in Superpave. As of 2000 there were almost 200 projects constructed using Superpave in Maryland.
MDSHA supplied data for 22 Superpave projects, constructed between 1995 and 2000. For 13 of these projects the performance data were available for at least two years, and data from these projects are shown in Appendix D. MDSHA provided the following summary for the 22 Superpave they furnished to us:
"The following data have been retrieved and are presented:
Project limits and location
Date project was opened to traffic
General comments on the pavement condition before the treatment was applied
Design inputs - life of design and resilient modulus of subgrade
Date of last major rehabilitation
Pavement layer data - thickness, mix type, ESAL category, PG binder, tonnage
Network level ride and friction data for past three years
Additional information is available in project design and construction files. The following comments are provided with regard to these data:
The projects selected were among the oldest Superpave projects in MD to provide as many years of performance data as possible. Unfortunately, the approach to design these projects at the time was considerably different that the current approach. Many of the projects were designed years before construction and changed to Superpave mixes at the time of construction. As a result, little to no information is documented on the selection of the various Superpave mixes. However, all projects in MD that were designed after June, 1999 do include a very detailed approach to assessing existing conditions and selected appropriate designs (the attached projects were all designed prior to June, 1999).
MDSHA has developed and implemented completely new pavement design guidelines that were implemented in the middle of 1999. These guidelines include very detailed condition surveys as well as updated design analysis procedures. More recent projects include more information on the design approach, distress quantities, repair quantities, effective structural condition and traffic data. These projects are no more than one year old and are available for consideration in this evaluation as well.
Limited construction and materials details are included. Information such as time of year of construction, detailed mix properties and quality control data will certainly be of use in this evaluation. This information requires more effort to access."
Two additional points about the Maryland projects are worth noting: They use a special wearing course of stone-matrix asphalt (SMA) extensively for major roads in Maryland. Consequently, in many cases Superpave mixes are not exposed to traffic. For this study MDSHA generally selected and provided project data where a Superpave mix was used as wearing course. Unfortunately no data for cracking were available for the Maryland projects.
Pavement evaluation ratings, and the criteria used with these ratings, are the following:
IRI (International Roughness Index), expressed in accumulated inches per mile for two lanes into each direction. The criteria are Very good (<60 in/mi), Good (61-94 in/mi), Fair (95-119 in/mi for Interstates, 95-170 in/mi for other roads), Mediocre (120-170 in/mi for Interstates, 171-220 in/mi for other roads) and Poor (>170 in/mi for Interstates, >220 in/mi for other roads)
Rutting, expressed as the maximum rut depth in inches in each section in both wheel paths, for two lanes into each direction, measured with the ARAN vehicle.
8.3. Superpave in Indiana
Superpave has been used since 1995, and from 1997 onwards all contracts over 4000 Mg of base or intermediate course or 2400 Mg (megagrams) of wearing course use Superpave. The INDOT staff tries to follow Superpave specifications without modifications. Mixes are designed in conformance with the Superpave method (code 401), but use is also made of a generic Superpave recipe (default design, code 402). Up to 15% of RAP (recycled asphalt pavement) is used on shoulders and in binder courses without a change in asphalt grade. RAP is not used in wearing courses by INDOT.
More than 100 Superpave projects have been carried out so far. A major effort would be required to convert all materials and construction information on these projects into electronic format, assuming that all data is still available. Our Project Team requested performance data for a limited number of sites, and INDOT personnel agreed to make the required information available in electronic format for seven projects with Superpave-designed mixes constructed since 1997. The mixes for these projects are designed in conformance with the Superpave method (code 401), not with a generic Superpave recipe (default design, code 402). The relevant data for these seven projects, and graphs with plots for ride, rutting and cracking are given in Appendix D.
The ride is expressed as IRI and measured in inches per mile. The following criteria are used: excellent (60-100), good (100-150), fair (150-200) and poor (>200). Rutting is a measure of the average depth in the wheel paths, rutting above 0.25" is considered severe.
INDOT uses PCR (Pavement Condition Rating) as a measure of pavement surface distress. The PCR includes transverse, longitudinal and block cracking. The distresses are rated for severity and quantity, and "deduct points" are determined, which are subtracted from 100 to determine the PCR. The ratings for PCR are: excellent (100-90), good (90-80), fair (80-70) and poor (<70).
The plots for the performance indicators show a discontinuity between the years 1997 and 1998. There are two possible causes for these variations:
First, INDOT has serious reservations about the quality of these data, collected by a contractor in 1997. They therefore changed contractors to collect performance data in 1998 and 1999.
In addition the exact date of completion was difficult to establish for some of the projects. It is possible, therefore, that some of the performance data in 1997 were actually taken on the pavement prior to its rehabilitation and laying the Superpave.
8.4. Superpave in Florida
So far about 700 Superpave projects have been completed in Florida. Since 1998 all mix designs conform to Superpave criteria. It is normal practice for FDOT to apply a friction course as top layer for all mixes, including Superpave mixes used on Interstates. FDOT gave the Project Team a list with of 24 projects for the years 1997-2000, where the major structural component was a Superpave mix. Out of these 24, three projects could be selected based on two criteria:
At least two years of performance data must be available,
Performance, materials and construction data were available and relatively complete.
Details for these three projects are given in Appendix D.
The pavement distress is recorded as PMS data and expressed in crack, ride, and rut ratings. The tabular data also cover segment number, county, year of contract, direction, mile points, road number, rating year, age, WPA (Work Program Administrator) data, and contractor. Statistical information on the performance data is included in the PMS database.
The distress ratings, and the criteria used for these ratings, are the following:
IRI (International Roughness Index), converted since 1991 into a Ride Rating, reported on a 0-10 scale to the nearest integer value, with 10 as best condition;
Rutting, a measure of the average rut depth in both wheel paths, converted to a Rut Rating and reported on a 0-10 point scale to the nearest integer value, with 10 as best condition;
Cracking, assessed as percent confined to wheelpaths (CW) and % outside of wheelpaths (CO), a crack rating is a combination of CW and CO, derived from established distress rating scales, and reported on a 0-10 point scale to the nearest integer value, with 10 as best condition. Crack type is reported as C=combination, B=block and A=alligator.
Segments having a Ride, Rut or Crack Rating of six or below are eligible for resurfacing.
Cracking is reported, but crack sealing is not done as a routine maintenance activity because experience in Florida suggests that sealing of cracks does not extend pavement life.
Material properties of the related Superpave mixes and traffic data can be accessed electronically (through a tie-in to bid files), and design thicknesses should be found in paper files. No information is readily available about actual thicknesses of the Superpave layers, but we were informed that these depend on the aggregate size, as a general rule for SP 9.5 mm, for SP 12.5 mm, and for SP 19 mm the thickness would be 1½"-2", 2"-3" and 3"-3½" respectively.
On average about 20% RAP (reclaimed asphalt pavement) is added to Superpave mixes (30% to Marshall mixes); about 60% of all Superpave projects in Florida contain RAP.
8.5. Superpave in Arizona
From 1993 until 1996 ADOT's Materials Group in cooperation with the FHWA designed and built a number of Superpave test sections. For the hot mix design use was made of the SHRP gyratory compactor. Towards the end of 1996 it was decided that ADOT would move from a test section phase to a pilot project phase of evaluation and implementation of the SHRP gyratory method of Superpave mix design.
ADOT has made an overview of 21 Superpave projects completed in 1997 and 1998 in various parts of Arizona. The total length of these projects is about 122 center line miles on Interstates and other main roads.
For each project the following information is recorded: Project Number, Tracs No., Project Name, Contractor, Year built, Mile points, ESAL's, Elevation, Design Air Temp., PG Grade, Mix Size, Gyratory compactor testing details, Surface Course, Overlay, and Mill/Replace. In all projects the final surface course consisted of ½" thick rubber-modified porous asphalt friction course (AR-ACFC).
ADOT's overview is very comprehensive, but does not contain as-laid layer thicknesses, nor any performance data. After checking with the ADOT PMS group it appeared that three projects could be identified with at least two years of performance data (data for the year 2000 were not yet entered into the PMS database). For the three projects with performance data, information about construction data was extracted from Pavement Design Summaries and from Superpave Project Tracking Survey Questionnaires (both in flat files, and not available for all projects). Details for these three projects are given in Appendix D.
Distress is recorded in ADOTs PMS for cracking, flushing, patching, rutting, friction and roughness in the right lanes only. For cracking, rutting and roughness the following is relevant:
Cracking is measured through a visual survey of the first 83 ft at each mile post, covering roughly 1,000 sq. ft. and expressed as percentage of that area. The following criteria are used: Low (<10%), Medium (10-30%) and High (>30%).
Rutting (measured since mid eighties with a four foot straight edge), determined from several short sections in the wheel path spread evenly over the entire mile after each mile post, averaged per section and expressed in accumulated inches. The following criteria are used: Low (<0.25 in), Medium (0.26-0.50 in) and High (>0.5 in).
Ride is expressed as Roughness, measured after each mile post for the entire mile with a Mays Ride Meter, and since the mid nineties with a Profilometer, expressed in accumulated inches per mile. The following criteria are used: Satisfactory (<93 in/mi), Tolerable (94-142 in/mi) and Objectionable (>143 in/mi).
8.6. Superpave in Washington State
WSDOT began building Superpave projects in 1996, and since 1999 almost all their asphalt hot mixes are Superpave. Performance grade binder implementation started in 1999. In total some 40 Superpave projects have been completed so far, four projects were done in 1997, nine in 1998, 10 in 1999 and the remainder since then. Hot mix design uses all SHRP specifications and mix design techniques.
All materials and construction data are collected and stored in Excel files. The Civil and Environmental Engineering Department of the University of Washington (UW) has, in a joint effort with WSDOT and NCAT, recently developed a fully integrated website that contains relevant data of Superpave contracts, including performance data. This new development was possible because nearly all essential data on materials and construction are available electronically. In addition a major effort has been made to link these data to performance measurements from WSDOT's Pavement Management System (PMS). The data are available on a series of web pages (see Appendix F) from which they can be easily organized, downloaded and analyzed. Although this development is still in a pilot stage, it represents a major step in fulfilling the objectives of the project that is the subject of this report.
WSDOT has no experience yet with the AASHTO Superpave software, but it was stipulated by a UW representative that it should be possible to extract the information for the hot mix website equally well from that program.
The project team received an Excel file with details of 12 Superpave projects, including PMS performance data and materials/construction data. Of these projects, four contained performance data for at least two years. Details for these four projects are given in Appendix D.
Most Superpave mixes are based on a 12.5 mm grading and binders have been used ranging between PG 58-22 and PG 70-34.
The website with the hot mix database gives detailed project information for each contract. Currently the website shows the following data:
Project information with location, dates of construction, total tonnage, and type of mix and binder,
Mix Design information with details of gradation, binder content, voids, density, gyratory compactor results, TSR, Sand Equivalency, and performance test data for creep and Hveem stability,
Construction details with lot number, date, gradation, binder content, voids, density, gyratory compactor results, and RAP %,
Performance data for five years (before and after construction), PSC, rutting (PRC) and IRI and distress details. All performance data have been linked to materials and construction data.
Various graphing windows for plotting several relevant data for the lot numbers in each project.
The weather conditions in Washington State can be harsh, and consequently extensive use is made of studded tires during the winter season. WSDOT experience shows that friction courses do not stand up to the abrasive action of studded tires, consequently the Superpave mixes are directly exposed to this wear. Experiments with wearing courses of stone mastic asphalt and/or gap graded mixes with larger size aggregates are being considered.
Performance data are collected on an annual or bi-annual basis in the outside lane (for a multi-lane highway) in two directions for the following parameters:
Structural Condition, based on surface distress data (fatigue, longitudinal and transverse cracking, flushing, and patching) measured since 1999 with a Pavement Condition Van at highway speeds, using continuous video imaging of the pavement surface, ahead view, shoulder view, and vertical views. From these distresses a Pavement Structural Condition (PSC) is calculated on a scale from 0 to 100. The range 100-75 is Very Good, 75-50 is Good, 50-25 is Poor and below 25 is Very Poor.
Rutting Condition, measured continuously in the wheel path with the help of lasers on a cross beam on the Pavement Condition Van, expressed in a Pavement Rutting Condition (PRC) and calculated in average rut (in mm) over the previous mile. The condition limits are: Very Good when < or = ¼", Good when > ¼" and < or =1/3", Poor when > 1/3" and < or = ½" and Very Poor when > ½".
Roughness Condition defined by the International Roughness Index (IRI), measured continuously with laser sensors mounted on the Pavement Condition Van, expressed in accumulated inches per mile. The condition limits are: Very Good when < or = 95 in/mi, Good when > 95 and < or = 220 in/mi, Poor when > 220 and < or = 320 in/mi and Very Poor when > 320 in/m.
8.7. Examples of Performance Plots
Figures 3 through 5 give example curves of performance plots for ride, rutting and cracking for Superpave projects. One example for each performance indicator is presented. A set of all performance curves for the Superpave projects discussed in Section 8.2 - 8.6 are given in Appendix D.
Figure 3. Example of performance curve for Ride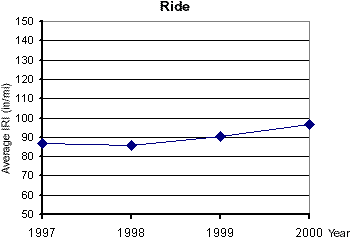 Figure 4. Example of performance curve for Rutting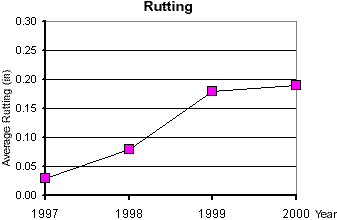 Figure 5. Example of performance curve for Cracking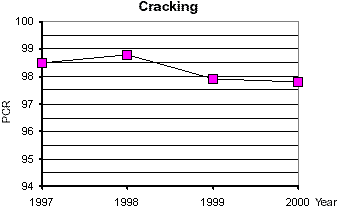 These graphs are presented for illustration purposes only, it is not possible to draw any conclusions about the performance of Superpave. For a full analysis many more projects would be needed, each one with more complete data about traffic loading, actual thickness, existing pavement condition (pavement layers, subgrade, etc.), environmental conditions, etc.