Pavement Preservation Compendium
Figure 2. Life-extending benefit of preventive maintenance treatment.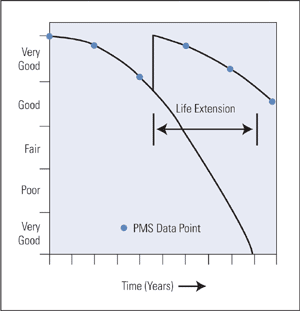 Life-extending benefits of preventive maintenance treatment. The graph provides a simplified depiction of the life-extending benefit of a preventive maintenance treatment. The vertical axis of the graph indicates the condition of the pavement, from poor to fair to good to very good. The horizontal axis indicates the passage of time in years. The graph shows two downward curves, a typical pavement deterioration curve that goes downward from very good to poor as the years pass and, above it, a shorter, flatter life extension curve. Both curves begin within the "very good" condition segment of the axis; however, the life extension curve begins in a later time period. Each curve has three data points at intervals indicating that the pavement's condition has been measured using a pavement management system. The deterioration curve is interrupted at a point within the "good" period of the axis by a life-extension arrow showing that a preventive maintenance treatment has been applied to a pavement in good condition. A second line extends upward from the point of treatment to the life extension curve's starting point (within the "very good" period), showing that the preventive maintenance has restored the pavement's condition to "very good." The life extension curve slopes downward from this starting point, as the pavement returns to the "good" condition it was in before the treatment. The length of the life extension curve represents the extended service life gained through the preventive maintenance treatment. The six data points on the two curves indicate that periodic measurements of pavement condition before and after the preventive maintenance makes it possible to determine the extended service life of a treatment.