HVUT Helps Level the Playing Field
The need for road surface maintenance is greatly attributable to the heaviest vehicles. Based on the findings of the American Association of State Highway Officials (AASHO) road test, damage caused by heavy trucks was long thought to increase with approximately the fourth power of the axle load. This means that one axle of 10 tons on a heavy truck was 160,000 times more damaging to a road surface than an axle of 0.5 tons (car scale).
In recent years, however, it was determined that the relationship between axle weights and pavement damage is complex and varies based on numerous variables, including environmental factors, type of terrain and roadway design. The National Pavement Cost Model (NAPCOM), which is the pavement model currently used by FHWA, estimates that for some types of pavement deterioration, doubling the axle load causes 15 to 20 times as much damage; for other types of deterioration, doubling the load only doubles the damage.
The U.S. Department of Transportation in its most recent Highway Cost Allocation Study estimated that light single-unit trucks, operating at less than 25,000 pounds, pay 150 percent of their road costs while the heaviest tractor-trailer combination trucks, weighing over 100,000 pounds, pay only 50 percent of their road costs.3
The volume of truck freight has grown significantly over the past few decades. Between 1975 and 1995, domestic intercity tonnage carried by trucks grew 52 percent over a fairly static system of highways. Looking forward, the freight tonnage carried by trucks is expected to increase 50 percent between 2002 and 2035.4
The HVUT levels the playing field by ensuring that operators of heavy trucks pay a little more for the highway network relative to the motorists and light trucks who meet their responsibility through other forms of taxes (e.g., registration fees, motor fuel taxes) but do less damage to the system.
HVUT Generates Billions for the HTF
The HVUT is a significant source of transportation funding in the U.S. In 2008 alone, the HVUT generated more than $1.0 billion in Federal HTF revenue.
Figure 1 demonstrates historic collections associated with the HVUT. The figure highlights three time periods of interest: 1984–85, 2001 and 2006. In 2001, HVUT receipts slumped due to the sagging economy and its impact on the motor carrier industry. In recent years, the HVUT has rebounded due to economic growth and the incentive to pre–buy or purchase trucks prior to 2007 to avoid the new EPA emissions rule. In 2006, HVUT revenue represented approximately 4.2 percent of total revenue deposited in the Highway Account of the Federal HTF.5
Figure 1 also underscores the importance and potential payoff associated with strong enforcement. On July 1, 1984, HVUT rates were raised to their current levels. Not surprisingly, fiscal year (FY) 1985 HVUT revenues grew by nearly $200 million. On October 1, 1985, states were required to verify proof of payment as a condition of registering heavy trucks subject to the HVUT. In the year following introduction of this enforcement measure, HVUT revenues grew by an additional $154 million, representing an increase of nearly 41 percent.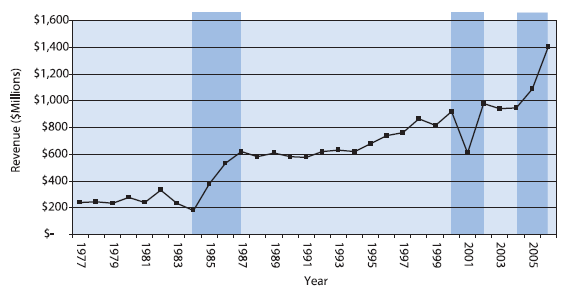 3Federal Highway Administration, 1997 Federal Highway Cost Allocation Study, Washington, DC, 1997.
4Federal Highway Administration, Freight Facts and Figures 2006, Washington, DC, 2006.
5Federal Highway Administration, Highway Statistics, Table FE–9, 1996–2006, Table FE–209, Federal Highway Statistics, Summary to 1995. Washington, DC.