Other Attributable Costs
Other attributable costs include highway geometric elements and other program cost categories that have a relationship to particular vehicle characteristics. These elements include grading and drainage; pavement width; ridesharing programs and facilities; and special truck facilities such as weigh stations. These costs are allocated on the basis of the relationships between the cost element and the vehicle characteristic, and are allocated to only the vehicle classes responsible for the costs. Figure 4 summarizes the distribution of highway cost responsibility by vehicle class and broad improvement type. Passenger vehicles are responsible for over half of the costs of providing new highway capacity, and almost 90 percent of the cost of system enhancements. Combination trucks, on the other hand, are responsible for over 40 percent of system preservation costs, nearly 40 percent of new capacity costs, and 7 percent of system enhancement costs. Differences in each vehicle class' relative cost responsibility for various program costs strongly influence the overall cost assignments among vehicle classes. Changes in the composition of the highway program could affect the overall cost responsibilities of different vehicle classes. For instance if a greater proportion of Federal funds were spent on capacity or system preservation improvements, the share of total costs assigned to heavy trucks would increase whereas if a greater proportion of Federal funds were spent on system enhancements, mass transit, or other improvements, the relative cost responsibility of automobiles, pickups, and vans would increase.
Table 3. 2000 Federal Highway Cost Responsibilities by
Vehicle Class and Weight Group ($ Millions)

Vehicle Class/Registered Weight

Total Cost Responsibilities

Cents per Mile

Shares of Total

Autos

$11,898

0.65

43.8%

Pickups/Vans

$4,198

0.65

15.4%

Buses

$190

2.57

0.7%

All passenger vehicles

$16,287

0.66

59.9%

Single Unit Trucks
<25,000 pounds

$985

1.75

3.6%

25,001 - 50,000 pounds

$842

4.38

3.1%

>50,000 pounds

$1,083

14.60

4.0%

All single units

$2,910

3.51

10.7%

Combination Trucks
<50,000 pounds

$187

2.78

0.7%

50,001 - 70,000 pounds

$454

4.25

1.7%

70,001 - 75,000 pounds

$370

6.25

1.4%

75,001 - 80,000 pounds

$6,103

7.08

22.5%

80,001 - 100,000 pounds

$484

12.50

1.8%

>100,000 pounds

$378

16.60

1.4%

All combinations

$7,978

6.90

29.4%

All trucks

$10,888

5.48

40.1%

Total

$27,175
Table 3 shows the estimated cost responsibility of different vehicle classes and registered weight groups for Federal highway-related program costs funded from the HTF in 2000. Automobiles and combination trucks are responsible for the greatest shares of Federal highway costs, followed by pickups and vans, single unit trucks, and buses. Relative cost responsibilities per mile of travel show much different patterns. Combination trucks as a group have an average cost responsibility for Federal program costs of about 7 cents per mile -- more than 10 times the cost responsibility per mile of automobiles.
There are large differences in cost responsibilities among single unit and combination trucks at different weights. The Federal cost responsibility per mile for single unit trucks registered at 25,000 pounds or less is only 13 percent of that for single unit trucks registered over 50,000 pounds. Combination trucks registered at 50,000 pounds have only 40 percent of the cost responsibility per mile of combinations registered at 80,000 pounds, and less than 20 percent of the cost responsibility per mile combinations registered over 100,000 pounds. While combination vehicles of over 80,000 pounds registered weight account for only 3 percent of total truck travel, they are responsible for almost 8 percent of total truck cost responsibility. Single unit trucks registered at over 50,000 pounds account for 4 percent of total truck travel but 11 percent of total truck costs. Combined, the heaviest single unit and combination trucks account for 7 percent of truck travel but almost one-fifth of total truck costs.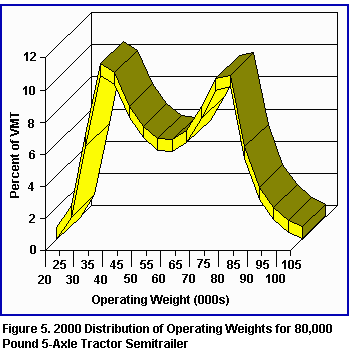 Table 3 shows the highway cost responsibilities for vehicles at different registered weights. Vehicles typically register at the highest weight at which they expect to operate, but operate only part of their annual mileage at that weight; some of each vehicle's travel typically will be empty, some will be partially loaded, some will be at the registered weight, and some may be above the registered weight. Since cost responsibility varies dramatically with weight for vehicles in any particular class, the distribution of weights at which vehicles actually operate is an important factor in estimating the overall cost responsibility for vehicles at any given registered weight over the year.
Figure 5 shows the average distribution of operating weights for 5-axle tractor-semitrailers registered at 80,000 pounds. This bi-modal distribution has one peak around 35,000 pounds and another peak at 80,000 pounds, the weight at which the vast majority of 5-axle tractor-semitrailers register. This distribution indicates that tractor-semitrailers, on average, operate empty or nearly empty about 10 percent of the time, operate at 80,000 pounds about 10 percent of the time, and operate above 80,000 pounds about 10 percent of the time. It must be emphasized that these distributions are averages over the entire class of vehicles, and that operating weight distributions for individual vehicles within the class may vary substantially from this average distribution.
Table 4. Comparison of 2000 Cost Responsibilities Based on Registered Weights and Operating Weights (cents per mile)

Vehicle Class/
Registered Weight

Registered
Weight

Operating
Weight

Autos
0.7
0.7
Pickups/Vans
0.7
0.7
Buses
2.6
2.6
Single Unit Trucks
<25,000 pounds
1.8
1.8
25,001 - 50,000 pounds
4.4
6.3
>50,000 pounds
14.6
37.3
Combination Trucks
<50,000 pounds
2.8
2.4
50,001 - 70,000 pounds
4.3
5.5
70,001 - 75,000 pounds
6.3
9.5
75,001 - 80,000 pounds
7.1
12.4
80,001 - 100,000 pounds
12.5
20.6
>100,000 pounds
16.6
49.0
While equity analyses in the report are based on cost responsibilities of vehicles at different registered weights considering the entire range of operating weights for vehicles at different registered weights, cost responsibilities can be estimated for each individual weights at which vehicles might operate during the year. Table 4 compares highway cost responsibilities estimated for specific operating weights with those based upon registered weights of vehicles. Cost responsibilities for specific operating weights will almost always be higher than cost responsibilities estimated on a registered weight basis because vehicles registered at a particular weight typically travel at that weight only part of the time; most of their operations will be a lighter weights at which costs are lower. The value of evaluating operating weight cost responsibilities is that they clearly show the relationship between highway cost responsibility and weight and the potential costs associated with operations at higher weights.
Life Cycle Cost Analysis
The potential for more widespread use of life cycle cost analysis (LCCA) to reduce overall system construction, maintenance and operating costs was evaluated on a preliminary basis in this study. The LCCA of infrastructure investment decisions is intended to identify alternatives that have the lowest cost over their entire life, not just alternatives with the lowest initial costs. Among the factors that can affect life cycle costs are the materials selected for particular types of construction, the initial design, and maintenance and rehabilitation (M&R) practices. Many States apply LCCA principles to varying degrees in pavement and bridge management systems, but there is a widespread belief that greater use of LCCA could reduce long-term program costs. The implications of LCCA for highway cost allocation (HCA) are that if long-term infrastructure preservation costs could be reduced, those costs would represent a smaller share of the overall program and vehicle classes responsible for the greatest share of those costs would have lower cost responsibilities and improved equity ratios.
The NHS Designation Act of 1995 (P.L. 104-59, 109 Stat. 568 (1995)) requires the use of LCCA on NHS projects having a usable project segment costing $25 million or more. The FHWA recently issued a final policy statement on LCCA implementing LCCA provisions of this Act and generally encouraging the use of LCCA in evaluating major infrastructure investment decisions.
A preliminary analysis suggests large potential benefits from the adoption of LCCA, especially in reducing vehicle operating costs associated with traveling on deteriorated pavements and delay around work zones where highway M&R is being performed. Estimates of nationwide savings in construction and maintenance costs resulting from the use of LCCA are not as large, although the analytical tools used for this analysis may not capture the full range of potential agency benefits believed to accrue from use of LCCA. Further research to improve estimates of potential benefits of LCCA is planned, not only for cost allocation but for investment analyses conducted for the Department's Conditions and Performance (C&P) Report.