A New Model for Engineering Education
For the 28 students in the Thompson Scholars Program at Michigan Tech University this past year, devising pavement designs for a local airport slated for reconstruction, analyzing the current process for measuring pavement noise, and learning how to put together a bid estimate for a paving project were all in a day's work. Established in 1999 with a $3.5 million contribution from Bob Thompson, President of Thompson-McCully Company, and his wife Ellen, the innovative program combines a traditional undergraduate engineering education with hands-on experience in the program's Pavement Design, Construction, and Materials (PDCM) Enterprise. This initiative mimics a real-life asphalt paving firm, with students working together to solve problems, complete projects, and devise improved methods for getting the work done.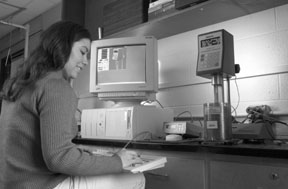 A student uses an asphalt rheometer to measure asphalt viscosity for mixing and compaction.
"The program differs quite dramatically from the traditional educational format," says George Dewey, associate professor of civil and environmental engineering at Michigan Tech and director of the PDCM Enterprise. "This is a real project-based program with a lot of self-learning. Students are required to go out and find information on their own. The projects provide a real contextual basis for what they learn."
As part of the airport pavement design project, students conducted an onsite investigation, using such equipment as a falling weight deflectometer. Students also met with the design engineering firm and contractor who will be working on the real life reconstruction. The Enterprise participants came up with three options for reconstructing the pavements and did a life-cycle cost analysis of all three options.
"With the combination of the Enterprise projects and the internships, the students are going to be ahead of someone who wasn't in the program by 2 or 3 years of experience when they graduate."
Students also gained real-world experience from the paving bid exercise, where they were split into teams and asked to put together a bid estimate for the paving project. Each group had to make decisions on such factors as crew size and which pieces of equipment to use.
The students' Enterprise projects were recently presented to the PDCM advisory board, in what will be an annual event. The board includes representatives from industry, the Michigan Department of Transportation (DOT), and the Federal Highway Administration. "The presentations mean that students are forced to explain their choices and why they did what they did. It's a valuable experience for them," says Dewey.
| | | |
| --- | --- | --- |
| | | |
| A student demonstrates the use of a rolling thin film oven. | | Enterprise program participants prepare a gyratory compactor for hot-mix asphalt compaction. |
The hands-on approach to the program allows students to take a much more proactive role in their education. "Some students want to look at the planning and design aspects of engineering, while others are more interested in the environmental aspects or the more traditional construction work," says Dewey. "Next year will give us a chance to try and experiment more with these different aspects of the engineering field." The program also gives the students "the opportunity to see at an early stage what civil engineering is all about. It can help them make a decision as to whether this is what they want to do," says John Fortier of Bacco Construction Company and a member of the Enterprise Advisory Board.
Another key part of the program is that all students are required to work at summer internships. "There are many, many things that you cannot learn in a classroom. The internships are a nice complement to what we do during the academic year," says Dewey. The internship opportunities for students range from working for State DOTs or contractors to getting a taste of life at consulting firms.
"With the combination of the Enterprise projects and the internships, the students are going to be ahead of someone who wasn't in the program by 2 or 3 years of experience when they graduate," says Tom Maki, Chief Operations Officer for Michigan DOT and a member of the Enterprise Advisory Board.
The program will increase its enrollment by 25 students per year over the next 3 years until it reaches its maximum enrollment of 100 undergraduate and 6 graduate students. Students selected for the program receive full tuition scholarships.
Ultimately, says Dewey, "this program will better prepare students for their future. We're thrilled to have the opportunity to do this at Michigan Tech." For more information on the Thompson Scholars Program, contact George Dewey at 906-487-2522 (email: gdewey@mtu.edu).