Today's Asphalt Technology for Tomorrow's Workforce
Developing tomorrow's transportation workforce is the goal of a new Federal Highway Administration (FHWA) CD-ROM, Hot Mix Asphalt for Seniors and Graduate Students (Publication No. FHWA-IF-04-014). Developed in partnership with the National Asphalt Pavement Association (NAPA) and the National Center for Asphalt Technology (NCAT) at Auburn University, the CD-ROM is intended to supplement the basic materials contained in existing asphalt undergraduate and graduate courses in pavement and materials. "The implementation of hot-mix asphalt technology has been evolving since the development of the Superpave process," says Lee Gallivan of FHWA. "A major concern of State and industry representatives throughout the country involves extending training efforts to a wider universe of asphalt pavement technologists."
The CD consists of 37 lectures that run for 50 minutes each and cover such topics as asphalt binders; aggregates; hot-mix asphalt (HMA) mix designs; HMA production, transportation, laydown, and compaction; and HMA mixture and material characterizations. Also covered are specifications, quality control and assurance, pavement distresses, pavement rehabilitation and maintenance, and recycling. The CD-ROM also includes Microsoft PowerPoint® lectures, instructor notes, homework assignments, and student notes.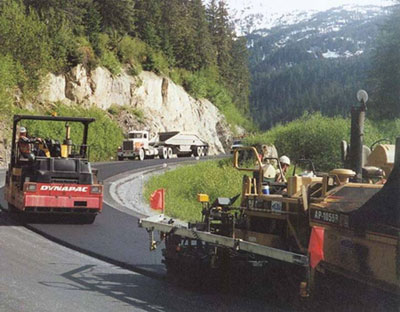 FHWA's new CD-ROM covers all aspects of hot-mix asphalt technology, including transportation, laydown, and compaction.
Hot Mix Asphalt for Seniors and Graduate Students is the second phase of an education effort that began in 1999 with the release of FHWA's Superpave for the Undergraduate CD-ROM. The Superpave CD was created to introduce the Superpave mix design system to sophomores and juniors in civil engineering programs, as well as provide a basic understanding of asphalt technology. It contains two 50-minute lectures for sophomores and twelve 50-minute lectures for juniors. More than 3,000 CD-ROMs were requested by colleges and universities nationwide. Requests for the CD-ROMs were also received from more than 50 countries for use by their governments and educational institutions.
The new CD-ROM is being distributed through FHWA's Resource Center and division offices, University Transportation Centers, the FHWA Superpave Centers, and various industry groups, including NAPA, NCAT, and State asphalt associations. The CD-ROM is also available through the FHWA Product Distribution Center at 301-577-0818 (fax: 301-577-1421; email: report.center@fhwa.dot.gov). In addition, the course materials will be posted online at www.fhwa.dot.gov/asphtech.htm. A limited number of copies of the Superpave for the Undergraduate CD (Publication No. FHWA-RD-99-073) are also still available through the FHWA Product Distribution Center.
For more information, contact Lee Gallivan in FHWA's Indiana division office, 317-226-7493 (email: victor.gallivan@fhwa.dot.gov).