Pavement Management System Key to Improving Highway Condition in Washington State
The dramatic improvements in highway condition achieved by the Washington State Department of Transportation (WSDOT) since implementation of its pavement management system began in the 1970s are detailed in a new case study available from the Federal Highway Administration's (FHWA) Office of Asset Management, Pavement Management Systems: The Washington State Experience(Pub. No. FHWA-IF-08-010).
WSDOT has conducted a pavement condition survey on the entire State highway system every 2 years since 1969 and every year since 1988. In the late 1970s, WSDOT developed the first version of its Washington State Pavement Management System (WSPMS). Since then, the agency has been refining and using the system to manage the State's pavements, with significant results. The proportion of pavement in good condition increased from 50 percent in 1970 to 93.5 percent in 2005. A pavement condition issue that WSDOT is currently addressing is mitigating damage caused by studded tires. Several experimental projects are investigating various mitigation strategies.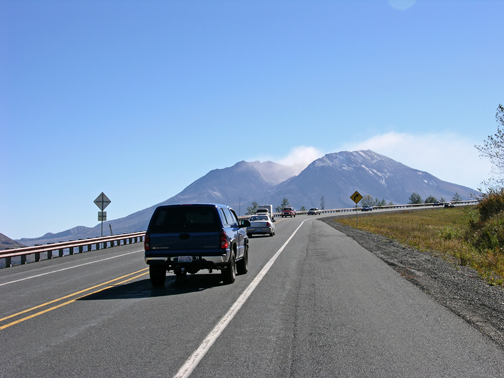 The Washington State Department of Transportation has been using a pavement management system to manage its 28,800 lane-km (17,900 lane-mi) of highways since the late 1970s.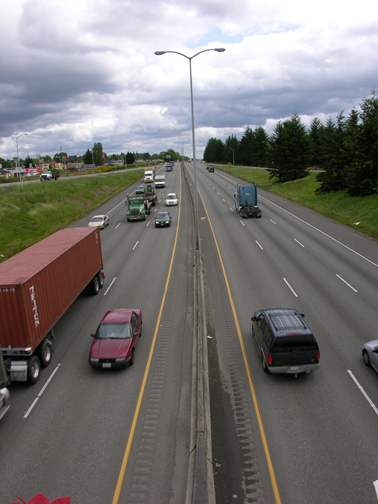 The WSPMS contains annual pavement condition data and detailed construction and traffic history data for the State's 28,800 lane-km (17,900 lane-mi) of highways. Pavement condition data includes cracking data collected since 1969 and roughness and rutting data collected since 1982. WSDOT uses data on pavement condition as a trigger value to identify candidate pavement rehabilitation projects. Agency analysts then use these data along with information from other WSDOT databases to predict the optimal time for pavement rehabilitation activities and to prioritize rehabilitation work over a multiyear roadway investment cycle. Each candidate project is assigned to a priority group based on the optimal time identified. WSDOT also takes into consideration the importance of candidate projects on high-volume routes when it is preparing the priority list.
WSDOT also uses its pavement management system to conduct engineering and economic analyses aimed at improving pavement performance and maximizing the benefits of pavement investment. These analyses include studies looking at pavement smoothness, the impact of increased use of chip seals on highways, the performance of concrete pavements, and the performance of dowel bar retrofits. For example, WSDOT investigated the performance of concrete pavements on I-5 in the Seattle area, with the goal of determining when existing concrete pavements were projected to fail and how much time WSDOT had to plan and develop reconstruction projects before the pavements deteriorated to an unacceptable level.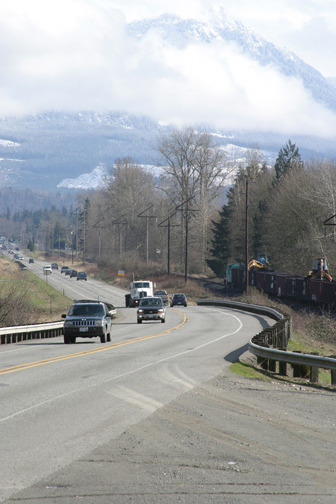 Washington State uses pavement management system data to predict the optimal time for pavement rehabilitation activities.
Pavement design engineers have used the WSPMS as well to assist in selecting the proper asphalt binder grade for individual projects. The system's performance grade (PG) binder selection module allows the user to access information concerning the state route, milepost limits, roadway speed limit, traffic condition, and the 15-year equivalent single-axle load (ESAL) for the selected project. The user then enters the expected overlay thickness, design ESALs, and geographical area, and the module provides recommendations for the appropriate PG binder designation.
The WSPMS is currently a Microsoft Windows®-based program, which the agency plans to replace with the new WebWSPMS in summer 2009. WebWSPMS is a Web-based pavement management application that will provide access to pavement management information, as well as tools that can be tailored to the individual user. "The system's usefulness will be greatly enhanced with the new Web version," says WSDOT State Pavement Engineer Jeff Uhlmeyer. "The new version will provide project selection and evaluation tools, as well as improved reporting functions and an enhanced user interface."
The case study is available online at www.fhwa.dot.gov/asset/if08010/index.cfm. For more information on pavement management systems or to obtain a printed copy of the case study, contact Nastaran Saadatmand in FHWA's Office of Asset Management, 202-366-1337 (email: nastaran.saadatmand@fhwa.dot.gov). Information is also available at www.fhwa.dot.gov/pavement/mana.cfm, or by contacting Anthony Sarhan in FHWA's Washington State division office, 360-753-9412 (email: anthony.sarhan@fhwa.dot.gov). For more information on WSDOT's use of its pavement management system, contact Jeff Uhlmeyer at WSDOT, 360-709-5485 (email: uhlmeyj@wsdot.wa.gov)