SHRP2 Implementation Assistance: A Preview of Round 3
The Federal Highway Administration (FHWA) and American Association of State Highway and Transportation Officials (AASHTO) will begin accepting applications January 17, 2014, for the third round of the second Strategic Highway Research Program (SHRP2) Implementation Assistance Program. Applications will be accepted until February 14, 2014. Round 3 recipients will be announced in March.
More than 100 research projects conducted under SHRP2 have resulted in an array of advanced tools and technologies for improving highway safety, renewal, reliability, and capacity. These tools and technologies are now being released as SHRP2 Solutions products. Funding awarded through the Implementation Assistance Program helps State transportation agencies, metropolitan planning organizations, tribal agencies, local agencies, and others as they implement new products.
Round 3 products are:
Eighteen States were awarded implementation and technical assistance in October 2013 through Round 2 of the Implementation Assistance Program. For more information on the Round 2 recipients, the application process for Round 3, and anticipated products for Round 4, visit www.fhwa.dot.gov/goshrp2 or http://SHRP2.transportation.org. FHWA and AASHTO expect to begin accepting applications for Round 4 product implementation in June 2014.
Additional information on SHRP2 is available by contacting Carin Michel at FHWA, 410-962-2530 (email: goshrp2@dot.gov), or Pam Hutton at AASHTO, 303-263-1212 (email: phutton@aashto.org).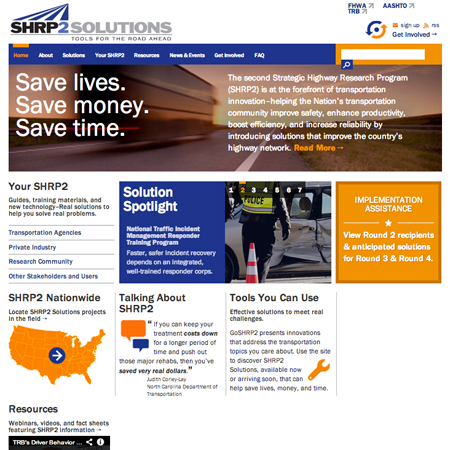 To learn more about SHRP2 Solutions products, visit www.fhwa.dot.gov/goshrp2.