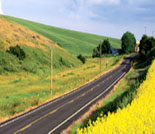 Brian Smith




Ecologist

---

4749 Lincoln Mall Drive, Suite 600
Matteson, IL 60443

Ph: (708) 283-3553
FAX: (708) 283-3501
bsmith@dot.gov






Education


• Bachelor, Biological Sciences, Illinois State University
• Masters, Geology, Northern Illinois University




Expertise/Specialty

• Indirect and Cumulative Impacts Workshop
• Natural Resource Coordination
• Section 10/404 - Clean Water Act
• Stormwater Management/Quality/Soil Erosion/Sediment Control
• Wetlands/Stream Restoration, Mitigation Banking
• Ecosystem / Watershed Approach




Professional Associations

• Transportation Research Board Committee Participant




Professional Highlights

• Currently, I´m a member of the Midwest Natural Resource Group and I´m working with several transportation Research Board (TRB) committees in the areas of environmental analysis, water quality, hydrology, ecology and soils.

• My work focuses on techniques and tools for analyzing cumulative impacts and integrating transportation and watershed planning.

• Other technical areas: Cumulative Effects Analysis, Threatened and Endangered Species, Interagency Coordination, Rapid assessment methods.

• 1992 to 2001, I worked for USACE on Section 404 and Section 10 permitting activities, Programmatic Permits, mitigation design, dredging.

• I also have experience with many major projects including transportation and utility corridors, wetland mitigation, fen restoration and stream restoration.

• I lead the Mitigation Banking Review Team for about three years, developed mitigation banking instruments, reviewed monitoring and compliance activities and resource agency coordination.

• I served with several innovative Technical Advisory Committees to develop habitat/watershed restoration plans and McHenry County Advanced Identification (ADID) of Wetlands study, Fox River Water Quality and Conservation Group,

• Kane County (Fox River) Bridges, and Lake County Transportation Improvement Project. Facilitator at Midwest Area Clean Water Action Plan (CWAP) Conference.

• Special interests in: geohydrology/hydrology of wetlands, geomorphology, water quality BMPs, groundwater investigation techniques, urban wetland development and GIS applications.