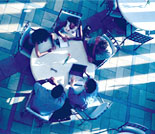 Planning Fundamentals



Planning Specialty Areas











Ed Christopher




Community Planner

---

4749 Lincoln Mall Drive, Suite 600
Matteson, IL 60443

Ph: (708) 283-3534
FAX: (708) 283-3501
ed.christopher@dot.gov



Experience


Began working in field in 1979
Joined FHWA in 1979




Education


• Master of Urban Planning and Policy, University of Illinois at Chicago
• Bachelor of Science, Political Science, University of Illinois Chicago Circle




Expertise/Specialty

• Planning Data
• Metropolitan Planning




Professional Associations

• Transportation Research Board Committee on Urban Data and Information Systems, Chair (A1D08)
• Census Data for Transportation Planning Subcommittee, recent past Chair
• Committee on National Transportation Data Requirements and Programs, Member (A5016)




Professional Highlights

• Worked for nearly 20 years at CATS (Chicago Area Transportation Study—the metropolitan planning organization for northeastern Illinois), most recently as Director of Information Systems.

• At CATS he was responsible for the collection, acquisition, maintenance, and analysis of data that supports the decisions made by CATS.

• Among his activities at CATS, Mr. Christopher managed a number of large travel surveys external, household, long distance, origin-destination, and panel for the collection of transportation data.

• He also worked with a private company on the use of Illinois traffic accident records to produce regional vehicle occupancy rates.

• Completed a Transportation Facts regional bulletin, and was responsible for CATS involvement with Highway Performance Monitoring System data for northeastern Illinois.

• Following CATS, Mr. Christopher spent two and a half years in Washington, DC.

• He was a contractor/analyst for the U.S. DOT's Bureau of Transportation Statistics for a year and a Federal employee for the same agency for one and a half years, working on a variety of data issues related to State and metropolitan planning.

• Mr. Christopher is very active in the transportation data and planning community, serving on a variety of committees, presenting information at conferences, and authoring or co-authoring more than 85 articles and working papers.