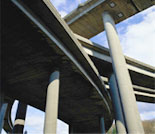 Benjamin Beerman




Sr. Structural Engineer

---

61 Forsyth Street, SW, Suite 17T26
Atlanta, GA 30303

Ph: (404) 562-3930
FAX: (404) 562-3700
benjamin.beerman@dot.gov



Experience


Began working in field in 1994
Joined FHWA in 2008




Education


• B.S.C.E., Civil Engineering, Louisiana State University. Minor in Environmental Engineering




Expertise/Specialty

• AASHTO Standard and LRFD Highway Specifications
• Accelerated construction
• Alternative contractual procurement concepts
• Bridge Evaluation, Strengthening, and Rehab
• Cable stay systems
• Coordination and Review of Contract Plans and Specifications
• Constructability Assessments
• Deep and shallow foundation design
• High performance materials (FRP, HPC, HPS)
• Major/Complex Structures and Small Bridge Replacements - Highway and Rail
• Pre Cast Structural Components. Pre- and post tensioning systems
• RSS and MSE walls




Licenses and Registrations

• P.E., West Virginia, Ohio, Louisiana




Professional Associations

• American Society of Civil Engineers (ASCE)
• American Society of Consulting Engineers (ACEC)
• Mid-Atlantic Committee for Economical Steel Fabrication (SCEF)
• Mid-Atlantic Committee for Economical Prestressed Concrete (PCEF)
• Serves as structural engineer for the FHWA Resource Center - specializing in the NBIS program




Professional Highlights

• Brings over 14 years of experience in bridge design, repair, and rehabilitation of both highway and rail structures located throughout the mid-Atlantic region.

• Comes from the West Virginia Division of Highways, where he held a dual position as a Consultant Coordinator and Squad Leader.

• Began his career at the Louisiana Department of Transportation while attending graduate school at LSU.

• He went on to join Modjeski and Masters in New Orleans then later transferred to help establish their Charleston, WV office.

• He went on to work at the HDR rail group based out of Jacksonville, FL, and Ralph Whitehead and Associates (currently STV) in Richmond, VA.

• Mr. Beerman has been involved in numerous bridge design and rehab projects.

• Some of the more complex include a networked tied arch (the largest in the world), three cable stay structures, and many steel trusses (fixed and moveable -- for both highway and rail).