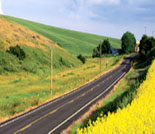 William Van Peeters




Ecologist

---

201 Mission Street, Suite 1700
San Francisco, CA 94105

Ph: (415) 744-0116
FAX: (415) 744-2660
william.vanpeeters@dot.gov






Education


• Bachelor of Arts, Zoology, San Jose State University
• Master of Arts, Marine biology, Moss Landing Marine Labs




Expertise/Specialty

• Marine Ecology
• Plant Ecology
• Habitat mitigation and restoration: Sea Grass, Deserts, western forests, coral reefs, Fresh Water Mussels, coastal ecosystems
• Underwater Survey techniques, ROVs, SCUBA, submersibles, Nets, Cores, UW video




Professional Associations

• Society of Environmental Toxicologists Chemists, Member
• Southern California Marine Invertebrate Taxonomists, Member




Professional Highlights

• Interagency Coral Reef Steering Committee, member.

• Research on storm water runoff toxicity, and mitigative effects of Dissolved Organic Carbon on fish olfactory neurons.

• Sediment and Water Quality analysis, interpretation, risk assessment from contaminated storm water runoff, dredging .

• Principal Investigator (PI) Ocean Dredge Disposal Site Designation: Four year biological survey at deep ocean (3000m.) site. Survey included use of ROVs, manned submersibles, otter trawls, box cores, sediment cores, camera sleds, sediment Profile cameras, hydro casts, current arrays, and sediment dispersion modeling.

• Wetlands and Vernal pool creation: Numerous mitigation and restoration projects in western United States including FW wetlands, sand dunes, coastal wetlands, sea grass beds, vernal pools.

• Manager of Comprehensive habitat surveys (flora, fauna, topography, soils) desert and wetlands in Nevada (aircraft operational areas), pipeline projects in Wasington, Oregon, California. Data collated into a GIS system for use in environmental planning.

• National landscape architecture award, for Great Highway revegetation Projects San Francisco California.