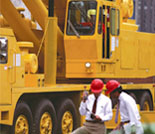 Bernie Kuta




Team Leader - Construction and Contract Administration Engineer

---

12300 West Dakota Avenue, Suite 340
Lakewood, CO 80228

Ph: (720) 963-3204
FAX: (720) 963-3232
bernie.kuta@dot.gov

Joined FHWA in 1988




Education


• B.S.C.E., Colorado School of Mines, Golden CO 1988




Expertise/Specialty

• Life-Cycle Cost Analysis
• Contract administration
• Specification development
• Materials for construction
• Pavement warranties and Pavement construction
• Work Zone Safety




Licenses and Registrations

• Registered Professional Engineer, Utah




Professional Highlights

• Provide Contract Administration support and Specification development as technical assistance to FHWA divisions and State DOTs as needed through training and on site assistance.

• Developed various training workshops for National highway Institute (NHI), LTAP centers, state and federal agencies for personnel in the areas of roadway materials, Emergency Relief, contract administration, Life-Cycle Cost Analysis, metrication.

• Pavement Materials Engineer and Construction/Contract Administration Engineer for the FHWA Resource Center and the FHWA Region 4 (Atlanta) Office.

• Member of the OTS core team for the Federal-aid Essentials for LPAs online resource.

• Life Cycle Cost Analysis (LCCA) Team - Delivering the LCCA RealCost Software workshop which was developed by the team to deliver probabilistic evaluation technology developed by FHWA and provide assistance related the LCCA program implementation.

• Work Zone Intrusion Alarm demonstration program lead – Coordinated a demonstration and evaluation of an innovative non-electronic work zone intrusion devices.

• Served as a generalist civil engineer in South Carolina, Texas, Utah and Colorado FHWA Division offices.

• 3 year member of the national Human Resource Management Committee for FHWA.