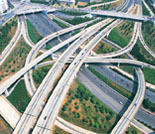 Dennis Dvorak




Senior Pavement and Materials Engineer

---

4749 Lincoln Mall Drive, Suite 600
Matteson, IL 60443

Ph: (708) 283-3542
FAX: (708) 283-3501
dennis.dvorak@dot.gov



Experience


Began working in field in 1992
Joined FHWA in 1983




Education


• Master of Science, Civil Engineering, University of Nebraska
• Bachelor of Science, Civil Engineering University of Nebraska




Expertise/Specialty

• Quality Assurance Stewardship and Oversight
• Asphalt and Concrete Pavement Construction




Professional Associations

• American Society of Civil Engineers, member
• AASHTO Subcommittee on Materials (SOM), member




Professional Highlights

• Pavement and Materials Engineer for the Resource Center since 2004.

• Provides technical assistance in the area of Quality Assurance.

• Works with States to implement statistical pavement construction specifications and effective data validation procedures for comparing the contractor and state test results.

• Developed and updates the FHWA Quality Assurance Assessment tool.

• Assists the US Department of Transportation Office of Inspector General (OIG) with ongoing investigations related to contractor fraud.

• Participates in FHWA Quality Assurance Reviews.

• National Highway Institute (NHI) certified instructor; serves as co instructor for, NHI Transportation Construction Quality Assurance Course

• Lead the development of one-day FHWA Basic Percent Within Limits (PWL) Workshop that was presented in more than thirty states.

• Conducts reviews of Quality Assurance programs in various States and provided recommendations for improvements.

• Served as an Area Engineer, Construction Engineer and Materials Engineer specializing in implementing Superpave and Quality. Assurance specifications in the Kansas Division Office.