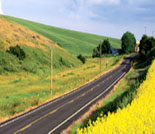 Lisa Hanf


Team Leader
Environment and Realty Technical Service Team Manager

---

12300 West Dakota Avenue, Suite 340
Lakewood, CO 80228

Ph: (720) 963-3210
FAX: (720) 963-3210
lisa.hanf@dot.gov



Experience


9 years with FHWA
14 years with U.S. Environmental Protection Agency (EPA), Region 9
8 years consulting (environment and planning)




Education


• Bachelors of Arts, University of California, Santa Cruz
• Masters in City Planning, Massachusetts Institute of Technology




Expertise/Specialty

• National Environmental Policy Act (NEPA) Implementation
• Project Development and Environmental Review Process
• Environmental Streamlining
• Section 4(f) Application and Compliance
• Indirect Effects and Cumulative Impacts Analysis
• Public Involvement and Environmental Justice
• Air Quality, State Implementation Plans and Conformity
• Transportation Planning




Professional Highlights

• Manager of the Resource Center's Environment and Realty Technical Service Team, providing environmental and realty technical support and training to FHWA's transportation partners.

• In FHWA, was an Air Quality Specialist in the Resource Center; Region 10 Environmental Program Manager, Air Quality Specialist, and Metropolitan Planner; and a member of the Environmental Section in Western Federal Lands Highway Division.

• At U.S. EPA, was the Manager for the Environmental Review Office, Air Planning Office; and Enforcement Division Assistant Director for Strategic Planning.

• As a consultant, prepared NEPA documents for State Departments of Transportation and a wide variety of federal agencies.