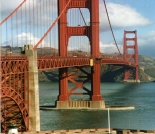 Naser Abu-Hejleh




Geotechnical Engineer Specialist

---

4749 Lincoln Mall Drive, Suite 600
Matteson, IL 60443

Ph: (708) 283-3550
FAX: (708) 283-3501
naser.abu-hejleh@dot.gov



Experience


Began working in field in 1995
Joined FHWA in 2005




Education


• Ph.D., Geotechnical Engineering, University of Colorado at Bolder, 1993.
• M.S., Geotechnical Engineering, M.E.T. University, Ankara Turkey, 1988.
• B.S., Civil Engineering, Yarmouk University, Irbid, Jordan, 1986.




Expertise/Specialty

• LRFD
• Analysis and Design of Deep Foundations (Drilled shafts and driven piles).
• MSE Walls and Abutments.
• Load Testing of Deep Foundation.
• Bridge Approaches.
• Settlement of Foundations.
• Testing of soils and rocks.




Licenses and Registrations

• P.E., Colorado




Professional Associations

• Colorado Association of Geotechnical Engineers, Member.
• A member of three TRB Committees and a panel member of four NCHRP projects.