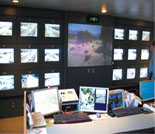 Chung Tran




Transportation Operations Specialist/Team Leader

---

12300 West Dakota Avenue, Suite 340
Lakewood, CO 80228

Ph: (720) 963-3201
FAX: (720) 963-3232
chung.tran@dot.gov






Education


• M.S. Civil Engineering, North Dakota State University
• B.S. Civil Engineering, North Dakota State University
• Graduate of Army Engineer Basic and Advance Course, US Army Engineer School
• Graduate of Combined Arms Service and Staff School, Fort Leavenworth, Kansas
• Graduate of Army Command and General Staff College, Fort Leavenworth, Kansas




Expertise/Specialty

• Traffic Analysis:
• Highway Capacity Manual
• Dynamic Traffic Assignment
• Micro-simulation
• Interstate Access Process
• Emergency Transportation Planning & Operations
• Freeway System Operations
• Managed Travel for Planned Events
• Traffic Incident Management
• Traveler Information
• System Engineering




Professional Associations

• ITE, member
• ITSA, member
• U.S. DOT Operations Council, member




Professional Highlights

• Besides his present work in the Resource Center as a Transportation Operation Specialist. His experience includes special assignment as the Interstate Access Specialist for the Southwestern States. He was also the ITS / Operation Engineer in the Florida Division.

• He was activated to support Operation Iraqi Freedom with the U.S. Army Facility Engineer Group supporting 3rd U.S. Army in Kuwait where he served as the Chief of Operation for Directorate of Public Works at Camp Arifjan with a population of 20,000+ military service personnel.

• He has also served in various positions with Colorado Army National Guard, U.S. Army Reserve and North Dakota Army National Guard, with numerous short deployments to Central America and Korea.

• Past work assignments include the Michigan Division, the Forgo-Moorhead Metropolitan Council of Governments, and the North Dakota Department of Transportation.