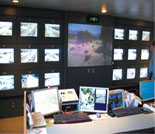 Eric Ferron




Civil Engineer (Highway)

---

12300 West Dakota Avenue, Suite 340
Lakewood, CO 80228

Ph: (720) 963-3206
FAX: (720) 963-3232
eric.ferron@dot.gov



Experience


Began working in field in 2000
Joined FHWA in 2007




Education


• Construction Management Graduate Certificate, Missouri University of Science and Technology
• US Army Corps of Engineers Basic and Advanced Engineer Officer Courses
• BS in Civil Engineering Technology, Colorado State University




Expertise/Specialty

• MUTCD
• Work Zone Analysis, Operation and Safety
• Traffic Analysis and Simulation
• Incident Management
• Highway Capacity




Licenses and Registrations

• Professional Engineer, State of Colorado




Professional Associations

• Institute of Transportation Engineers
• American Society of Civil Engineers
• Colorado Society of Professional Engineers




Professional Highlights

• FHWA MUTCD Team (2011 - Present), provides technical advice, assistance and leadership to FHWA personnel and external partners in the area of traffic control devices and their applications, provides interpretation of federal laws and regulations related to the MUTCD in the areas of regulatory and warning signing, school zones and low volume roadways.

• Deployed to Afghanistan in support of Operation Enduring Freedom (2009-2010), provided oversight and management over master planning, facility planning, design and construction of projects for Forward Operating Base (FOB) Sharana, successfully developed, designed and programmed $40 million of new construction projects supporting an additional 5,000 personnel.

• Traffic Operations Engineer, Colorado Department of Transportation (2000-2007), work zone traffic control, freeway and arterial operations, traffic and safety investigations, impact analyses, hazard elimination projects, ITS, and highway construction.

• Deployed to Afghanistan (2003-2004), assisted with development of master plan for nationwide road reconstruction and redevelopment, managed construction of 19 Afghan National Army Facilities.

• Port Construction Engineer, US Army (1997-2000), provided engineering and construction management over the design and construction of ports and port facilities in the Pacific region.