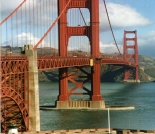 Scott Anderson


Team Leader
Geotechnical Technical Service Team Manager

---

12300 West Dakota Avenue, Suite 340
Lakewood, CO 80228

Ph: (720) 963-3244
FAX: (720) 963-3232
scott.anderson@dot.gov



Experience


Began working in field in 1984
Joined FHWA in 2002




Education


• Ph.D., Civil Engineering -- Geotechnical, UC Berkeley, 1992
• M.S., Civil Engineering -- Geotechnical, UC Berkeley, 1988
• M.S., Geology - Engineering, Colorado State University, 1988
• B.S., Geology - Engineering, University of Colorado, 1982




Expertise/Specialty

• Soil and rock properties
• Remote Sensing
• Asset Management
• Performance Management
• Risk Management




Licenses and Registrations

• Professional Engineer CO (active), UT, and HI




Professional Associations

• American Society of Civil Engineers, Member – Embankments, Dams and Slopes Committee
• Association of Engineering Geologists, Program Chair, N.A. Landslide Conference
• Deep Foundation Institute, Co-Program Chair of 2007 Annual Meeting
• AASHTO Subcommittee on Bridges, Member T-13 Culverts
• TRB Committees on Transportation Earthwork, and Soil and Rock Properties, Member




Professional Highlights

• Geotechnical Discipline Leader for the FHWA Office of Federal Lands Highway.

• Conducted and oversaw investigation, analysis, design and construction phases of the Hoover Dam Bypass and major projects within our National Parks, Forests, and other federal lands.

• Developed and implemented risk management and asset management tools. Deployed new technologies for slopes, retaining walls and foundations. Received the 2006 FHWA Award for Engineering Excellence.

• Worked internationally as a senior consulting engineer and manager for a major A/E design firm and geotechnical consultant.

• Consulted in the transportation market sector, as well as water resources, mining, and commercial market sectors.

• Projects included the Hanging Lake tunnel on Interstate 70

• Many other highway projects; new and existing dams, canals, and pipelines; waste rock and risk management for large mines; and, deep foundations and excavation support for high-rise construction in the U.S. and abroad.

• Assistant Professor of Civil Engineering at the University of Hawaii (and part-time at the University of Colorado).

• Conducted federally and locally funded research on soil and rock properties, groundwater hydrology, and slope stability, and taught undergraduate and graduate courses in geotechnical engineering.

• Recipient of ASCE Outstanding Faculty Award.