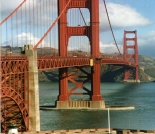 Rich Barrows




Geotechnical Engineer

---

610 E 5th Street,
Vancouver, WA 98661

Ph: (360) 619-7704
FAX: (360) 619-7846
rich.barrows@dot.gov



Experience


Began working in field in 1995
Joined FHWA in 2005




Education


• Ph.D., Geotechnical Engineering, University of Colorado at Bolder, 1993
• M.S., Geotechnical Engineering, M.E.T. University, Ankara Turkey, 1988
• B.S., Civil Engineering, Yarmouk University, Irbid, Jordan, 1986




Expertise/Specialty

• Earth Retaining Systems
• Foundation Design and Construction
• Ground Anchors
• Landslides
• Microphiles
• Rock Slopes
• Tunneling
• Assists with issues in AK, ID, and OR
• Shared with Resource Center (25%) and Western Federal Lands (75%)




Licenses and Registrations

• P.E., Colorado




Professional Associations

• Colorado Association of Geotechnical Engineers, Member.
• A member of three TRB Committees and a panel member of four NCHRP projects.




Professional Highlights

• Manager and lead investigator of Colorado DOT (CDOT) geotechnical research projects (1997-2005).

• Authored and published numerous professional journal papers and research reports.

• Evaluated the performance of MSE and flow fill approaches of more than 120 bridges.

• Conducted comprehensive investigations into bridge bump problems in Colorado, and provided recommendations to improve the design and construction of bridge approaches. Axial load tests (on drilled shafts embedded in weak rocks) and lateral load tests (on drilled shafts embedded in soils) were conducted in five major CDOT construction projects, and an extensive program of simple geotechnical tests was performed at the load test site. Information on the construction and materials of the test shafts was documented--followed by thorough analysis of all the test results. The CDOT and AASHTO/FHWA axial and lateral design methods for drilled shafts were also evaluated.

• Was instrumental in the new Founders/Meadows Bridge structure, where the abutments are placed on a spread foundation placed directly on GRS walls (called GRS abutment). In the ramp walls connecting NB I-25 to I-70 in Denver, MSE wall with independent full-height facing (IFF), was constructed (called MSE/IFF wall).

• Two structures were instrumented and performance data on the soil stresses, strains, temperatures, moisture contents, and movements of the walls were collected during construction and while the structures were in service for almost four years followed by thorough data analysis. Published reports summarizing the features, limitations, and design/construction guidelines for the use of GRS bridge abutments and MSE/IFF walls in future construction projects. CDOT bridge office staff agreed to incorporate the recommendations for GRS abutment in a subsection of CDOT Bridge Design Memo and the recommendations for MSE/IFF wall in a new CDOT Structural Worksheet.