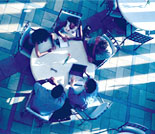 Planning Fundamentals



Planning Specialty Areas











Larry Anderson




Community Planner (SHRP2 Capacity Implementation Specialist)

---

12300 West Dakota Avenue, Suite 340
Lakewood, CO 80228

Ph: (720) 963-3268
FAX: (720) 963-3232
larry.anderson@dot.gov



Experience


Began working in field in 1989
Joined FHWA in 1989




Education


• B.A. in Political Science (Public Administration emphasis) from the University of Nebraska-Lincoln (Lincoln, Nebraska)
• o Master of Urban Planning from the University of Kansas (Lawrence, Kansas)




Expertise/Specialty

• SHRP2 Process-Related Products/Solutions in the Capacity Focus Area
• Metropolitan and Statewide Transportation Planning and Programming Processes
• Transportation Planning and Project Development/Environment Linkages
• Transportation Planning and Air Quality Planning Linkages
• Federal Lands Highway Transportation Planning and Programming




Professional Associations

• Institute of Transportation Engineers (Member)
• American Planning Association (Member)




Professional Highlights

• Prior to joining the FHWA Resource Center, Larry served for over six years as the Director of Program Administration for the Central Federal Lands Highway Division (Lakewood, Colorado). In that position, Larry led and managed transportation planning, program development, and program administration/administrative support functions (including financial management, acquisitions/procurement/contracting, and information technology), which supported Federal Lands Highway (FLH) program and project delivery in 14 central, western, and southwestern States. In that position, Larry also served as corporate sponsor of the FLH Transportation Planning discipline.

• Larry also served for over four years as the Planning Oversight and Stewardship Team Leader in the FHWA Office of Planning (Washington, DC), where he was instrumental in developing the FHWA/Federal Transit Administration rules on statewide and metropolitan transportation planning and programming (which was published in the February 14, 2007 Federal Register).

• Other positions held by Larry during his FHWA career included: Assistant Division Administrator in the FHWA Ohio Division Office (Columbus, Ohio); Planning and Intermodal Coordinator in the FHWA Florida Division Office (Tallahassee, Florida); Regional Air Quality Specialist in the former FHWA Region 4 Office (Atlanta, Georgia); and Assistant Planning and Intermodal Coordinator in the FHWA Florida Division Office (Tallahassee, Florida).