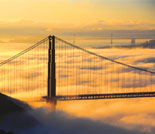 Jeff Houk




Air Quality Specialist

---

12300 West Dakota Avenue, Suite 340
Lakewood, CO 80228

Ph: (720) 963-3203
FAX: (720) 963-3232
jeff.houk@dot.gov






Education


• Bachelor of Science, Chemical Engineering, Michigan State University




Expertise/Specialty

• Conformity
• Particulate Matter
• Climate Change/Greenhouse Gas Issues
• MOVES Model




Professional Highlights

• Has worked with many federal agencies, state air and transportation agencies, and local planning organizations on conformity determinations and other transportation and air quality issues.

• Helped EPA develop the original transportation conformity regulations, subsequent revisions to those regulations, and MOBILE6 technical and policy guidance.

• Broad range of experience in air quality planning, motor vehicle emissions controls, and transportation plan and project analysis.