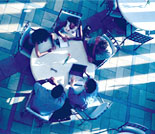 Planning Fundamentals



Planning Specialty Areas











Lisa Randall


Team Leader
Planning Technical Service Team Manager

---

12300 West Dakota Avenue, Suite 340
Lakewood, CO 80228

Ph: (720) 963-3209
FAX: (720) 963-3232
lisa.randall@dot.gov






Education


• Master of Arts, International Affairs, Tufts University
• Bachelor of Arts, Economics and Political Science, University of Denver




Expertise/Specialty

• Border Planning and NAFTA Issues
• Freight Planning and Operations
• Transportation Data
• International Transportation, Trade and Security
• Fiscal Constraint
• Financial Planning
• Freight Planning
• Border Planning




Professional Highlights

• Lisa is the team leader for the FHWA Resource Center's Planning Team.

• Prior to joining FHWA in June 2003, Lisa served as the International Program Manager at the Bureau of Transportation Statistics (BTS), U.S. Department of Transportation, a position she held for 8 years.

• While there, she coordinated and authored several studies in support of effective transportation planning with special emphases on domestic and international freight transportation and international travel.

• These include the U.S. International Trade and Freight Transportation Trends report.

• In addition, for several years, Lisa worked closely with the DOT Office of Intermodalism and led efforts to ensure that appropriate and accurate transportation data requirements are included in the International Trade Data System (ITDS)

• -- a multi-agency effort led by U.S. Customs, to improve the processes and information collected from all U.S. international trade transactions. Data collected through ITDS will support effective freight analyses and planning.

• Lisa was awarded two Secretarial DOT Team Awards for her contributions to the Changing Face of Transportation, National Transportation Statistics, and Transportation Statistics Annual reports.

• She also received a BTS agency merit award for her leadership of the North American Transportation Statistics Interchange, a cooperative partnership with transportation and statistical agencies in Canada and Mexico

• The partnership has resulted in the release of the North American Transportation in Figures report and the development of the North American Transportation Online Database

• and a system designed to provide comparable North American transportation data and information for planning and decision-making purposes.

• Lisa is a member of the International Trade and Transportation Committee of the Transportation Research Board. She also is a Senior Fellow with the Council for Excellence in Government.

• She entered federal service as a Presidential Management Intern, originally with the Department of Defense.