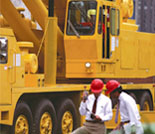 Michael Smith




Project Management Engineer

---

61 Forsyth Street, SW, Suite 17T26
Atlanta, GA 30303

Ph: (404) 562-3694
FAX: (404) 562-3700
michael.smith@dot.gov






Education


• Master of Science, Civil Engineering, Auburn University
• Bachelor of Science, Civil Engineering, Auburn University




Expertise/Specialty

• Life-cycle Cost Analysis
• Cost Estimation and Validation
• Local Public Agencies
• Quality Assurance
• Asphalt Materials




Professional Associations

• Association of Asphalt Paving Technologist, Member




Professional Highlights

• As a graduate student at Auburn University, Mr. Smith worked at the National Center for Asphalt Technology in 1989, where he conducted research on the use of latex in hot-mix asphalt concrete.

• He began his career with the FHWA in 1991 at the Turner-Fairbank Highway Research Center located in McLean, VA. In this capacity, he supported the development and implementation of research into the use of recycled scrap tire rubber in asphalt pavements.

• In 1995 he began work in the Washington, DC HQ Pavement Division where he developed national workshops on state-of-the-practice preventive maintenance technologies including the application of chip seals, slurry seals, and thin overlays.

• In 1997 he developed national guidelines for the conduct of life-cycle cost analysis in pavement design. To implement the guidelines he developed a two day workshop and has provided training and instruction throughout the United States.

• From 2003 to 2005 Mr. Smith provided extensive technical support to Office of Inspector General, Federal Lands and Divisions in the use and implementation of statistically based quality assurance specifications.

• From 2007 to 2011 participated in the development and implementation of improved cost risk analysis procedures by the FHWA.

• In 2012 Mr. Smith was part of a multi-agency team to produce a new and innovative web site called Federal-aid Essentials for Local Public Agencies. In this capacity, Mr. Smith served the team as a production manager ensuring the creation and consistent high quality of all instructional videos.

• Recently, Mr. Smith assumed new responsibilities as a co-Team Leader for the CPM TST team where he provides support to team members and the team manager.