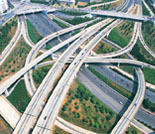 Jason Dietz




Pavement and Materials Engineer

---

12300 West Dakota Avenue, Suite 340
Lakewood, CO 80228

Ph: (720) 963-3213
FAX: (720) 963-3232
jason.dietz@dot.gov



Experience


Began working in field in 1992
Joined FHWA in 1996




Education


• B.S., Civil Engineering, The University of Nevada Reno, 1992
• M.S., Civil Engineering, The University of Nevada Reno, 1997




Expertise/Specialty

• Quality Assurance Procedures for Construction
• Pavement Forensic Investigations
• Pavement Design, Construction, Maintenance and Materials Testing Procedures
• Pavement Management Systems
• Pavement Preservation
• Pavement Recycling (FDR, CIR, and HIR)
• Material and Construction Specifications
• Nondestructive Testing




Professional Associations

• Association of Asphalt Paving Technologists
• Active member of TRB Committees




Professional Highlights

• Eighteen years of experience with FHWA in the areas of specifications and materials, environmental, design, construction, maintenance, and the administration of the Federal-aid program with experience at Headquarters, Federal Lands and Division Offices. Five years consulting for public and private construction related projects.

• Provides technical assistance in the area of Quality Assurance.

• Works with States Highway Agencies pavement construction and materials specifications.

• Participates in FHWA Quality Assurance and Pavement Preservation reviews.

• National Highway Institute (NHI) certified instructor.

• Assisted with development of various NHI courses on pavement and materials.

• Led a task group in setting up the Western Region In-Place Recycling Conference and Earth Day webinar in 2008.

• Assisted in writing and reviewing two focus articles that were published and consisted of Caltrans Pavement Preservation Task Group and Construction analysis for Pavement Rehabilitation Strategies.

• Wrote an article for the California Asphalt Magazine in September 2007 on "Quality Assurance for Public Agencies in California."

• Developed a Pavement Preservation Definition Memo for the National Park Service.

• Involved in completion of 2010, 2011, 2012 Pavement Condition Report for the National Park Service.