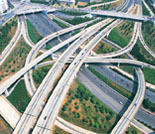 Bob Orthmeyer




Senior Pavement Engineer

---

4749 Lincoln Mall Drive, Suite 600
Matteson, IL 60443

Ph: (708) 283-3533
FAX: (708) 283-3501
robert.orthmeyer@dot.gov



Experience


Began working in field in 1978
Joined FHWA in 2001




Education


• B.S.C.E., North Dakota State University




Expertise/Specialty

• Construction
• Pavements
• Pavement Management
• Asset Management




Licenses and Registrations

• P.E. North Dakota
• P.E. Minnesota




Professional Associations

• National Society of Professional Engineers, Member




Professional Highlights

• National Society of Professional Engineers, member since 1982.

• NHI conditionally certified instructor; served as coinstructor, NHI Pavement Smoothness Course, 2007, 08.

• As a private consultant, led successful proposal development for the FHWA LTPP North Central Region Coordination Office in 1992 and the FHWA LTPP Materials Testing contract; provided final products to submit to FHWA.

• Conducted pavement surface distress identification training for the NDDOT and several county and city agencies in North Dakota and Minnesota.

• Founded own private company doing work in pavements and asset management with a focus on integrating roadway databases with geographical information systems (GIS).

• Served as construction engineer for the North Dakota State Highway Department; developed pavement surface distress identification manuals and conducted training for district staff.

• Served in various executive positions with major private sector pavement consulting firms; negotiated and signed a $2.2 million contract for LTPP materials testing and a $4.6 million multiyear contract for the FHWA LTPP North Central Region Coordination Office.

• Established and administering a $2.4 million FHWA led pooled fund study, Improving the Quality of Pavement Profile Measurement, with support from 20 State agencies, the Office of Pavement Technology, Federal Lands and Division offices that will assist in building smooth roads; the study will provide a definition for a reference profile, build a reference profile device, supply a localized roughness module for ProVAL, and assist with strategies for verification sites.