Semi-Annual Reports to WSDOT
Semi-Annual Project Delivery Report
With data from Federal FY 2013 Quarters 3 & 4 (April - September 2013)
Issue XIV, December, 2013
---
I-5 Skagit River Bridge Collapse and Replacement - An Emergency Repair Success Story
On May 23, 2013, at about 7 pm, a portion of the Skagit River Bridge on I-5 near Mount Vernon collapsed after being struck by an oversized load. More than 71,000 drivers use this stretch every day.
Within 40 minutes, WADIV staff were aware of the collapse
Within 1 hour, WADIV notified FHWA HQ staff and HQEC
Within 2 hours, WADIV staff arrived at the EOC and Division Office
Within 3 hours, WADIV held conference calls with FHWA HQ, NTSB and Secretary of DOT
Within 10 hours, NTSB launched a go team and FHWA HQ Bridge Rep
Within 13 hours, Other WADIV staff were on site
Within 15 hours, Governor Inslee declared and signed a proclamation of emergency
Within 16 hours, WADIV received a request for ER funds and approved eligibility
Within 17 hours, FHWA HQ releases "quick release" funds
For the next two weeks, WADIV worked closely with WSDOT and others to assure that the communication and emergency relief (ER) funding to repair this bridge moved forward smoothly. After a temporary, and then permanent, span were installed, I-5 at the Skagit River Bridge was permanently reopened to traffic on September 15, 2013. ER funds also paid for sway bar raising and portal strengthening on the three remaining truss spans.
---
Environmental Programmatic Agreements Streamline Project Delivery
The FHWA Washington Division continues to work with WSDOT and Federal and State agency partners to implement our programmatic agreements (PA), streamlining the environmental process for federalaid projects in Washington. In March 2013, a new PA for Categorical Exclusions (PCE) was signed and put into effect. The PCE supersedesthe 2009 CE per memorandum of understanding (MOU). The "CE per MOU" resulted in delegating 62% of CE decisions to WSDOT. The March 2013 PCE expanded the number of projects that qualify to be certified by WSDOT significantly. Preliminary findings shared in the last report remain consistent - the preliminary reporting from the first quarter showed that 82% of WSDOT's Office of Highways & Local Programs (H&LP) CE projects were certified by WSDOT under the new PCE. The year-to-date data are consistent - with the early numbers - 83% of H&LP projects were certified by WSDOT. For this report, the first WSDOT data shows 57% usage for WSDOT projects. Overall, 80% of projects used the PCE, an 18% increase over the CE per MOU!
Also, in 2013, 73% of federal-aid projects were exempted from Section 106 review under the Statewide PA among WSDOT, FHWA, and the Washington State Department of Archaeology and Historic Preservation (DAHP), up from 72% in 2012.
---
Approval of Emergency Relief Damage Inspection Reports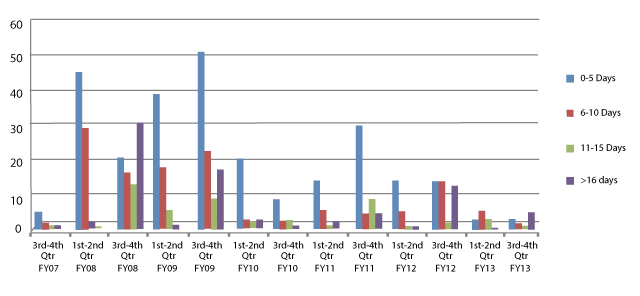 This chart shows the timeliness of approval for emergency relief (ER) damage inspection reports. Our goal is to approve 90% of these reports within 10 days of receipt. ER reports that exceed 16 days typically are delayed due to external permits and other factors.
For the 3rd/4th quarters of FY 2013, we fell 30% short of our goal.
For the 1st/2nd quarters of FY 2013 we fell 27% short of our goal.
FHWA Approval of Documented Categorical Exclusions
This chart shows the timeliness of approving documented categorical exclusions (DCEs) semi-annually from FY2007 through FY2013. As the chart depicts, FHWA approves the majority of DCEs within the first 10 days of receipt. Of 766 DCEs approved over the past 6 years, 78% process in 10 or fewer days, and 89% in 14 days.
OTHER APPROVALS / ACTIONS
Environmental Document Approvals
Approved I-405 Light Rail (East Link Extension) Re-Evaluation

Design Approvals
Approved I-5 Skagit River Bridge Design Build Contract
Approved two PS&E Reviews on TIGER III Projects
Approved I-90 Stage 3A Project Development Design
Approved Sound Transit Northgate Link Design Project Development
Approved I-405 Braids Project Development

Design Deviations
I-5 Mobility Improvements SR 510 to SR 512. Tiger III project.
I-405 SE 8th Street to SR 530 - Concrete Rehabilitation, MP12.38 to MP14.56
---
Timeliness of Authorizations / Modifications
| Number of Days | 2007 | 2008 | 2009 | 2010 | 2011 | 2012 | 2013 |
| --- | --- | --- | --- | --- | --- | --- | --- |
| 0 to 5 Days | 1451 | 1645 | 2261 | 1936 | 1791 | 1655 | 2029 |
| 6 to 10 Days | 175 | 128 | 113 | 131 | 41 | 35 | 122 |
| 11 to 15 Days | 37 | 12 | 7 | 18 | 7 | 1 | 7 |
| 16 to 20 Days | 18 | 5 | 1 | 3 | 2 | 0 | 0 |
| 20 + Days | 16 | 13 | 5 | 1 | 0 | 0 | 0 |
| Totals | 1697 | 1803 | 2387 | 2089 | 1841 | 1691 | 2258 |
The table above reflects the number of authorizations / modifications approved within certain timeframes since 2007. For FY2012 our approval is at 94%, exceeding our goal of 90%!
(Note: the FY begins on October 1 and ends on September 30 of the following year. )
---
THE STEWARDSHIP AND OVERSIGHT AGREEMENT (S&O)
The FHWA and WSDOT Stewardship and Oversight (S&O) Agreement is being revised for the first time in five years. In 2013, FHWA began a more systematic, risk-based S&O approach to deliver the Federal-aid Highway Program (FAHP). The approach is driven by objective data, more consistent from state to state, and adds value to projects and programs. Some notable changes follow.
FHWA is moving toward a risk-based approach to determine the appropriate level of FHWA project involvement, and more accurately reflect how we operate.
Projects identified through the FHWA Divisions' risk assessment process as an elevated risk (threat or opportunity) to the FAHP are called Projects of Division Interest (PoDIs).
FHWA Divisions will focus on project phases or areas that add the most value. References to "full" oversight" projects in the S&O will be replaced with language about PoDIs.
FHWA uses a statistical approach for project selection and has created a more consistent review approach nationally. Now called compliance assessment program (CAP) reviews, they provide reasonable assurance, at both the national and local level, that FAHP construction projects comply with key federal requirements. The CAP is one element of project oversight, and it strengthens our approach to being more data-driven. A section on CAP reviews is part of the draft S&O.
MAP-21 provided increased flexibility regarding FHWA's project involvement, and created more program accountability for the FAHP with Transportation Performance Management provisions. The revision to the S&O will have a greater emphasis on performance indicators or measures to better align and streamline the current performance measures in the S&O to WSDOT's Gray Notebook. Our goal is to report all the FHWA performance measures annually, although reporting schedules will vary for FHWA HQ. We hope to have a revised, signed S&O before the end of second quarter of FFY 14.
Inactive Percentages and Total Number of Projects

The table above provides a snapshot of the percentage of project funding unobligated as of the 4th quarter of 2013 (top bar), and the number of projects that unobligated percentage represents. (Though the trend between the 3rd and 4th quarters of 2013 implies an "up-tic," the change is a one-time correction based on a recent audit of one GARVEE project. Without this project, the percentage of unobligated funding in the 4th quarter of 2013 would be 0.8%. The percentages represent $18.76 million inactive project total dollars of the total $653.8 million FY apportionment.)
---
$100,000 Technical Assistance Incentive!
In October 2013, FHWA announced a program that offers resources to State Transportation Innovation Councils (STICs) to support their efforts to mainstream innovations under Every Day Counts. The STIC Incentive Program offers technical assistance and funds - up to $100,000 per STIC per year - to support the costs of standardizing innovative practices in a state transportation agency or other public sector STIC stakeholder.
In Washington, STICs, led by WSDOT Secretary Lynn Peterson and FHWA Division Administrator Dan Mathis, bring to- gether transportation stakeholders to find and implement Every Day Counts innovations. STIC members include local agencies, regulatory agencies, Local Technical Assistance and Tribal Technical Assistance Programs, Metropolitan Plan- ning Organizations and industry.
Examples of STIC funding opportunities include developing technical guidance and standards, implementing system pro- cess changes, organizing peer exchanges, delivering training, creating an evaluation plan and offsetting the costs of inno- vation deployment.
Projects selected for the $100,000 incentives should have a statewide impact on standardizing innovation. STIC incen- tives will carry an 80/20 match requirement. The non-federal match must come from project sponsors or other allowable funding sources.
Contact the FHWA Washington Office at Washington.FHWA@dot.gov to ask how to apply for a STIC incentive grant.
---
For more information contact:
Dan Mathis
Division Administrator
FHWA Washington Division
360-753-9480
Daniel.Mathis@dot.gov
Sharleen Bakeman
Transportation Specialist - Planning
FHWA Washington Division
360-753-9418
Sharleen.Bakeman@dot.gov