U.S. Department of Transportation
Federal Highway Administration
1200 New Jersey Avenue, SE
Washington, DC 20590
202-366-4000
---
Disclaimer: FHWA is committed to making its Information and Communication Technology (ICT) accessible by meeting the requirements of Section 508 of the Rehabilitation Act of 1973. The tools, resources, criteria and other items provided herein are for internal use by FHWA for ICT it procures, develops, maintains, and utilizes. The U.S. Government assumes no liability for the use by third parties of the information contained in this website. The U.S. Government does not endorse products or manufacturers. Trademarks or manufacturers' names appear on this website only because they are considered essential to the objective of the information.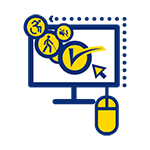 Section 508 Making ICT Accessible
Start early! The more accessible your files, the easier to make the conformant version.
Page last modified on February 23, 2021
508 graphics source: FHWA. Heading glyphs: Pixabay.