Beyond the Short Term: Transportation Asset Management for Long-Term Sustainability, Accountability and Performance
Asset Management as A 'Quality' Framework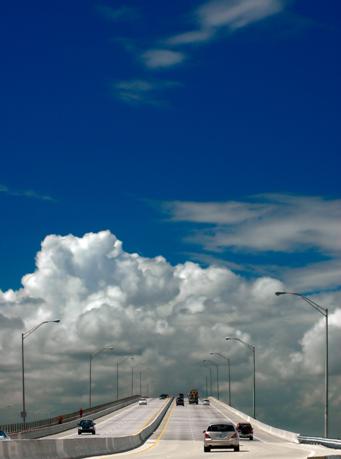 Congress and many states are considering a Performance Management approach to their transportation programs as a means to measure results and to document accomplishments. Performance Management is useful in many settings because it can measure current results against agreed-upon targets.
However, Asset Management should not be overlooked as a system for demonstrating accountability and for producing results. In fact, Asset Management has come to resemble many of the world-renowned "quality" systems which leading corporations use to ensure the long-term sustainability of their performance. These systems produce not only short-term performance metrics but they also measure long-term performance, which is particularly relevant for highway networks.
This section briefly summarizes these leading "quality systems" and compares and contrasts them to Asset Management. By adopting Asset Management, an agency will be using strategies to manage the long-term performance of its transportation assets in a systematic and documented fashion similar to the management strategies used by many of the corporate world's leading performers.
Development of 'Quality Systems'
"What gets measured, gets managed", is one of the most common sayings in business. However, for more than 20 years, management authors and leading organizations have perceived that measuring only short-term performance alone does not ensure the quality of an operation, or the long-term sustainability of results. In fact, the performance literature has extensively documented that a focus only upon short-term results can lead to unsustainable long-term performance. In response, major organizations and leading management authors have developed a variety of additional management frameworks which not only produce performance metrics but which also establish an over-arching "quality" framework for the operation of the organization. As a result, the use of these formal, sophisticated and proven frameworks has become a common component of organizations which are seeking to demonstrate their long-term performance and accountability.
Some of these systems include the Balanced Scorecard, Six Sigma, the Baldrige Process, the Japanese Kaizen process, ISO and the Total Quality Management process which was common in the 1990s. A fully development Performance Management System also can be considered as a form of one of these "quality" systems if it includes elements which lead to the long-term sustainability of operations for the lowest life-cycle costs. However, management literature is rich with examples of "sub-optimization" or skewed organizational performance because managers were pursuing narrow performance targets which did not reflect the best long-term performance of their organizations.
Such concerns are particularly relevant to the management of highway assets. As every textbook about pavements indicates, a systematic, long-term perspective regarding preventive maintenance and rehabilitation - in addition to resurfacing - is necessary to sustain the health of an entire pavement network. Focusing only upon the current performance of pavements can lead to over-reliance on short-term surface treatments. These eventually will fail to provide the long-term structural integrity necessary to guarantee the future performance of the pavement network. An agency which focuses only on current pavement surface conditions will eventually face a highway network with an overwhelming backlog of pavement rehabilitation and replacement needs.
Similar problems can develop with a transportation agency's bridge inventory. It has been well documented that the United States built a massive inventory of bridges in the 1950s and 1960s with the construction of the Interstate Highway System. After serving the nation well for decades, these bridges are creating massive future obligations for states because so many are reaching critical age at the same time. Without a systematic, long-term approach to managing this massive inventory, states can face "waves" of aging bridges which they currently cannot afford to repair. A performance measurement system which only focuses upon the current condition of bridges may fail to recognize the long-term performance issues that are looming.
Executives of leading corporations also found themselves facing similar issues when they relied upon only short-term performance measures. For instance, a company could be profitable in the short-term but face long-term insolvency if its major products are likely to become obsolete with the advent of new technology or new, competing products. Or short-term profitability can mask the long-term erosion of a company's market share.
To respond to these concerns, leading organizations and institutions developed frameworks such as the Balanced Score Card, or ISO, or Six Sigma. Theses not only measure short-term results but they also evaluate the organization's business practices against clear, proven, demonstrably sound performance frameworks. These frameworks measure how well the organization responds to its customers, how it controls its quality-assurance processes and how likely the organization's processes are to ensure future success. These systems address future success by include a "learning" or "continuous improvement" function. The systems are devised to respond to constantly changing conditions in the marketplace, and to changing customer requirements. Therefore, instead of measuring only the adequacy of current performance they evaluate attributes such as an organization's ability to "learn" or to "manage knowledge" or to adapt to changing circumstances.
The ability to measure changing conditions, and to forecast different future scenarios as a result, is a particular hallmark of the Balanced Scorecard, the Baldrige process or ISO. Again, in an analogy to Asset Management, these functions would be similar to a highway agency forecasting the effects of higher material prices upon the long-term sustainability of asset conditions. Unless the highway agency "learns" from the rise in material prices it cannot adequately forecast that its future ability to invest in pavement treatments may not be sufficient to sustain pavement conditions. Looking only at current conditions would not provide insight into the effects of higher prices on future results.
Leading manufacturers often require parts suppliers or other business partners to be "ISO Certified" or to be "Six Sigma Black belts" to demonstrate their reliability as business partners. In addition to delineating contract specifications, or performance targets, these leading firms also require partners to have a quality system such as ISO or Six Sigma to underpin their continued performance as long-term partners.
Similarly, as British and Australian transportation officials developed long-term performance agreements for private operators of new toll facilities they required not only a set of performance targets to be met but they required the vendors to institute a set of long-term management frameworks including Asset Management and ISO processes.
In Brisbane, Australia, the City of Brisbane and the State of Queensland are each building massive tunnel projects through public private partnerships. The City of Brisbane has contracted for the $2.8 billion (US$) Clem Jones Tunnel while the State of Queensland has contracted for the $5 billion ($US) Airport Link Tunnel. The Clem Jones Tunnel concessionaire will build and then operate the tunnel for 35 years while the Airport Link Tunnel concessionaire has a 45 year contract. The two government agencies confront the need to ensure that their massive investments are adequately sustained for decades. The performance and accountability strategy they selected is to require up to 28 different management systems, including an audited, peer-reviewed Asset Management System as a key component of the contracts. The concessionaires are required to operate sophis-ticated Asset Management systems that at the end of four decades assure that the highways are in sound condition when turned over to the government.
The Australian transportation agencies have extensive experience with managing Public Private Partnerships. They have come to rely upon Asset Management Systems as a primary contractual means for ensuring the ongoing, long-term accountability of their concessionaires' highway operations.
In Great Britain, the Highways Agency within the national Department for Transportation recently award a $10.2 billion 30-year contract for a private concessionaire to widen and then operate the M25 beltway around London, the nation's busiest highway. To ensure the long-term performance of that project, the Highways Agency is not relying only on a set of performance targets. As in Australia, it is requiring the concessionaire to institute a series of "quality based" management systems, including a system to continuously sustain the condition of basic highway assets over its 30 year life.
What these experiences abroad illustrate, is that Asset Management has become a basic element of accountability. It has been relied upon by the experienced transportation agencies in Australia and Great Britain to not only produce short-term metrics but more importantly to institute a long-term, continuously monitored process to ensure on-going sustainability of the valuable asset.
Asset Management and Other Quality Systems
The following section briefly summarizes several of the most common "quality" systems and illustrates how they are similar to Asset Management. By briefly describing these systems it is possible to illustrate that they, like Asset Management, can serve as an important component of any accountability framework. Also, these systems have addressed many of the problems confronted within Asset Management. How these systems address issues of performance, account-ability and sustainability hold many important parallels for Asset Management.
These frameworks evolved to provide a comprehensive, replicable systems approach to managing large organizations, and the individual processes within them. These models build upon the "Deming" framework of institutional learning and continuous improvement through:
Planning to achieve clear objectives which can be measured accurately;
Implementing strategies to achieve those objectives;
Continuously evaluating the results, and;
Acting to further refine and improve results based on the evaluation of earlier efforts.
The models all rely heavily upon the setting of performance measures, which are derived from larger strategic goals. The performance measures are often-customer focused, or focused upon indicators of organizational performance or efficiency. The models all stress data analysis to precisely compare processes and results against desired norms.
Asset Management as a Form of Performance Management
As mentioned above, Performance Management has been increasingly proposed as a means or framework to improve performance and accountability in departments of transportation. The National Surface Transportation Policy and Revenue Study Commission strongly endorsed it, and AASHTO has developed a prominent Standing Committee on Performance Manage-ment.
Performance Management has been defined in many similar ways but for the purpose of this report it will be described as, "a formal, on-going process which translates strategic goals into relevant and detailed measures which are then tracked to ensure uniform achievement of institutional goals."
Performance Management provides an organizing framework which includes at least 10 steps or components. These steps provide direction, organizational alignment, performance data and a continuous improvement process. The steps are:
A strategic vision is established which sets long-term goals for a decade or more. They are "stretch" goals but ones which are measureable, realistic and focus on core processes important to customers. These tend to be goals such as meeting customer requirements for providing smooth pavements, or sustaining a safe, stable inventory of bridges.
Shorter-term targets are derived which are annual or biannual components of the vision. These targets are quantified with actionable performance measures. They may include targets such as increasing the percentage of routes which meet pavement smoothness goals from 80 percent to 85 percent by 2012, or decreasing bridge structurally deficiencies to no more than 8 percent of the bridge inventory.
The vision, measures, and expectations are clearly communicated. This communication comes in the form of speeches and newsletters but also in the form of personal action plans, divisional action plans and other meaningful and actionable agency documents. Some states communicate these expectations in annual Business Plans. The Missouri DOT uses its Tracker, while Washington DOT uses its Grey Book. In New Zealand, the Transport Agency produces a Statement of Intent each year which details its targets. In New South Wales Australia, the Road and Traffic Authority produces a Results and Services Plan including its annual asset condition performance targets. While in the UK, the Department for Transport produces a Public Service Agreement which provides details on its performance goals, including those for asset conditions.
Detailed requirements and specifications are established. These break down annual goals into the technical details necessary for specialized areas to measure their progress. These detailed requirements provide specificity to the front-line workforce as to what the organization means when it states objectives such as "good pavements," "sound maintenance" or "efficient practices." These detailed specifications provide the precise measures to define adequacy in meeting the organization's performance measures. The Utah DOT's Maintenance Management Quality Assurance document provides details to maintenance workers on the level of performance the department expects for each maintenance item. The Queensland Department of Transport and Main Road's Pavement Maintenance Report describes details on how to measure, treat and evaluate pavements for the front-line workforce. Missouri's Tracker and its Maintenance Performance Indicator Report provides definitions and standards for various types of pavement and shoulder distresses, as well as other asset sufficiency standards. The specificity provided by these supplemental documents provide an important link between broad agency asset targets and the detailed technical performance the agency requires of its assets.
A quality-control process is established. This process "field verifies" results by reviewing practices in the field. The Quality Assurance/ Quality Control process includes steps such as field reviews, consultation with district staff to receive their feedback on the process and the comparison of reported conditions with observed conditions. The field visits also allow the central personnel to observe district practices and to identify best practices which can be shared organization-wide. Sometimes these include peer reviews between districts. These reviews ensure that the management system reports being used by central office personnel reflect the reality in the field. Another benefit is that the "quality control/quality assurance" process can identify best practices in the field which can be elevated to standard practices department-wide.
Figure 17: The major steps within Performance Management provide clear targets and a clear process for measuring accomplishment of those targets. The later steps of reviewing results and updating strategies achieve the institutional learning process common in all of the "quality" frameworks.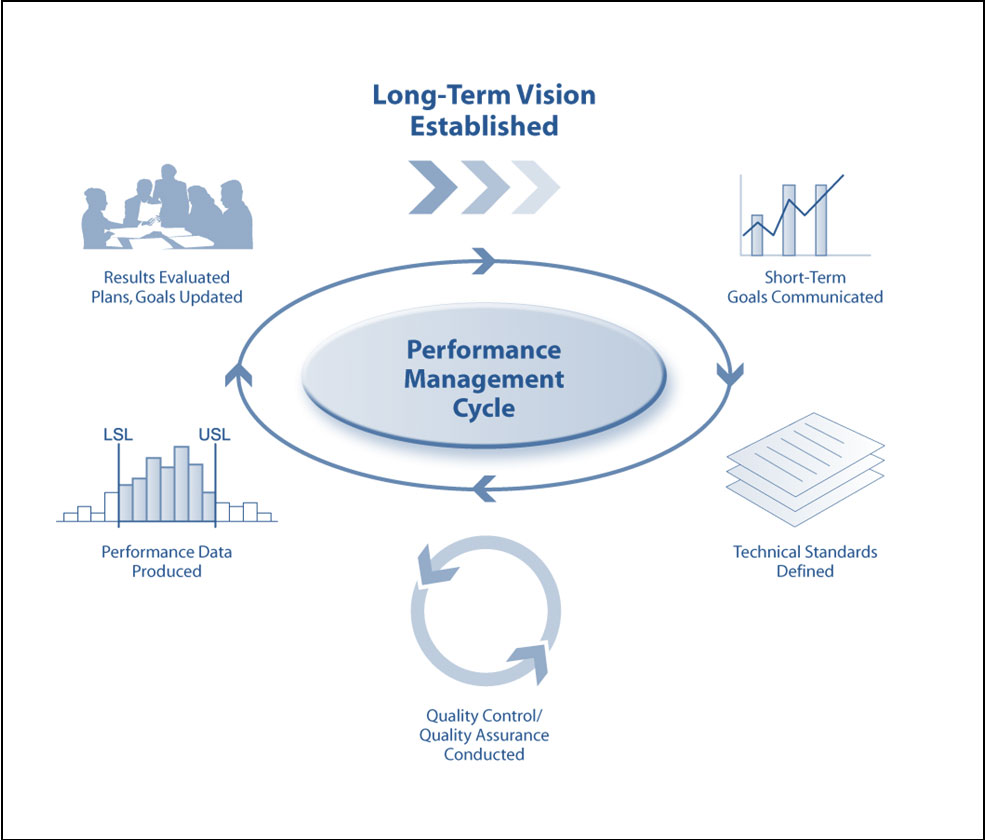 Meaningful incentives and disincentives are provided for each involved manager to achieve their assignments in the overall plan. Incentives can be as simple as clear action plans for personnel, meaningful evaluations of their achievements, or promotions and praise. Disincentives can include disciplinary action, additional oversight or eventual reduction of duties. Some form of consequence for good and bad performance is tied to the department's goals.
A clear annual cycle is established as to when results are expected, when results will be evaluated, when communication will be updated.
Continuous, accurate performance data is collected throughout the cycle. Personnel throughout the organization need to be able to access information as to whether their efforts are achieving the desired outcomes throughout the course of the year.
A periodic annual review is scheduled. Although data review occurs throughout the year, it typically culminates in an annual summation of overall progress and areas for improvement.
Finally, the active engagement of the leadership throughout the process is essential. They set the tone, establish the goals, praise the accomplishments and address the failures. They also oversee the "institutional learning" by re-calibrating the annual and biennial goals based upon the feedback and assessment.
Short-Term and Long-Term Perspectives
There are significant nuances in the use of Performance Management to address highway assets over the long-term which should be fully understood. Care needs to be taken as to which performance targets and strategies to adopt to ensure the long-term sustainability of assets, which is a fundamental objective of Asset Management.
As long ago as 1993 in "Re-Inventing Government" [8] and as recently as October, 2009, in the Harvard Business Review, [9] authors have cautioned that a focus upon only short-term metrics can mask long-term performance consequences. In the case of managing highway assets, a focus upon only current conditions can lead to a "worst-first" or reactive maintenance approach which may not achieve the highest highway system conditions for the lowest cost over a long time frame, say of 20 years.
One of the common complaints about Performance Management is that it can encourage short-term thinking. Managers face pressure to achieve short-term metrics and therefore have little incentive for long-term investments or strategies. In Asset Management, the agency's physical assets are managed for the highest performance for the lowest overall cost over their multi-decade lifecycle. In an Asset Management framework, a manager would be encouraged to consider accepting lower network pavement conditions today by reducing the miles of "worst-first" resurfacing if he or she instead adopted a more sophisticated pavement management approach which included more preventive maintenance, pavement rehabilitation or pavement replacements that provide longer-term benefits. The more sophisticated pavement strategy may not achieve the highest system conditions in the short term, but may well achieve the highest overall system conditions over the long term.
The concern that Performance Management may create a short-sighted or imbalanced approach to making decisions in part led Kaplan and Norton in 1991 to develop the Balanced Scorecard. [10] The Balanced Scorecard is a Performance Management System but it includes many of the balanced tradeoff considerations evident in Asset Management. In the Balanced Scorecard, Kaplan and Norton grouped performance metrics into a smaller, manageable number. They also balanced them so that issues of both short-term performance and long-term organizational sustainability would have to be considered. In an Asset Management example, a Balanced Scorecard for pavements could include performance metrics which evaluate short-term metrics such as customer satisfaction, current ride quality, and skid resistance. Those would be balanced against long-term metrics such as remaining service life, and the lowest overall lifecycle cost of treatments. In a Balanced Scorecard approach, a manager could be making many of the same long-term, lowest-lifecycle cost considerations about pavements that he or she would make in an Asset Management framework if the Balanced Scorecard metrics include ones related to long-term sustainability and lowest lifecycle costs. Additional discussion of how the Balanced Scorecard performance management approach can be used for highway assets is included later in this chapter.
In a recent international transportation scan, "Linking Transportation Performance and Accountability," [11] it was found among leading international practitioners of Performance Management that a strong focus on Asset Management operated in parallel. For instance, in the Swedish Road Authority, the highway agency strongly embraces Asset Management and adopts Asset Management policies and strategies to consider the lowest overall lifecycle strategies for managing its highway assets. However, it also operates a parallel Balanced Scorecard performance management system to address important issues such as Greenhouse Gas Emission reductions, gender equality, agency operational efficiencies, on-time project delivery and customer responsiveness. [12]
In the New South Wales Road and Traffic Authority in Sydney, Australia, the agency adopts a 10 year Transportation Asset Management strategy which is operated in parallel with the three year Performance Management strategy called the Results and Services Plan. The intention is to keep the shorter-term political budgeting process appropriately apprised of long-term highway asset management needs. The syncing of the budget process and the Asset Management plan has served to clearly illustrate long-term asset needs as part of the short-term budgeting and performance cycle in Sydney. [13]
In Queensland, Australia, the Queensland Department of Transport and Main Roads also operates a sophisticated Asset Management framework in parallel with a Performance Management framework. It adopts a Performance Management approach through a three year Service Delivery Statement which is similar to a Strategic Plan or Business Plan which states which performance targets it seeks to achieve in the short term. It then provides quarterly reports, which inform legislators, the ministry and the public as to how it is performing. Included among these short-term metrics are long-term Asset Management metrics, such as the amount of preventive maintenance that occurs. Also, employees are evaluated by their adherence to the agency's well-defined Asset Management procedures, manuals and quality assurance processes. [14]
Asset Management And Similarities to the Baldrige Process
The Baldrige Process is one of the oldest and most commonly used of the "quality" or "Performance Management" frameworks. Establishing customer requirements and then "managing by fact" to meet those requirements is a pre-eminent attribute of decision makers in the Baldrige organizations. The Baldrige Process relies on seven major areas of emphasis which are:
Leadership - Examines how senior executives guide the organization and how the organization addresses its responsibilities to the public. It also evaluates whether the leadership practices good citizenship.
Strategic planning - Examines how the organization sets strategic directions and how it determines key action plans.
Customer and market focus - Examines how the organization determines requirements and expectations of customers and markets; builds relationships with customers; and acquires, satisfies, and retains customers.
Measurement, analysis, and knowledge management - Examines the management, effective use, analysis, and improvement of data and information to support key organization processes and the organization's performance management system.
Workforce focus - Examines how the organization enables its workforce to develop its full potential and how the workforce is aligned with the organization's objectives.
Process management - Examines aspects of how key production/delivery and support processes are designed, managed, and improved.
Results - Examines the organization's perfor-mance and improvement in its key business areas of:
customer satisfaction;
financial and marketplace performance;
human resources;
supplier and partner performance;
operational performance;
and governance and social responsibility.
The Baldrige process provides a very detailed set of questions which agencies answer to help them assess themselves in terms of the seven categories. Agencies can follow the process further by making a formal application for a Baldrige review at either the state or national level. Certified examiners will review the application and meet with the agency to give it a formal assessment. Agencies can matriculate through an escalating series of increasingly complex applications and levels of sophistication. The ultimate level is to become a Malcolm Baldrige National Quality Award Winner, of which there are approximately six annually.
Table 4 below illustrates how the systematic self-analysis of the Baldrige process could be used as the basis for an agency's self-assessment of its own Asset Management practices. The Baldrige evaluation requires an agency to consider its operations from important perspectives, such as whether it has sufficiently ingrained essential training into its workforce, and whether it keeps its information systems robust and accurate. Although the Baldrige process was not developed for managing infrastructure, its categories hold many parallels to the functions conducted in Asset Management.
Table 4: Baldrige similarities to asset management.
Comparison of Asset Management and the Baldrige Process

Baldrige Criteria

Baldrige Questions

Asset Management Guide Questions

Leadership

Are Vision, Values established?

Do leaders create environment for improvement?

Do leaders communicate direction to workforce?

Do leaders review and act on performance measures?

Does the leader create strategic goals and measures for Asset Management?

Does leader establish Asset Management "as the way to do business?"

Is leader engaged in TAM?

Strategic Planning

Does the agency plan strategically?

Are short-term and long-term goals set?

Are strategic tradeoffs made?

Is a long-term TAMstrategy in place?

Are short-term objectives tied to long-term goals?

Are scenarios evaluated and tradeoffs made?

Customer Focus

How does the 'Voice of the Customer' influence agency actions?

Can agency explain 'best value' decisions for managing assets?

Knowledge Management

How does information align activities to goals?

Is performance data current, accurate?

Does knowledge drive improvement?

How does data support decision making?

Does the agency have a process to 'learn?'

Is knowledge management in place for asset data?

Is asset data current, reliable?

Does data drive analysis and action?

Workforce Focus

Is there a culture to create a high-performing workforce?

How does agency foster cooperation between units?

Does agency instill core competencies in staff?

Does the workforce have the tools for successful TAM?

Do work units cooperate and coordinate efforts?

Is staff trained in TAM?

Process

Management

How does agency ensure its core competencies address strategic goals? Are processes adjusted for changing environments and events?

Do core processes create success in TAM? Do processes encompass life-cycle approach to TAM?

Results

Are organizational and customer goals met?

Are system-condition goals met, both short-term and long term?
The Balanced Scorecard Can Complement Asset Management
Another Performance Management or "quality-based" framework which is increasingly popular is the Balanced Scorecard. It was first described by Kaplan and Norton in the Harvard Business Review in 1992. They wrote that after decades of using performance measures to improve profitability and internal processes, executives realized such internal measures were not capturing the full complexity of the difficult tradeoff decisions that organizations need to make. How to balance the cost of a product with the quality it provided the customer was one such tradeoff. Or what value should a company place upon exceeding minimum environmental standards? How do they measure their ability to innovate? What value do they place on customer satisfaction in exchange for reduced profitability?
They created a four-point model which creates performance mea-sures in four separate areas:
The company's financial pers-pective including profitability;
The company's internal perspective including measures of efficiency;
The company's measure of innovation and continuous improvement;
The customers' perspective including satisfaction, loyalty and corporate citizenship.
Figure 18: The Balanced Scorecard allows tradeoffs between competing needs, as does Asset Management.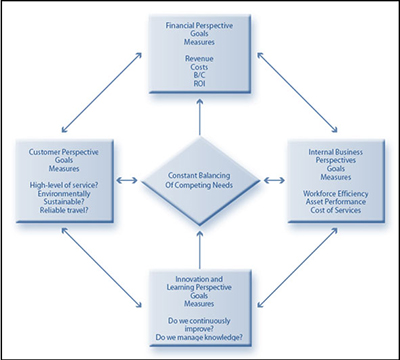 Simultaneously evaluating these competing and dissimilar needs requires the organization to take a holistic and balanced look at its performance, and not focus upon a narrow set of measures which could cause important functions to be devalued. In considering a Balanced Scorecard for an entire transportation agency, factors such as Customer Satisfaction, Environmental Sustain-ability, Esthetic Enhancements and Safety could be balanced with infrastructure condition. In a narrower framework such as a Balanced Scorecard for Pavements, the factors of ride quality, remaining service life, lowest-cost lifecycle, and safety could all be measured with the preferred mix of investments being a rational balance between the competing values. In reality, Asset Management officials are making Balanced Scorecard decisions with pavements and other assets. They are balancing competing values in an attempt to reach the most rational overall set of investment decisions. A Balanced Scorecard tem-plate could be an effective means to illustrate the complex tradeoffs they make.
Six Sigma as a Subsystem Within Asset Management
Six Sigma began at Motorola in the 1980s. Engineers determined they could dramatically reduce manufacturing defects by carefully controlling production processes. They aimed for a virtually error-free manufacturing process that sought a 99.9997% success rate in producing products which met specifications.
Figure 19: A Six Sigma approach to pavements would focus upon what causes pavements to perform exceptionally well or poorly. Lessons from that analysis would be used to improve pavement processes.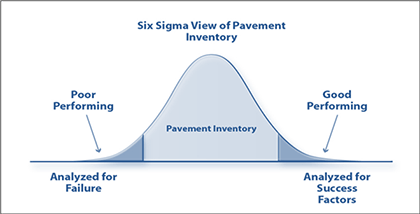 Six Sigma is expressed in statistical terms and appeals to persons with a statistical or engineering background. Its concepts rely heavily, however, on the "continuous improvement" and "institutional learning" practices of the other systems. It trains a workforce in how to statistically and methodically evaluate the cause of defects and then to continuously improve production processes until they are virtually eliminated. It combines quantified analysis of results with a "continuous improvement" ap-proach.
It is widely accepted in manufacturing sectors and would be highly appropriate for certain Asset Management functions or subsystems particularly conducting root-cause analysis of poor-performing pavements.
In a Six Sigma pavement framework, highly detailed analyses would be conducted on exceptional performing pavements, both good and bad. The analysis would seek to understand the root causes of such performance and then to standardize the processes which led to good pavement performance and to reduce practices which result in poor performance. Analysis of treatment timing, treatment appropriateness, materials acceptance, construction techniques and maintenance history would be conducted to determine why the "product" failed to perform to specifications.
ISO, International Organization for Standardization
Founded in 1947, the International Organization for Standardization (ISO) has produced more than 17,000 international standards, which include quality-control and quality-assurance frameworks for managing processes. These voluntary standards are developed by more than 200 technical committees with membership from more than 150 companies. "ISO Certified" means that an organization has been evaluated and its processes comply with these internationally recognized processes for quality assurance.
Departments of Transportation in Illinois, Pennsylvania and Florida all have adopted the ISO framework for a variety of core business processes. The Florida and Pennsylvania DOTs rely on the ISO process to ensure their materials testing processes are sound. Illinois has used ISO processes for project management and other managerial functions.
Like these other systems, ISO provides a strategic, managerial system which can be applied to processes for managing almost anything, including processes related to highway assets. Its principals include:
Customer Focus - The organization begins with an understanding of its customers' needs and it focuses all subsequent activities toward meeting them.
Leadership - Organizational leaders create internal processes that fully engage the workforce into meeting the organization's objectives.
Involvement of People - The organization actively engages all levels of the organization with training and commitment so they can contribute to organizational success.
Process Approach - Internal processes are structured in an optimized and proven fashion to achieve results.
Systems Approach to Management - Identifying, understanding and managing interrelated processes as a system contributes to the organization's effectiveness and efficiency in achieving its objectives.
Continuous Improvement - Continuous improvement of the organization's performance is a permanent objective.
Fact-Driven Decision Making - Basing decisions on data and analysis is a key corporate attribute.
Mutually Beneficial Supplier Relationship - Producers and suppliers rely on one another and should have a relationship that increases value for both of them.
As with Six Sigma, ISO processes provide another means to document and to improve ongoing processes which underlies Asset Management. Processes in materials testing, design, maintenance or data collection all could be enhanced by adoption of ISO principles.
In a case study following this section, the use of the ISO framework by the materials testing laboratory at the Florida DOT illustrates the relevance of ISO to an important Asset Management component.
Summary
Asset Management provides executives with a comprehensive, rational and explainable model for managing their transportation facilities, their organizations and the resources they invest. By adopting Asset Management, they are also adopting management practices which are very similar to those which have been successfully deployed among the nation's leading corporations. The adoption of Asset Manage-ment requires not the use of any particular computer program, or table of organization or specific set of performance measures. Instead, it requires a systematic, ongoing way of doing business which adopts a Plan-Implement-Evaluate-Act model which has been demonstrated to be successful in a variety of organizations around the world. Asset Manage-ment compares favorably to many of the leading systems, such as ISO or Baldrige, which are internationally recognized for achieving cust-omer requirements.
Examples of Asset Management Practices Complementing "Quality" Systems in leading Transportation Agencies
Briefly, the report will cite key examples from leading international transportation agencies which have been documented to excel at both Asset Management and at using performance measures to improve their effectiveness. Transportation agencies in both Australia and New Zealand have been the subject of international scanning reports both for their Asset Management practices and for their wider use of performance measures to improve overall agency performance.
New Zealand
The New Zealand Transport Agency is the country's overall transportation agency which manages highways and other transportation facilities. It has comprehensive performance management and Asset Management programs which include a strong Pavement Management and pavement performance emphasis. The department has consistently reported achieving 98 percent of pavement condition goals for ride quality, friction and rutting. These goals and the pavement-management practices have clear foundations in a national and departmental strategic planning process which links pavement conditions back to customer satisfaction. As with the Baldrige, ISO or Six Sigma processes, the satisfaction of the customer is deemed to be the ultimate performance measure in New Zealand. Customers are regularly surveyed about their satisfaction with ride quality. In addition, technical measures such as friction which may not be apparent to the driver are consistently measured because the department realizes the obvious contribution surface friction makes to safety.
New Zealand has a very "quality centric" Asset Management and Performance Management process. It not only reports on its outcomes in terms of the percent of the system which meets pavement goals, but it also reports how much it spent to achieve those goals. Annual expenditures are forecast by category to achieve the desired maintenance and pavement goals. Then at the end of the year the expenditures are reported with an explanation as to whether the input/output goals were met. The agency reports that 73 percent of the surveyed public rate overall highway conditions as "excellent" and that overall expenditures were within a few percentage points of what was forecast.
These pavement condition goals are also forecast into the future with a commensurate expected expenditure level to achieve those conditions. In this fashion, Transit New Zealand reports on the "sustainability" of its asset conditions with current available revenue.
Swedish Road Authority
The Swedish Road Authority uses the Balanced Scorecard and Asset Management as complementary systems to sustain a high level of system conditions despite the nation's harsh climate and declining maintenance budgets. For almost two decades, the SRA has used the Balanced Scorecard approach to balance competing national needs such as asset condition, with highway capacity needs, with environmental considerations. The two complementary systems provide a transparent governance structure which has served to provide accountability and to achieve results.
The Swedish Road Administration reports that as a result of this focus upon asset conditions and Asset Management it has sustained more than 95 percent of its major roads with smooth ride surfaces and high skid resistance for more than a decade. It has achieved similar high levels of conditions for its bridge inventory as well as for its maintenance conditions.
The Swedish approach relies upon seeking customer requirements, setting clear goals to meet those requirements, measuring accomplish-ments and reporting results.
Approximately one-tenth of one percent of the nation's population is surveyed annually to determine its satisfaction with pavement conditions and other Swedish roadway attributes. The customer input as well as the agency's own continuous review of its accomplishments has contributed to continued improvement in nearly all major areas of highway performance. Its pavement conditions are high, the bridge inventory is sound, and its crash rates are among the lowest in the world. So while the agency relies on an Asset Management system it augments it with additional input from its Balanced Scorecard, such as the percentage of the public which is satisfied with ride-quality conditions.
Queensland, Australia
Queensland is one of six states in Australia and its Department of Transport and Main Roads has a long history of performance management and strategic planning. Its provincial planning and financial reporting process includes several elements indicative of a performance-based or "quality based" corporate management system for pavements and other assets. It publishes clear asset condition goals which are incorporated into provincial strategic plans, budgets and annual work plans. Its reporting process allows the public, legislators and the media to track accomplishments, and expen-ditures. In parallel with a larger Performance Management System, it operates a world-recognized Asset Management System which focuses upon the long-term performance of the highway system. The agency uses short-term performance targets to achieve its three-year metrics which are required for a government-wide performance measure report. But it uses its Asset Management Plan to ensure that the short-term decisions are conducted in accordance with its long-term horizon for its Asset Management Plan.
The department publishes a pavement management guide which includes guidance for the full life-cycle of a pavement from its design, construction, annual evaluation, preventive maintenance, reactive maintenance and rehab-ilitation. The pavement management process also includes an annual reporting of total network condition. Its manual notes that the role of the annual report is to provide transparency to outside stakeholders and to provide continuous improvement opportunities to the transportation department.
For instance, its annual report indicates that it intended to have no more than 15.6 percent of mileage exceeding its optimum seal-coat age but performance was less than that with 16.2 percent past its optimum age. By reporting on its preventive maintenance targets, it is measuring the short-term performance of tactics intended to ensure the long-term performance of the entire highway network.
As in the other quality systems, Queensland also reports measures on the overall customer satisfaction with the highway network, including ride quality. Ride quality met goal with 98% of urban pavements and 95% of rural ones meeting ride-quality standards.
As with the New Zealand model, the Queensland pavement management approach represents a comprehensive life-cycle approach to managing its pavement network, and connecting the pavement system to a larger provincial Performance Management System.
The overall strategic pavement management process and its corollary reporting process serve to advise the public and policy makers as to the overall long-term prospects for pavement "sustainability." The annual reports provide analysis of how long-term system conditions will decline if additional funds for pavement rehabilitation and replacement are not provided. Its annual report includes key measures such as:
The percent of pavements which have exceeded the optimal age for a preventive maintenance treatment;
The percent of the system which meets smoothness standards;
The proportion of overall travel which occurs upon routes meeting smoothness standards;
The number of lane kilometers of pavement rehabilitated compared to rehabilitation goals;
Number of lane kilometers resurfaced or resealed compared to pavement management system goals;
The level of investment actually expended compared to the level necessary for long-term sustainability of pavement conditions.
The Queensland metrics include targets which measure the current ride quality while also measuring the adequacy of long-term actions, such as whether the rehabilitation program is achieving its targeted goals. In this fashion it avoids the problem of focusing on targets which may not result in the best long-term performance. Its targets are taken directly from the Pavement Management component of its long-term Asset Management Plan.
New South Wales
The Roads and Traffic Authority in the state of New South Wales is the department of transportation for that Australian state. It, like in Queensland, incorporates its long-term Asset Management, Pavement Management, Bridge Management and Maintenance Management practices into a larger, state performance manage-ment framework. The RTA uses corporate strategic plans to link results and services with broader government priorities and to align internal business plans to deliver results. The plans used to communicate the RTA's contribution to government priorities are the Corporate Plan, an annual Results and Services Plan and a Total Asset Management strategy.
The RTA files a formal Asset Management Strategy with the federal transportation agency and with the federal Treasurer annually.
The strategy is to submit a parallel Asset Management plan along with its performance management plans. The agency reports that the dual reporting keeps the transportation agency and the state government focused upon the longer-term horizon required for Asset Management. If the agency practiced only performance management, it would focus only upon asset conditions in the short-term horizon of the government budget cycles, which tend to look out no more than five years. That horizon is not long enough to capture the full lifecycle cost approach necessary under Asset Management. In the Total Asset Management strategy the agency reports upon its current activities which are necessary to sustain asset conditions for a 20 year horizon.
Its annual report indicates that for a five year period the percent of roadway network which does not meet ride quality standards has hovered at between only 4.4 and 4.6 percent of the network. The percent of the system which has excessive cracking has been between 8.8 percent and 11.2 percent of the network. Cracking is reported as metric because of cracking's importance to long-term pavement performance. By reducing cracking in the short term, it helps ensure the long-term performance of the pavement network.
Florida and Missouri DOT Case Studies
The following case studies illustrate two examples of how Asset Management can interact with these other "quality" systems. The first case study examines how the Florida Department of Transportation central materials laboratory became ISO certified. The second case study examines the Performance Management process at the Missouri Department of Transportation. The Missouri DOT officials discuss how they try to balance short-term performance targets with long-term asset sustainability. They caution that care and discernment must be used in setting performance targets to avoid long-term performance issues.
Florida Department of Transportation Office of Materials
The testing and acceptance of materials is a foundational aspect of ensuring performance of highway assets. Many steps of the Asset Management process rely on the assumption that treatments will be applied with the proper materials and construction techniques. A break-down in the materials and testing process can lead to reduced service life, decreased system conditions and higher overall costs to sustain the network. If an asset prematurely fails, the fore-casted service life which is so important in Asset Management will be unreliable.
The Florida Department of Transportation's Office of Materials has embraced the ISO process as its preferred system for ensuring consistent quality in its materials testing and certification processes. With the ISO process in place, the Office of Materials has a world-respected template to follow which ensures the continued high-level performance of its testing and acceptance processes.
The specific ISO certification which the Office of Materials has received is ISO/IEC 17025 General Requirements for the Competence of Testing and Calibration Laboratories. ISO/IEC 17025 specifies the general requirements for the competence to carry out tests and calibrations, including sampling. It covers testing and calibration in laboratories which certify products.
The Florida DOT Office of Materials believes it is the only state materials office to receive the full certification and is only one for four test facilities nationally to have received it. Other levels of ISO certification have been received by other testing laboratories but those certifications only apply to certain aspects of the laboratories' quality-control processes, not to their entire testing process.
The ISO audit and certification has two components, one which evaluates the quality of the laboratory testing process and a second which evaluates the comprehensiveness of the operation's business processes. The ISO certifi-cation goes significantly beyond the more common AASHTO Materials Reference Laboratory (AMRL) certification, which the Florida Office of Materials also has received. The ISO certification evaluates all aspects of the operation including processes for calibrating equipment, documenting quality systems, training staff, preserving records and conducting root-cause analysis of any deficiencies.
The materials' office interest in ISO certification began in 2001 as a result of the team's interest in improving and in documenting its quality practices, said Thomas O. Malerk, Director of the Office of Materials. The effort requires a significant investment of time with one full-time and two part-time positions dedicated to the effort. Once they began to follow the ISO process, they developed a series of internal manuals for the office's Quality System process. Mr. Malerk and his team noted that the focus is upon the ISO applicant developing its own quality-control processes and manuals, and not following a prescribed or generic set of ISO manuals. Once their manuals and processes were established, they then trained all the staff in the use of the processes and in regular internal auditing to ensure the processes were followed.
A four-day ISO audit focused upon determining whether the operation follows its own processes. The staff members described the ISO audit as a "reality check" as to whether their own comprehensive systems were actually followed by the staff. They note that the internally developed ISO-compliant processes are integrated into the day-to-day practices of the front-line staff, as well as into all levels of management.
They said it took two years of preparation for the first ISO audit. They followed the ISO guideline documents for the 17025 process and worked closely with AMRL. They said the experience was very unlike the AMRL accreditation. They said the AASHTO accreditation focused upon watching to ensure that test processes were run correctly. They described the ISO process as, "Now that you've run the test, how do you know it's right?"
ISO is based on a systematic process of documenting a process, and continuously monitoring results and seeking the root-cause of any failure. This process cascades throughout the major functions of an ISO-compliant operation. The staff described the approach of analysis as, "what happened?, Why did it happen? And what will we do to ensure it doesn't happen again."
For instance, in the FDOT materials office each piece of equipment needs to be regularly recalibrated, with a log kept of each test and re-calibration. Once received, new equipment is tested for proper calibration and entered into the office's on-going equipment testing, calibration and documentation system. Recalibration regularly occurs, is documented into the quality system and is used to assure the office that all equipment is functioning as expected.
For major testing procedures, the degree of uncertainty or variance is measured by performing 25 tests upon a given sample over five days. The degree of variance or uncertainty is noted and either accepted or rejected as being within statistical expectations. Then, throughout the year the test is re-calibrated with the results logged into the quality system. Periodically, the 25 tests on a known sample are performed again, with the variance being recorded. If the variance is significantly different from the earlier tests, a root-cause analysis must be performed to determine why the test performed measurably different than before. With this sort of systematic, on-going process improvement under way, the office can operate with a high degree of assurance that its equipment and sampling processes are producing defensibly accurate results.
The materials officials said the first ISO audit documented that they had a good operation, which they always had known. However, it revealed to them that they have failed to systematically document their practices, ensure they learned from their continuous improvement, and ensure that all employees and stakeholders could find documentation that the materials operation was performing up to its own high standards. They learned, they said, that they had good controls but little that described and documented those controls.
The ISO findings led to process improvements throughout the operation, including into areas that may be considered routine, such as the filing system. The filing system must have a quality-assurance process, which includes proper training of all staff in its use. A complaint-resolution process must be in place and include documen-tation of how the staff is trained to handle complaints, and documentation that complaints were handled in the appropriate fashion.
The overall Quality System adopts an overarching framework for the high-performing operation of the work unit. Then, the system must include evaluation of the workers' knowledge of the Quality System and it includes evaluation that they are following the Quality System.
The materials office staff said the ISO process made them much more aware of the need for systematic training of their personnel. They noted that many of their personnel are hired out of high school or the military and do not have college degrees. The employees had always received training but the training has since become more serious and much better documented. They said once they were required to document their training process, they naturally became more cognizant of its shortcomings. The ISO certi-fication process caused them to realize they needed more complete training manuals, and a process to refresh and re-certify employees' training every three years.
The emphasis upon training and re-certifying their employees caused them to re-think the training required of the consultants and contract testing personnel. That re-focus led them to extend the re-certification to their consultant and contractor testing laboratories as well.
An overall emphasis on root-cause analysis of any negative trend is now pronounced in their operations, the staff reported. When they see a trend in customer complaints, or declining test results, it will trigger an analysis of the underlying cause, and potential corrective action. They used to be more casual about the proficiency samples necessary for the AMRL certification. Now, when they submit test samples which do not pass they are insistent upon analyzing the cause of the failure and identifying what needs to change in their processes to ensure the failure does not occur again.
The focus upon the Central Office materials operation then led to cascading improvements for the district and regional testing operations as well. Although the central office materials office in Gainesville is the only Florida DOT materials laboratory which is ISO certified, the Quality System was extended to all of the testing operations. The central office staff perform quality audits of the district facilities which focus not only on the testing and acceptance processes but on other important areas such as purchasing, public communication and customer satisfaction. A customer satisfaction survey is run continuously through a web-based survey and the results are used to improve performance.
Missouri DOT Performance Management Case Study
The Missouri Department of Transportation case study represents an insightful illustration of the contrasting yet complementary nature of Asset Management and Performance Management. As Congress and states consider adopting a Performance Management framework, the experience in Missouri illustrates important lessons which must be considered to preserve the full benefits of Asset Management while instilling Performance Management into the national and state transportation programs.
Figure 20: A significant reduction in traffic crashes is among the numerous improvements which resulted from MoDOT's performance management process.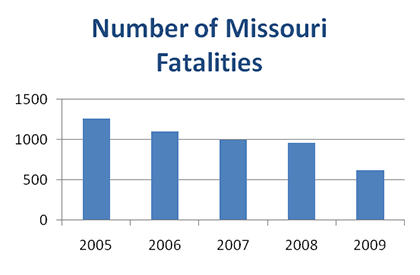 The Missouri DOT (MoDOT) has strongly embraced Performance Management, which is defined as "an on-going process which translates strategic goals into relevant and detailed measures which are then tracked to ensure uniform achievement of institutional goals. Performance Management Systems include an "institutional learning" function in which the agency analyses the root cause of failure or success to achieve the performance targets, and disseminates the lessons of that analysis to perpetuate continuous improvement."
In Performance Management Systems in Missouri and many other organizations, a great emphasis is placed upon achieving performance targets. In MoDOT, the senior executives hold themselves and their subordinates strictly accountable for achieving the agency's performance targets, including targets regarding the sustaining of highway infrastructure conditions.
The MoDOT experience illustrates that Performance Management can focus an agency, significantly improve performance and improve current infrastructure conditions. The percentage of major Missouri highways that are rated in good condition rose from 47 percent in 2004 to 83 percent at the end of 2008, according to the Missouri DOT "Tracker" report. This particular indicator considers both smoothness and cracking as components of the measure. Likewise, the percentage of signs that met visibility goals rose from 70 percent on the major routes to 92 percent, while the percentage of acceptable pavement markings remained high, in excess of 93 percent between 2005 and 2008. Other MoDOT performance metrics drove substantial reductions in crashes as seen in Figure 20, improvement in on-time project completion, and adherence to project budgets. In all, the MoDOT "Tracker" records 115 performance metrics which provide a comprehensive and continuous assessment of the agency's performance. Included among those measures are numerous ones which illustrate the condition of the agency's bridges, pavements, maintenance appurtenances, fleet, buildings and other assets commonly addressed in Asset Management frameworks.
MoDOT officials emphatically support Asset Management and believe it is closely related to Performance Management - a sentiment echoed in nearly all of the case studies. MoDOT officials, however, don't use the term "Asset Management," nor do they have an Asset Management unit within the department. They believe that by measuring key elements of long-term sustainability of their highway assets that they achieve the same ends as Asset Management, only using different terminology.
Complementary Systems
The nuances between the two management frameworks represent much more than just a parsing of definitions or a debate over management system taxonomy. A failure to understand the differences can lead to missed opportunities to sustain asset conditions over the long term. If the adoption of Performance Management leads to an emphasis only on meeting short-term highway system condition targets, a significant benefit of Asset Management could be lost. For instance, if performance metrics focus only on short-term pavement ride quality, then the long-term, lowest-lifecycle cost strategies inherent in Pavement Management may not be recognized.
However, without a Performance Management system, an agency may not have a systematic and comprehensive management framework for other transportation agency functions beyond sustaining physical asset conditions. Functions such as on-time transit service, the satisfaction of customers while interacting with the transportation agency, the promptness of project completion or the reduction in workforce injuries are all critical transportation agency functions that can be addressed by Performance Management, but which do not fall easily within the umbrella of Asset Management.
The addressing of both Performance Management and Asset Management has been recognized as being so entwined that AASHTO seeks a close relationship between its new Standing Committee on Performance Management and its long-established Subcommittee on Asset Management. It has the chairman of the Subcommittee on Asset Management serve as the vice chair of the Standing Committee on Performance Manage-ment so that the two important management frameworks are considered in unison.
In a recent international transportation scan, "Linking Transportation Performance and Accountability, " [15] it was found among leading international practitioners of Performance Management that a strong focus on Asset Management operated in parallel. For instance, in the Swedish Road Authority, the highway agency strongly embraces Asset Management and adopts Asset Management policies and strategies to consider the lowest overall lifecycle strategies for managing its highway assets. However, it also operates a parallel Balanced Scorecard perfor-mance management system to address important issues such as Greenhouse Gas Emission reductions, gender equality, agency operational efficiencies, on-time project delivery and customer responsiveness.[16]
In the New South Wales Road and Traffic Authority in Sydney, Australia, the agency adopts a 10 year Transportation Asset Management strategy which is operated in parallel with the three year Performance Management strategy called the Results and Services Plan. The intention is to keep the shorter-term political budgeting process appropriately apprised of long-term highway asset management needs. The syncing of the budget process and the Asset Management plan has served to clearly illustrate long-term asset needs as part of the short-term budgeting and performance cycle in Sydney.[17]
In Queensland, Australia, the Queensland Department of Transport and Main Roads also operates a sophisticated Asset Management framework in parallel with a Performance Management framework. It adopts a Performance Management approach through a three year Service Delivery Statement which is similar to a Strategic Plan or Business Plan which states which performance targets it seeks to achieve in the short term. It then provides quarterly reports, similar to the MoDOT Tracker, which inform legislators, the ministry and the public as to how it is performing. Included among these short-term metrics are long-term Asset Management metrics, such as the amount of preventive maintenance that occurs. Also, employees are evaluated by their adherence to the agency's well-defined Asset Management procedures, manuals and quality assurance processes. [18]
Missouri officials say that the key elements of Asset Management are included in their Performance Management system. Their decision process includes elements of forecasting for the long-term, making strategic tradeoffs in investing limited resources and of using a mix of preventive, reactive, rehabilitative and replacement treatments. However, two unavoidable realities diminish their latitude in investing more resources in long-term rehabilitative treatments which could assure higher system conditions in the future. First, MoDOT officials are responding to strong public insistence that poor ride quality be improved quickly. Secondly, a lack of money limits their ability to afford more pavement rehabilitation and replacement projects.
The Missouri officials acknowledge they have often pursued a "worst-first" strategy to achieve their short-term pavement performance targets and that sustaining their long-term conditions is problematic. However, they point out that they address long-term sustainability by placing performance targets upon important long-term metrics such as the adequacy of their preventive maintenance program and whether their multi-year forecasts of future pavement conditions indicate that they will sustain their pavement targets into the future with their current pavement programs. They also provide mechanisms for their program managers to seek the highest overall rate of return by making informed investment tradeoffs between asset classes and treatment strategies based on which investments provide them the highest rate of return while also meeting performance goals. The Missouri officials agree that a simplistic focus upon only short-term pavement or bridge conditions may lead a department to adopt only resurfacing strategies and under-invest in long-term preventive maintenance, pavement rehabilitation or pavement replacement treatments. They note that any agency seeking to emulate their performance management approach needs to consider not only adopting performance targets for short-term system conditions but also must adopt targets which ensure that the long-term, lowest-cost strategies are considered.
MoDOT's Story - Changing a Culture to Embrace Accountability
It is apparent that Missouri's adoption of Performance Management has significantly improved performance in the department and improved the current condition of highway assets. Its experience is recounted here because it represents a pronounced example not only of Performance Management but also of a leadership team which transformed agency functions by using many of the Change Management, Organizational Communication and Organizational Theory strategies cited throughout this report.
Missouri DOT Director Pete Rahn is an ardent advocate of performance management, serving as chair of the AASHTO Standing Committee on Performance Management. He said Asset Management and Performance Management are closely linked and he believes it would be difficult for an agency to embrace Asset Management without incorporating some aspects of Performance Management such as the setting of targets and the analysis of results such as the pavement condition results in Figure 21 below. Performance Management emphasizes the type of data analysis, focus upon outcomes and continuous improvement that are essential to Asset Management, he said.
Director Rahn said several years ago when he went to his first Asset Management presentation it struck him that Asset Management complements the Performance Management framework that he instituted, both formerly at the New Mexico DOT and later at the Missouri DOT. The same logic of goal setting and continuous improvement which Asset Management applies to roadway assets was also applied to all DOT functions under Performance Management. He said once he understood what was meant by Asset Management, he knew his department's Performance Management process would naturally lead it to adopt many sound Asset Management practices.
The Missouri DOT Performance Management system sets clear goals for the condition of the highway system. Standards are set for the condition of pavements, bridges, roadside features, and traffic and signage components. MoDOT officials try to ensure long-term highway network sustainability by not only meeting current condition standards, but by reviewing how today's treatments will affect network conditions in the future. By focusing upon keeping both current and forecasted highway network conditions meeting target, the long-term sustainability of asset conditions becomes an inherent part of the department's Performance Management culture.
Added to the focus upon sustaining satisfactory conditions over an extended planning horizon is the need to innovate. Districts are given finite budgets, which incentivize them to find cost savings and innovations. As a result, the districts themselves benefit when they find low-cost treatments, when they use preventive maintenance or when they innovate with new technologies such as cold mix resurfacing. The Missouri DOT officials say the combination of focusing upon assets' current conditions, forecasting their future conditions, and maximizing resources, naturally leads the staff to an "optimization" approach. The staff is attempting to invest limited resources into the programs, and mix of treatments, that will give them the highest return over time.
Many advocates for Asset Management have struggled to achieve institutional "buy in" for the Asset Management approach. They have noted that organizations and cultures are slow to change. The Missouri officials said that getting acceptance of Performance Management was helped when the leadership of the organization insisted upon a Performance Management approach that extends to all aspects of its operations. Director Rahn said he learned from his initial experience in New Mexico that a top-down approach will achieve results but it will take longer to convince the middle management to embrace a new direction, such as Performance Management. When he became the Missouri director, he intentionally engaged the middle managers in order to gain their strong commitment to and acceptance of a management system approach.
Tracking Performance
The heart of the Missouri DOT Performance Management system is accountability. The agency's Tracker is prominently displayed on its website, it is widely used internally to ensure accountability, it explains the department's priorities and it is the focus of quarterly management meetings in which all managers are held accountable to explain their performance. The Tracker has 111 core measures, with four additional ones recently added to track expenditure of funds from the American Recovery and Reinvestment Act. (ARRA) It reports 19 categories of measures, including areas such as traffic flow, pavement and bridge condition, safety, roadway visibility, customer response, adopting innovations, project delivery, access to modal choice, value for money and attractive roadsides.
Figure 21: MoDOT has made substantial progress on pavement conditions on major routes.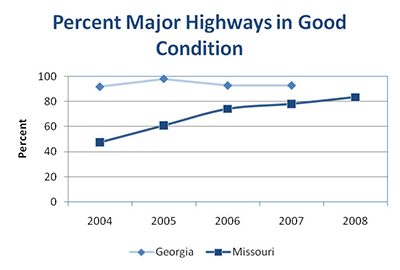 Performance Management has "teeth" in Missouri because the degree of accountability is so high, say members of the Missouri DOT staff. One agency veteran said the high degree of accountability has inculcated the management team with the understanding that asset condition goals are very important. Another official in the department said that since Director Rahn instituted Performance Management, no MoDOT district has had a decrease in highway asset conditions. If asset condition goals are not met, district officials are called in to explain their performance, "and that is a very serious thing."
Director Rahn said the emphasis on accountability has led to the demotion and removal of officials who did not achieve the performance goals. He said it is not enough for senior leaders to espouse good management but then to take no action when system condition goals are not met. Performance Management embodies the Plan, Act and Implement steps of basic quality management, he said. If the leadership does not act upon analysis which shows that targets are not met, then it weakens the Plan, Act and Implement process, he said.
The quarterly tracker meetings are high-profile, widely attended meetings in which managers know they will have to stand in front of their boss and their peers to explain their performance. The Tracker reports composite, statewide measures. However, other tracking reports disaggregate the performance data down to the front line operations of the department. Director Rahn and other officials said as they travel the state they find widespread awareness of the Tracker, and upon the Performance Management System of the department. Concurrently, that creates a complementary awareness of the need to achieve all of its targets, including the long-term performance of the department's highway assets.
Figure 22: Limited resources compelled Missouri to make the difficult tradeoff of accepting lower conditions on the minor highways in order to increase investment in the major ones. MoDOT benchmarks its conditions against Georgia's.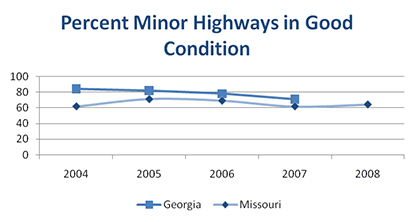 The Missouri DOT does not use the term "Asset Management" frequently with its staff, front-line workers or the public. However, it constantly reinforces the need for the department to achieve highway condition goals and to adopt sound infrastructure management practices. The department's management approach requires its staff to analyze system performance data, to forecast conditions, to evaluate tradeoffs, to achieve short-term system condition goals, to prepare plans to achieve long-term system conditions and then to act upon these plans by executing the projects which they include. The performance goals for Preventive Maintenance are an example of how Asset Management practices are ingrained in the Performance Management system, said Director Rahn. The delivery of preventive maintenance projects does little to achieve short-term improvement in the department's pavement-condition metrics. Because preventive maintenance treatments are applied to relatively good pavements, the miles of pavements which meet current ride-quality targets do not change significantly with preventive maintenance treatments. But the department realizes that preventive maintenance is essential for long-term system performance, so it requires the districts to meet Preventive Maintenance targets.
The department's approach is to communicate sound infrastructure practices into practical, everyday language. Its leadership talks about "keeping good roads good" or "keeping good bridges good."
"We had to think that we do more than just patch potholes. Once we got the (highway) system turned around, our problem is you can't keep a good road good with a shovel and a dump truck full of cold mix. You have to change your process, your mindset," said Director Rahn. "It became pretty clear that if we are going to preserve the value of our of long-term investment in bridge maintenance, we have to make (preventive maintenance) investments today. To make an investment that we won't see the benefit of for 40 years, is the right thing to do."
He cautioned other directors to not be deterred by a lack of complete data to support their Performance Management transition. When it comes to data, data improves through its use, he said. The best way to improve bad data is to start using it, and then the users naturally want to improve its quality. "It's the old Nike saying, 'Just do it.'" He said officials also should not be deterred because they fear they cannot identify the perfect metrics. "Beyond the common sense ones, the measures will either mature or be discarded and others will replace them. It should be a process to provide you with your needs for today."
Once the CEO takes the lead on the Performance Management process, a natural progression begins in which the performance measures are refined, the data for them improves, performance goals are met, and the department team evaluates how they can re-calibrate the measures and targets for even better performance in the next cycle, he said.
One of the long-time department veterans said he had seen several unsuccessful attempts during his career at the Missouri DOT to install performance management practices. "The difference is now we meet quarterly in our tracking meeting. And now our Director, Pete Rahn, uses those for accountability. If someone is lagging behind he wants to know what you intend to do to fix it. It has had a profound effect on our operation that permeates down to the local (maintenance) sheds."
Keeping It Simple
The most important improvements come as a result of common-sense, obvious goals, Director Rahn said. In Missouri, as in most states, 80 percent of the vehicle miles of travel occur on the higher functional classes of roads. In Missouri, that equates to 5500 miles of what they have categorized as Major highways. On those roads, the department focused upon basic performance such as pavement conditions, roadside conditions, signage and pavement markings, bridge conditions, and the numbers of crashes. By addressing those core conditions on the major functional classes, overall system performance for the typical roadway user has improved demonstrably.
Missouri also has experienced significant safety benefits, including a 25 percent reduction in lane departure crashes between 2005-2007. During that period it installed safety items such as rumble strips and cable median barrier, but it also improved sign and pavement marking reflectivity, improved shoulder conditions and improved pavement friction, which are believed to have contributed positively to the crash reductions.
Although the Missouri DOT relies heavily on fact-based decision making, it has not invested heavily in complex, expensive or sophisticated computerized management systems. It has relied upon its roadway asset inventories, its legacy pavement management system and its bridge inventory. It has not depended upon complex network optimization programs such as HERS-ST. Instead, it leaves investment optimization decisions up to its district decision makers who use data, forecasts and their own judgment to achieve the highest rate of return with their investment decisions. By arming those decision makers with clear short-term and long-term asset condition goals, by giving them flexibility in making tradeoffs, but holding them accountable for results, those officials have been compelled to make optimum use of their resources, say Missouri DOT officials.
The Missouri management structure relies on people called "Result Drivers" and "Measurement Drivers." The Result Drivers are ultimately accountable for achieving the department's targets. Those targets and Result Drivers are scaled throughout the department, with one ultimate Result Driver for a category of measures statewide, with corresponding district Result Drivers responsible for the results within their districts. The "Measurement Drivers" are responsible for measuring, tracking and reporting the on-going results.
Jay Bledsoe is a Missouri DOT Systems Analysis Engineer, but also is the designated Measurement Driver for the Smooth and Unrestricted Roads and Bridge category of MoDOT measures and targets. He and other MoDOT managers said the department's pavement management process is simpler than many states', but it is highly focused on outcomes. While they may conduct less analysis than some states, they believe they are clearly focused on achieving measurable outcomes in terms of pavement conditions and pavement performance.
They collect pavement data in two ARAN vehicles and record IRI and cracking distresses. The data is available to the districts both at the network and at 100 foot pavement section level. The data is given to the districts, as are budgets. Budgets are based on asset size, such as the number of lane miles and the size of a district's bridge inventory. Districts can chose on any given year how to invest their funds between asset classes. They also can retain any savings they achieve, roll them into future years and re-invest them into additional projects, or maintenance treatments. Overriding all of the district decision making is the need to achieve the department's system-condition goals.
The goal is to get 85 percent of the Major highways into "good condition" and then to keep them at that level indefinitely. As of the end of 2008, 83.4 percent of Missouri's Major highways met the Good target. The department forecasts that by 2011, it will achieve the 85 percent goal.
Despite its lack of a complex pavement management system, the department forecasts its future system conditions. It requires the districts to develop multi-year programs of projects. These projects are then entered into a pavement relational data base. The system improvement contribution of the projects are forecast, as is the degradation of all the pavement sections which are not treated. The net change in system condition then determines whether the program of projects will achieve the desired pavement condition targets. From that point, the Tracker measures the districts as to whether they actually deliver the projects which are essential to achieving the system conditions. On an annual basis, the ARAN vehicles re-inspect the highway pavements and provides "field proofing" that the forecasted system conditions are achieved each year. The result of the overall pavement process is to replicate the Plan, Implement, Evaluate process which is fundamental to any quality-improvement cycle.
Resource Optimization
One of the objectives of Asset Management is to seek the overall highest rate of return by making informed investment tradeoffs between asset classes, and between treatment types within asset classes. These resource analyses - or optimization exercises - can be conducted with sophisticated computer programs or through more manual and informal decision-making processes. At MoDOT, although computerized optimization analysis does not occur, practical district-level optimization decisions occur routinely, say the Missouri officials. Districts which were well below the 85 percent "good" pavement condition goals were investing primarily in short-term treatments in order to achieve their system condition targets. Once they had reached their targets, they could devote more of their budgets to preventive maintenance or to pavement rehabilitation projects to maximize their long-term, forecasted conditions. Districts which could sustain their good conditions with lower-cost preventive maintenance treatments could use any savings to invest in bridges or other assets which were below desired condition targets. The MoDOT process allows managers to move money from one class of assets which has reached its target condition to another which hasn't to achieve the highest overall system condition with the available resources. As seen in Figure 3, above, they also have prioritized between high and low-volume routes to put resources into routes which serve the most people. They have made the painful decision to accept lower conditions on minor routes to sustain conditions on the major ones. Therefore, after increasing conditions on minor routes from approximately 62 percent "good" to 71 percent "good" they intentionally transferred funds to major routes, allowing the minor routes to decline in condition.
Missouri officials are open about acknowledging that their focus of recent years on short-term pavement smoothness may not be the lowest-cost long-term treatment regime. They have consciously deferred more expensive long-term pavement rehabilitation and replacement projects in lieu of resurfacings. Their strategy was to demonstrate to the public that the department recognized customer complaints that ride quality was poor. The department strategy was to demonstrate significant short-term improvements, while concurrently opening a discussion of the state's need to invest more resources in pavement replacement and rehabilitation. They believed that without first demonstrating concern for the public, demonstrating results and demonstrating the department's ability to improve the system that they could not convince a skeptical public to increase investment in transportation. The department leadership is publicly discussing at many opportunities the department's need for resources to reconstruct the critical but aging I-70 across Missouri, as well as to rehabilitate other major routes.
The Role of Maintenance
The activities of maintenance forces are an important component of the Missouri strategy to sustain asset conditions. Because of the need to focus capital funds disproportionately on the higher functional classes, maintenance personnel are relied upon to make a significant contribution to conditions on the local routes under Missouri's jurisdiction. In the State of Missouri, the DOT has jurisdiction over local roads, except those within municipalities. The 27,000 low-volume miles of road in Missouri carry only 17 percent of the state's traffic.
The pavement forces have been called upon to sustain conditions on the low-volume local routes by using full-depth pavement repairs, performing long patches to improve deficiencies such as edge cracking and to perform chip seals on structurally sound roads. The active efforts of maintenance forces are considered to be an important component of the state's preservation program.
MoDOT Director of System Management Don Hillis is the Results Driver for several maintenance and safety items, including numbers of crashes but also for safety-related highway attributes, such as pavement marking and sign reflectivity. He said the Performance Management approach has fundamentally changed the way MoDOT officials think about the contribution of maintenance. In the past, they may have measured the miles of chip sealing or other outputs they performed. Now they are measuring results and outcomes, such as whether they have achieved their overall network pavement condition targets.
Although much of the maintenance work is reactive, well-trained maintenance forces who perform high-quality work can be viewed as contributing to long-term asset condition goals, the Missouri officials said. Maintenance efforts such as the sustaining of adequate drainage, the application of high-performing chip seals, and the proper placement of full-depth pavement repairs all can improve the longevity of a pavement. Culverts tend to be "out of sight, and out of mind." In Missouri, they instituted a "culvert storm" in which crews statewide focused intensively on their culverts to quickly improve their overall condition. Crews removed obstructions, cleared vegetation, and improved wing walls and toe walls. Those maintenance activities will improve the drainage performance of the culverts and may also improve long-term pavement performance by reducing the opportunity for standing water to saturate roadway bases.
Proper training, combined with a renewed understanding of the importance of maintenance to long-term condition performance is important to capitalizing on the contribution of maintenance forces to sustain asset conditions over the long-term.
Mr. Hillis said the focus on long-term performance led to a change in mindset among maintenance forces. The old mindset was to perform maintenance as quickly and cheaply as possible. The new mindset is to invest more effort initially into a maintenance task such as pavement repairs in order to get a better, long-term performance from the activity.
Practical, understandable emphasis upon good Asset Management tactics at the maintenance level is more important than discussions of Asset Management philosophies, Mr. Hillis agreed. Practical asset management training at the maintenance level involves training in sound applications of chip seals, or full-depth pavement repairs or in performing sound drainage maintenance. Those maintenance activities are practical, understandable and meaningful to maintenance crews, but they also contribute to sound highway asset performance.
Increased Efficiencies as an Investment Strategy
In all of the Missouri DOT interviews, the officials indicated that finding increased efficiencies and cost savings is considered to be a significant strategy for improving and sustaining roadway conditions. Savings and efficiencies allow for more treatments to be performed, further improving conditions. The tracking of costs encourages the application of new innovations. Mr. Hillis said a renewed emphasis on the cost accounting process among the maintenance activities provides additional insight into how maintenance crews can maximize limited resources. He noted that one district re-engineered its mowing process and was able to eliminate half of its mowers, while still achieving its mowing targets. The district personnel have started to systematically measure the costs of their 10 most common maintenance activities to provide a baseline for continuous improvement.
He said that achieving system condition targets alone is not enough. Finding ways to achieve the targets with increasingly greater efficiency is the ultimate objective of MoDOT. To that end, the department is increasing the focus upon its cost accounting system, he indicated.
Lessons Learned from MoDOT
The MoDOT experience illustrates that Performance Management can focus an agency, significantly improve performance and improve current infrastructure conditions.
The nuances between Asset Management and Performance Management represent much more than just a parsing of definitions or a debate over management system taxonomy. A failure to understand the differences can lead to missed opportunities to sustain asset conditions over the long term.
Missouri officials say that an agency needs to consider not only adopting performance targets for short-term system conditions but also must adopt targets which ensure that the long-term, lowest-cost strategies are considered.
The Missouri officials said that getting acceptance of Performance Management was helped when the leadership of the organization insisted upon a Performance Management approach that extends to all aspects of its operations.
Performance Management has "teeth" in Missouri because the degree of accountability is so high.
Finding increased efficiencies and cost savings is considered to be a significant strategy for improving and sustaining roadway conditions.
Don't be deterred by a lack of complete data to support the transition to Performance Management. When it comes to data, data improves through its use.