Transportation Asset Management Case Studies
LCCA: The Georgia Experience
Introduction
What is LCCA?
Life-cycle cost analysis (LCCA) is an evaluation technique that supports informed investment decisions. While it builds on principles of economic analysis that have been used to evaluate highway and other public works investments for years, LCCA considers both near and long term-term activities. Specifically, when it has been decided that a project will be implemented, LCCA will assist in determining the best—the lowest-cost—way to accomplish the project. The LCCA approach enables the total cost comparison of competing design (or preservation) alternatives. All of the relevant costs that occur throughout the life of an alternative are included. It does this by incorporating discounted long–term agency, user and other relevant costs over the life of highway, bridge and other highway assets to identify the best value for investment expenditures (e.g., the lowest cost that satisfies the performance objective sought). LCCA can be applied to a wide variety of investment decisions to evaluate the relative costs of competing design or project alternatives or system investment strategies in order to provide the best return on the dollar.
Figure 1: A ridge route in rural Georgia.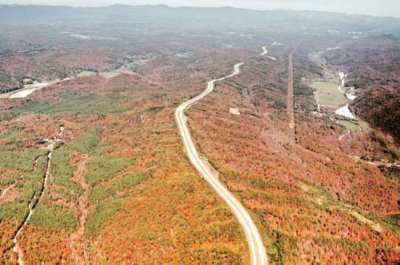 Note From the Director
The challenges facing the transportation sector today are numerous. Many of our Nation's highways are aging and in need of rehabilitation. Congestion is increasing at an alarming rate. Consumers are asking for – and expecting – to be kept abreast of how DOTs are managing their assets and planning for the future even as increasing demands and limited funds increase the complexity of those tasks.
One tool that is proving invaluable in addressing these issues is Transportation Asset Management (TAM). TAM is a strategic approach that strives to provide the best return for each dollar invested by maximizing system performance, improving customer satisfaction, and minimizing life-cycle costs.
TAM endeavors vary from State to State and include efforts in the areas of data integration; economics in asset management; the utilization of Highway Economic Requirements System – State Version (HERS-ST); life-cycle cost analysis (LCCA); preservation; and pavement and bridge management, among others.
Because we at FHWA believe that transportation agencies work more efficiently when information on one another's successes is shared, the Office of Asset Management is continuing its series of TAM case study reports begun in 2002. I trust that this case study will help you meet the increasingly complex challenges confronting your agency today.
Julius "Butch" Wlaschin
Director, Office of Asset Management
Note to the Reader
The TAM case study series is the result of partnering between State departments of transportation and the Federal Highway Administration's (FHWA's) Office of Asset Management. FHWA provides the forum, and the States furnish the details of their experiences with asset management.
For each case study, FHWA representatives interview State transportation staff and compile the information, and the State approves the resulting material. Thus, the case study reports rely on the agencies' own assessment of their experience. Readers should note that the reported results may not be reproducible in other organizations.
Figure 2: Rush-hour traffic on Georgia 400.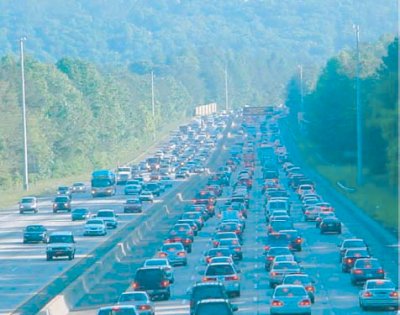 Executive Summary
The Peach State, as Georgia is often called, ranks 10th in the country in terms of inhabitants and 24th in terms of land mass.
The State is quite diverse geographically. The highest point is Brasstown Bald in the Blue Ridge Mountains, with an elevation of 4,784 feet. The lowest point is sea level along the State's 100 miles of coastline. This diversity, along with heavy precipitation and high humidity levels, makes planning for the transportation system a challenge.
The Georgia Department of Transportation (GDOT) has addressed that challenge by becoming a nationally recognized leader for innovation and quality in several arenas, including LCCA.
GDOT founded its pavement design committee in the late 1960s. The members refined GDOT's pavement management strategies throughout the 1970s and 1980s and adopted the agency's first LCCA guidelines in 1994. GDOT participated in FHWA's Demonstration Project 115, Life-Cycle Cost Analysis in Pavement Design, in 1998 and took part in the Advanced FHWA LCCA course, which introduced the FHWA RealCost LCCA software.
In 2005 GDOT sought to conduct an LCCA for several projects on I-85 that called for rehabilitating an entire corridor. The agency's Office of Materials and Research experimented with the FHWA RealCost Software and decided to develop a customized spreadsheet that follows methodology outlined in the FHWA Technical Bulletin Life-Cycle Cost Analysis in Pavement Design (FHWA Publication No. FHWA-SA-98-079).
Doing so required extensive work and a number of technical support meetings with the FHWA-Georgia Division Office, Resource Center and Office of Asset Management. By working together, the FHWA and GDOT have identified ways for GDOT to enhance its LCCA practices. In addition, these meetings have provided the opportunity for FHWA to refine the RealCost LCCA software and make it an even more attractive tool for States conducting an LCCA.
1. Agency Facts
Started in 1917, the Georgia Department of Transportation has 6,000 employees and a 13-member State Transportation Board, all of whom are committed to GDOT's mission of providing "a safe, seamless and sustainable transportation system that supports Georgia's economy and is sensitive to its citizens and environment."
Georgia's transportation system is truly multi-modal, encompassing 118,298 miles of public roads, 14,800 bridges, 4,836 miles of railroad, 103 publicly owned airports, 13 urban and 96 rural transit systems, and four shipping ports. GDOT owns and maintains 18,027 centerline miles of roadway and 5,880 bridges, as well as 78 miles of high-occupancy vehicle (HOV) lanes, 88 Park and Ride lots, and 2,943 miles of bicycle and pedestrian routes.
Staff works at GDOT headquarters in Atlanta, seven district offices and 42 area offices, with the agency's 334 maintenance crews located in 239 facilities across the State. In 2005, GDOT did $2.2 billion of work on the State's transportation system.
GDOT is known nationally for its transportation management program NaviGAtor, an intelligent transportation system (ITS) that monitors more than 300 miles of highway through the use of over 1,500 video cameras, 97 changeable message signs and data management strategies that relay real-time traffic information to the State's Wayne Shackelford Transportation Management Center 24 hours a day.
The State has also received recognition for Fast Forward, a six-year, $15.5 billion program that will:
Implement in six years what would take 18 years with conventional funding.
Accelerate the most cost-effective congestion-relieving projects by funding both short- and long-term congestion relief efforts, i.e., signalization, ramp metering, HOV lanes and transit corridors.
Complete all proposed projects included in the 2005-2010 Transportation Improvement Program (TIP) and Construction Work Program (CWP).
Additional information on the Fast Forward program is available at http://www.dot.state.ga.us/specialsubjects/fastforward/index.shtml.